Ou la La Poutine – Nothing magical, but a nice place to grab a quick and tasty meal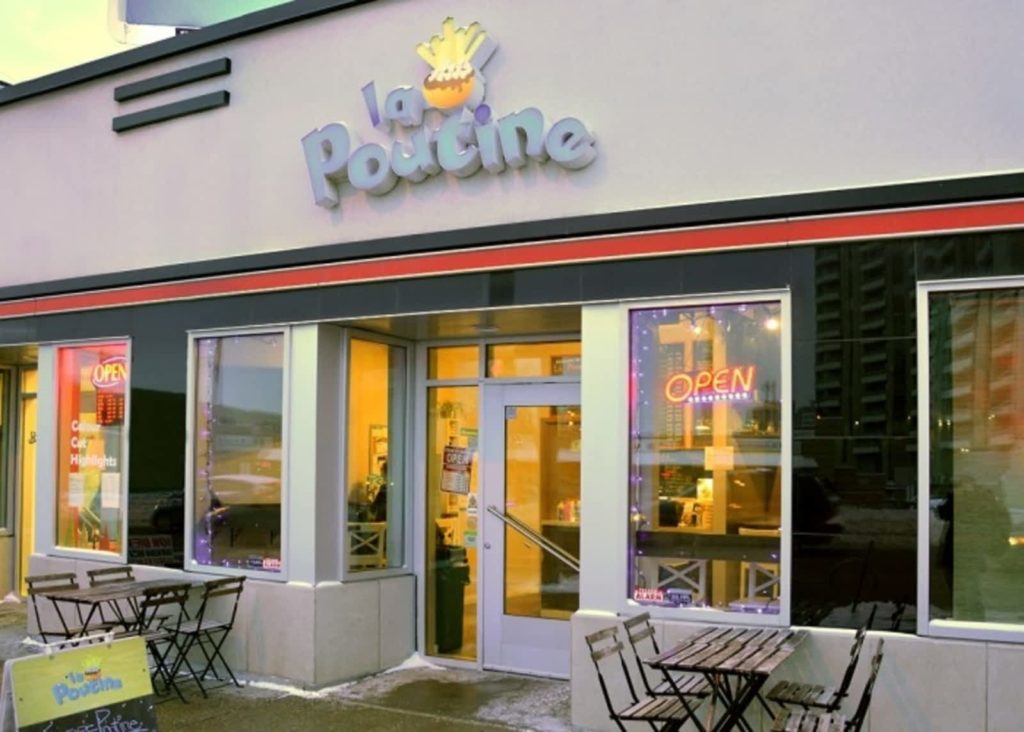 ---
Guest review by Ohi Ahimie, student writer in the University of Alberta WRITE 297 program.
---
My friends and I were walking down 109th street to grab a quick bite before proceeding with the rest of our Saturday night. They suggested La Poutine, just north of the Garneau Theatre. I was curious and hungry, so I agreed to check it out, especially since they had been before and seemed to like it.
Admittedly, I was a bit unimpressed when we stopped in front of the small beige block and its unassuming blue logo. We stepped in. The place is the size of a shoebox, seating maybe ten if I'm being generous. The restaurant is one room, the front counter directly across from the entrance and with chairs and counters lining the rectangle all the way around. There are a few seats outside, but the Canadian winter laughs at the idea of that plan.
Once in, I immediately saw two Canadian flags, and one Quebecois. 'Really know their audience,' I thought, although the presentation was a bit lacking. The flags looked creased like they had recently been unfolded, and I could see that paint was scratched off the chairs. The music playing was some kind of soft, calming piano. To me that didn't really fit this place, but it didn't get in the way either.
The menu had about a dozen items, all – surprisingly – poutine. Every option could be made gluten free, and half could be done vegetarian or vegan. A regular sized poutine ranges from $7-$9 and a large goes from $10-$13. There are many different options and flavours, including one eyebrow-raising peanut butter and jelly dish, and a build-your-own deal where you can pick from a surprisingly wide variety of proteins, veggies, and sauces. There's beef, onions and gravy of course, but also chicken, sausage, tomatoes, peas, mushrooms, hot sauce, ranch and more.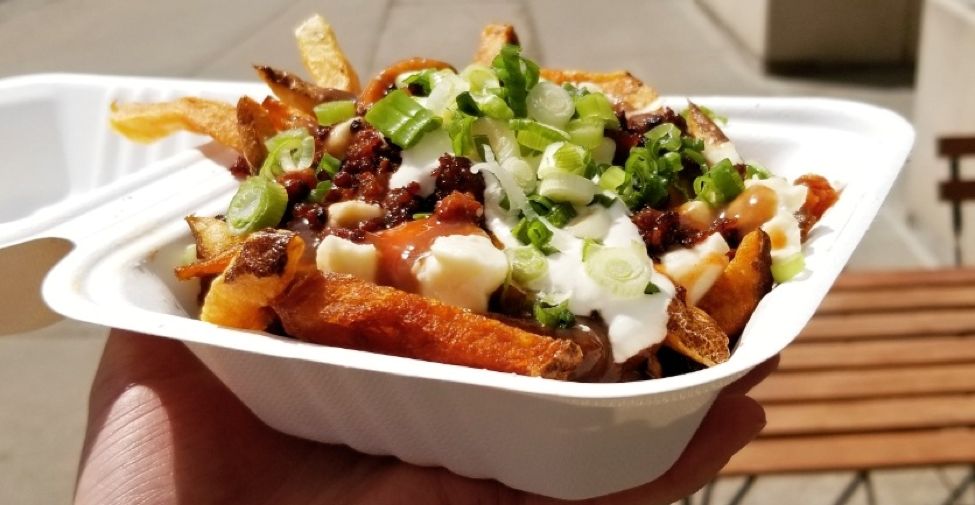 I ordered a mini sized traditional poutine ($5) and a regular "Big Mack". The Big Mack has ground beef, a special sauce, onions, pickles, sesame seeds, and lettuce. Interestingly, it has no cheese.
While I waited, I saw, next to the counter, a chalkboard advertising La Poutine's social media accounts and giving some information about the restaurant. La Poutine seems to be a very community focused place, stressing that its potatoes are sourced locally and that the money from its recycled bottles and cans goes to charities. There is a large board of local business and event cards, which seemed a bit strange to me at first. But gradually, I realized it validated the community claim and ultimately made me feel like I was in the hub of a small town where everyone knows each other. It was quaint.
Quickly, the poutine arrived. It felt correct to try the very-well-named traditional poutine first. It was a tasty combination of tender fries, light but smoky gravy, and squeaky cheese curds. It was all that and piping hot on a cold winter day, just what you expect when you hear the word "poutine".
Next up was the Big Mack. The Big Mack is a bit more interesting than the traditional, coming with more ingredients and more complex flavours. The first thing I noticed was the tangy-er and sharper taste from the pickles and onions. They also gave a nice crunch. There's a creamy house sauce which neutralizes the acidity a bit, but also keeps the dish feeling lighter than it would otherwise. Speaking of which, I requested the thicker beef gravy on the Mack. It and its deeper, richer flavour combined with ground beef to make the Mack delightfully dense.
As I sat concluding my thoughts on the evening, I thought that the restaurant didn't lean hard enough into the French-ness of their name and signature dish, when some French rap came on. Not my thing, but definitely on brand. I gave the restaurant a few more style points in my head.
Some parting information: La poutine is open from 11AM to 10PM most days and to 8PM on Mondays. There's parking across the street, next to other restaurants and businesses, but most people take their food to go, or are in and out quickly, and I think that's the best way to do it.
So that's La Poutine. Nothing magical, but a nice place to grab a quick and tasty meal. If you're in the area and looking for a bite, try it out. It's the definition of a nice little spot.
---
La Poutine
8720 109 St NW
(780) 757-7222
website
---