Live Comedy, Covid Style
---
review by Ariel Delorme
---
September 14th, I decided to get dressed up and go for a night out with my partner. We were going to The Comic Strip on Bourbon Street in West Edmonton Mall to see The Crown of Comedy, a contest to find Edmonton's best comedian.
Tickets were five dollars each plus a service fee that amounted to twenty dollars total for the both of us. We were pointed down the hall to where a man standing at a podium took our tickets and then let us pick our seats. The crowd was sparse: maybe 30 guests were present, with an age range 30-50. My partner and I were likely the youngest people there, other than the employees, but there was nothing uncomfortable about it.
The waiter came and attempted to give us a QR code for the menu but it didn't work on either of our phones, so they brought us a sanitized handheld menu. Covid precautions were quite good.
All the employees were wearing masks and guests were required to wear masks until we were seated. We were also spaced apart appropriately; I could stick my arm out and not be in reach of anyone's table.
We had chosen a seat by the door; there were two levels of seating, but only the lower area was in use. I'm assuming they blocked off the higher level to crowd control how many people could be in the room. To the right of us was the stage and then there was a bar at the opposite end of the room from us with bathrooms located to the left. No one used the bar, though, since the server came around and took all our drink and food orders in a timely fashion and she made to sure to check up on everyone a few times throughout the show.
They had a fully stocked bar and food was standard pub fare, burgers and fries and wings, and prices seemed on par with a typical restaurant, around fifteen dollars per item. They did have vegetarian and gluten-free options for people who may require that.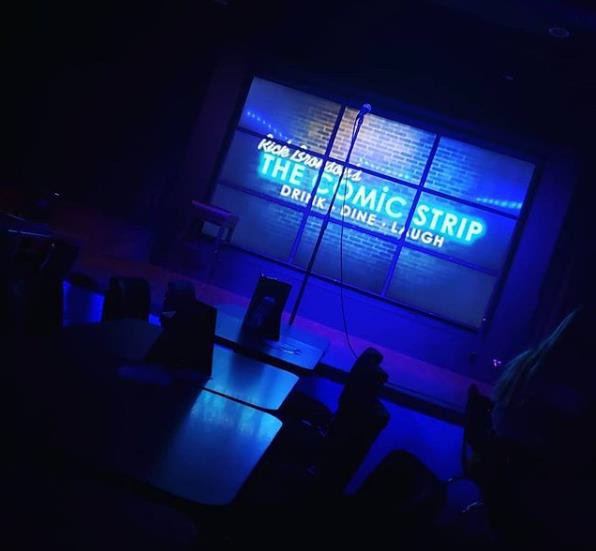 Shortly after ordering, the lights dimmed and a video montage of comedians who had been to The Comic Strip was projected on the wall. It was probably my least favourite part of the night; it was ear-splittingly loud. Luckily, it was over quick, and then the host, Brad Semotiuk, came out. I found him genuinely charming and surprisingly young for his professional field; he was only 20. He assisted the crowd in downloading an app called Human Input, which we used to rate all the comedians on a 5 – star point scale to determine who would make it to the next round.
There were ten comedians in total and each set lasted approximately seven minutes. My favourite person who went up was Zachary Landry, a comic from Red Deer. When he first came up, I remember thinking his bit was going to be dull, so he caught me a bit off guard. He had a very dry sense of humour.
My partner was partial to Leo Langford, who spent his time telling us all dad jokes. Sadly, the app ceased to work on both of our phones when it was time to rate Leo, so he may never know how much we liked his set. He was the only one it did not work for, too. There were a few other minor hiccups – one of the microphones decided malfunction during the show – but otherwise it went smoothly.
The last showtime for The Crown of Comedy is September 27th, so the winner hasn't been announced yet. I highly recommend going to The Comic Strip's comedy shows, though, even when it's just amateurs on stage. I had never been to a comedy show before, but I had such a nice time that when my friend asked where I wanted to go for my birthday, I suggested The Comic Strip.
We went to see the continuation of The Crown of Comedy the following Monday, where they had a new 10 comedians competing. They have another competition coming up in October called Battle to the Funny Bone that might warrant a ticket purchase.
For those who don't know, The Comic Strip has been back open after a temporary Covid-19 hiatus since the second week of June. It's owned by award-winning comedian Rick Bronson, and is one of three comedy clubs he operates in North America. They have hosted big names such as Jeremy Piven and Eric Griffin.
The Comic Strip is currently open most evenings with different shows playing. Some names they have coming include Derek Seguin and Kenny Robinson. You can purchase tickets online or in person, but on their website it states that groups are limited to 6 people unless you make a reservation.
If you're looking to escape your home for a cheap and casual night of laughs in an upscale bar atmosphere, The Comic Strip should be high on your list of things to do!
---
The Comic Strip
Bourbon Street
West Edmonton Mall
8882 170 St NW, Unit #1646

(780) 483-5999
wem.thecomicstrip.ca
hours:
Monday to Friday: 1 – 8.15 pm
Saturday: 1 – 10.30 pm
Sunday: 2 – 10.15 pm

---