Ghosts at the University of Alberta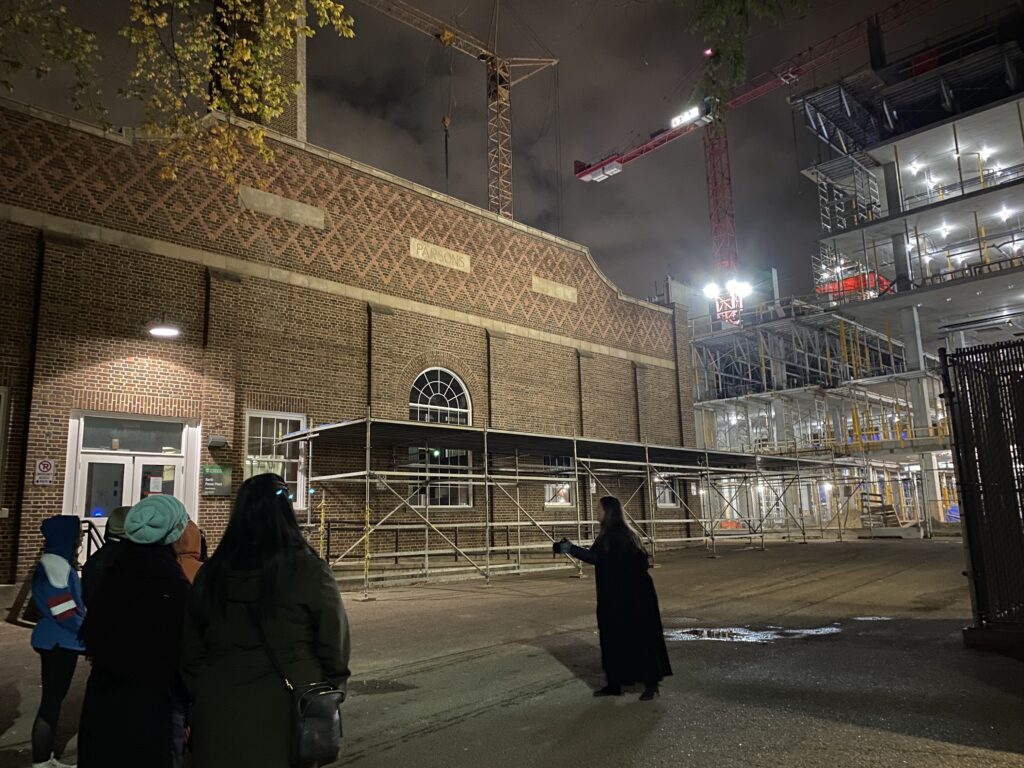 review and photos by Carelyn Kostyk
---
Did you know that the University of Alberta campus is rumoured to house a few ghosts?
I didn't until I went on a tour with Edmonton Ghost Tours. When I saw that one of the three tours the company offers is about the ghosts haunting campus, I was, as an UofA student, excited to learn more about these ghosts. So was my mom, a UofA alumni herself. With our curiosity spiked, we couldn't wait to go.
The evening began at 9pm, meeting in front of the Rutherford House. With our thermoses filled with hot chocolate and our scarves wrapped around our necks, we were ready for a cold Thursday night full of ghost stories.
Nadine, our host for the evening, checked us in quickly, and soon began telling us about the two ghosts rumoured to haunt Rutherford House. As she went into the history of Mr. Rutherford and how he founded the University of Alberta, my mom, who's a teacher, whispered to me that Nadine's history about why Edmonton became the capital was a little wrong—something that historians might be disappointed to hear.
However, as it was a ghost tour, I fully believe that a little creative liberty was allowed as, after all, I was there to hear about the ghosts, not about the university's history.
Thankfully, she quickly got into the two ghosts said to haunt Rutherford House: Mr. Rutherford's wife and a little boy. I had heard rumours about the little boy before, but Nadine helped to fill in the gaps about why this boy was said to haunt this building when no boy had ever died there.
I wasn't scared as she told the story, but as we moved onto the next haunted area, I happened to look back at the second floor. Staring into a pitch-black room, thinking about Mr. Rutherford's wife brushing her long locks of hair in that room… I'm not lying when I say that I felt chills.
There were two more spots we stopped at: the Old Arts building and the Power Plant. Both buildings are said to have their own fair share of ghosts, but the ghost that haunts the Old Arts building is interesting simply because it involves a murder.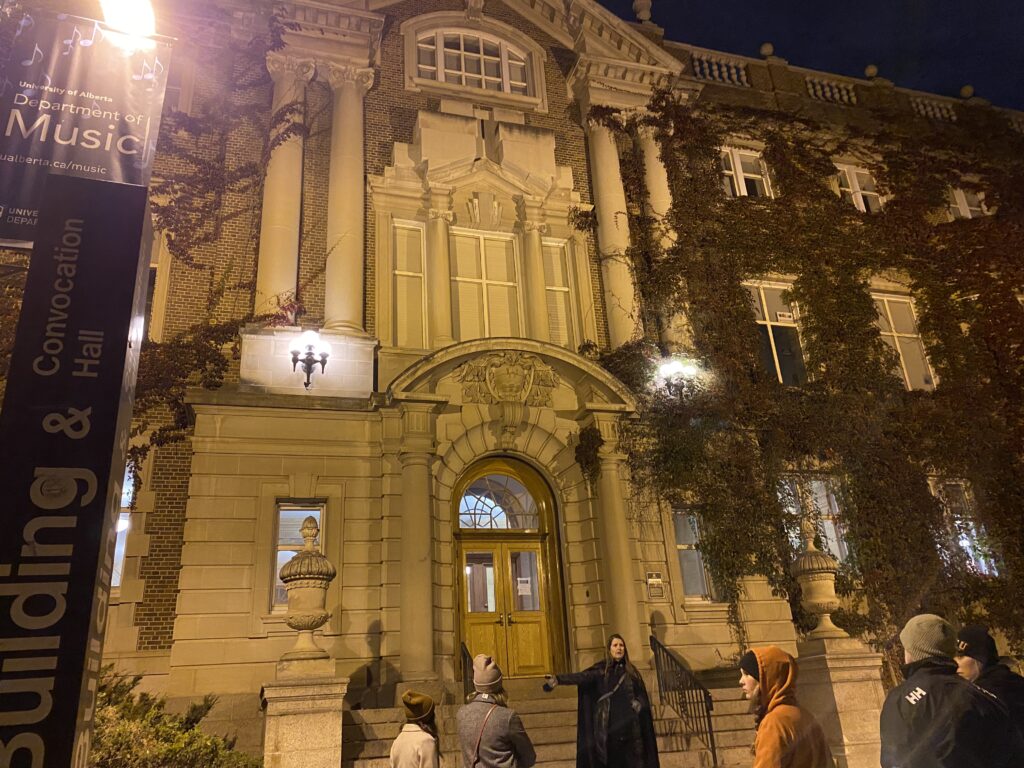 Standing just outside the doors to Old Arts, listening about the Irish man who was murdered in that same building, I could have sworn that when I was on campus in the past, there were more lights than there were now. The darkness felt oppressing and not entirely empty, like there was something following us as we moved to the next building.
My mom felt it as well, and I'm not proud to admit that we ran in the back of the group because we were so scared.
It was at Pembina Hall that my wish for scarier ghost stories came true. Most people who have lived in Edmonton are at least slightly aware of the history behind how Pembina Hall was one of the buildings used during the Spanish Influenza as an emergency hospital.
This was my favourite part of the tour, as Nadine went into the similarities between the Spanish Flu in 1918 and COVID-19 today. Even more interesting, she told us about the ghosts that are still seen walking around the building.
I don't want to give any spoilers, but the thoughts of the corpses that had been held in that building were enough for me to wish that we were back in the light and weren't talking about ghosts anymore. As a student, I've had to go into Pembina Hall before. Hearing about the bodies piling up during the Spanish Influenza, and thinking about the fact that I might still have to go into this building in the future… I suddenly began to rethink my decisions about this ghost tour.
Maybe it was just the time of the night. Maybe it was just the fact that a basement window was open—just like how they used to open the very same windows during the Spanish Influenza to air out the smell of the decaying bodies. Maybe my imagination was just getting out of hand.
But this ghost tour had quickly become really scary. It was dark outside, and once again, the darkness felt like it wasn't entirely empty. Both my mom and I could imagine something watching us from the basement, and we both huddled closer to each other in a desperate attempt to feel less afraid.
Needless to say, I was very relieved when we moved on to the next place. The night passed by quickly after that, with one more stop at the Emily Murphy house and a quick bathroom break. By the end of the night, I was tired, scared, and ready to go home.
Any worries I'd had about the tour not being scary was gone. The entire tour ended up being an hour and fifteen minutes, exactly what the website had advertised. I'd had fun and fully felt like this tour had been worth the money.
Due to COVID-19 restrictions, tickets must be pre-booked through EventBrite (each ticket costs $16.93), and though masks are recommended, they are not mandatory due to the tour taking place outside. As everyone arrived, I noted that only one couple wore masks. As our group had about thirteen people in it, my mom and I took extra precautions to social distance as we noticed right away that nobody else was really following social distancing protocols, especially when Nadine was talking about the ghosts. Throughout the tour we stood farther in the back or the side, but thankfully, Nadine had a loud voice, perfect for storytelling, so we were able to hear everything.
This event is a fun Halloween tour, and is perfectly up your alley if you enjoy history (with a little creative liberty) and ghosts! I'd definitely go on another ghost tour with Edmonton Ghost Tours, but perhaps next time I won't pick a tour that has such close ties to a place that I still need to visit. I'm pretty sure I'll never be able to step foot into Pembina Hall again!
---
Edmonton Ghost Tours
(780) 289-2005
Website: http://edmontonghosttours.com
Tours are available until November 3rd
---