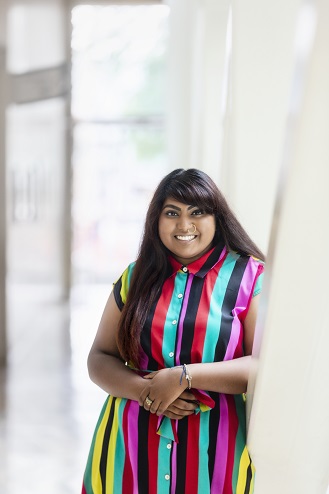 ---
Interview by Talicia Dutchin
---
In just three years, Nisha Patel has accomplished a lot as a poet, performer, and mentor. She began writing poetry in 2014, and her work has spoken to a range of issues such as identity, belonging, gender, race, mental illness, and politics, as they have evolved over the years. Her performances have taken her international, and in 2019 she earned the Canadian Individual Poetry Slam Champion title. She now has numerous awards, jobs, and publications to her name, but only just three years ago she never would have imagined it was possible.
Before pursuing a career in the Arts, Nisha earned a Bachelor of Commerce in Business Economics and Law with a minor in Political Science from the University of Alberta and was working as a government policy advisor. It was a job she really enjoyed doing, but then her health took a turn, and she was overcome with a major episode of depression that was enough to have her hospitalized.
"On the outside everything was going for me. I was in good health, I was dancing, I had a lot of great friends, my job and prospects were really good," she says. "Despite all of it I fell into a very severe depressive episode and it was a really scary time in my life because even with all these external trappings of success, I wasn't happy."
It was life-altering. Dealing with her mental illness meant having to take a step back from her career to determine what, at that moment, actually made her happy, and the one thing that stood out was poetry.
"I had been pursuing poetry on the side as like a hobby for a couple of years, and it was the performance of poetry that made me the happiest." It became the goal Nisha worked towards, continuing to work in politics as she was able to while determining how she could transition her hobby into a viable career—or if she even could.
Ultimately, she saved up enough money to give herself one year to really try to heal, and to do whatever she wanted for that year. This year would be make-or-break for her future working in the arts. This is also when Nisha and I first met, in 2017, when we both had jobs with LitFest, Edmonton's Nonfiction Festival—each of us with contract positions, both new to working in festival organization roles. LitFest was her first job in this year-long sabbatical.
"[The job] was to get my feet in the water, to see if it was something that I could take to and something that I could like. And I worked for those two months then I went traveling, I toured, and I came back and got some grants for writing," she tells me. The successes kept building up.
With those grants, she was able to produce her first manuscript, and by the end of that one year she had also completed two art residencies, performed more than ever before, and was offered a full-time job as the Festival Producer for Edmonton Poetry Festival. So, one year turned into two, and then into three.
After getting her footing in the first year, and gaining confidence in her abilities the following year, 2019 proved to be another defining year for Nisha. In addition to moving up from Festival Producer to the Executive Director of the Edmonton Poetry Festival, she won both the 2019 Edmonton Slam Championship and the 2019 Canadian Individual Slam Championship, and also became Edmonton's new Poet Laureate. Through all of these roles, community has played an important part in her artistic practice, and she feels that it helped give her a sense of purpose.
"The community that comes with art that really upheld me and got me through those tough times," she says. "I think if I had if I had been in the same situation and decided to stay at home and write a book in isolation, I would have ended up just as depressed and wouldn't have gotten better."
Because of this, a lot of Nisha's work right now is outwardly focused, offering her services to the community to help others grow into themselves as artists. As Poet Laureate, Nisha has found herself in a very public role that allows her to mentor other young poets, especially those who maybe haven't had access to the community before.
She offers workshops and mentoring, as well as gives talks at schools around the city to children who might not know anything about poetry but seem to find her presentations fascinating. This year Nisha has also spoken about the work she does through a number of podcasts and interviews and has been making herself accessible to people who might have known her role existed before now.
Considering all the uncertainty at the beginning of her transition, I ask her how it feels to have accomplished so much and to have "made it" in the arts.
She acknowledges first and foremost that it is still scary, because "writers fall in and out writers fall in and out of favour with the public that funds them, and there's a risk that one day I won't be in a position to share my work to an audience anymore."
But that it is also gratifying, since "it feels very special to know that what I have to say means something to someone, and that the things I value and am passionate about and fighting for are being heard." To her, her work having meaning to people is the best feeling in the world.
These accomplishments have not cooled Nisha's drive any, and 2020 has been a year of both new gains and losses. Early in the year her physical health deteriorated, and she says that overall it has set her back a good 5 months' worth of work throughout the whole year just trying to manage it. While it may have slowed her down, it didn't stop her though.
In the first of gains, she expanded her repertoire and launched a publishing house: Moon Jelly House. Its goal is to publish diverse, emergent, marginalized writers in short-run chapbooks. This is another way in which Nisha can help new authors build their networks and find opportunities that propel them forward.
"This has allowed me to give back to the community, because we're uplifting our authors, some of whom have never been published before." And she gets excited by their other successes too, since seeing them get acknowledged for their skill and talent is thrilling for her. "One of our authors was just shortlisted for the CBC Poetry Prize, for a poem that is going to be in the chapbook we're publishing. We couldn't have predicted it, but you want to see them be uplifted and succeed."
Nisha herself has experienced some unexpected successes and was just recently made the recipient of the 2020 University of Alberta Alumni Award of Excellence, in honour of all the work she has done with her engagement in the community and what she has achieved professionally.
On the flip side, early 2020 also saw the COVID-19 pandemic upend the normalcy of life and limit the ways that events were organized. For someone whose work is primarily in performance, live events, and community engagement, it meant having to figure out how to navigate that. As an arts organizer, it meant figuring out how to still run a festival, if she even could, while managing finances, performers, and new platforms. As a performer, it meant getting used to performing online over a video feed.
"A lot of the time it's almost like you're performing to an empty room, or an actual blank screen because you don't even know who's there if it's streaming somewhere else, and people have different levels of privacy and comfort with the media," she says.
Going from a live, physical audience to a digital one has been difficult for performers and viewers alike, and both are learning the best ways to play their roles. "Some people in the audience do go out of their way to show support. They do type comments and clap, and some of them will turn their mics on just to show appreciation. So, they're finding ways to engage with performers the best they can."
She admits it is difficult still. Having attended several online performances and interviews this year, I have seen firsthand how difficult it is as a performance medium. One conversation between a moderator and author involved the moderator continually interrupting the author, likely due to connectivity or lag issues, and another performance had a stream die in the middle (it was fixed quickly). And for performers, who thrive on the interaction with the audience, it can be a really isolating way to perform.
"It was hard, and it's still hard, but at the beginning, it was very difficult. I didn't realize how much I needed [the live audience] for momentum. In-person the energy kind of builds on each poem but online you're not sure what's hitting or what the tone of the room is sometimes."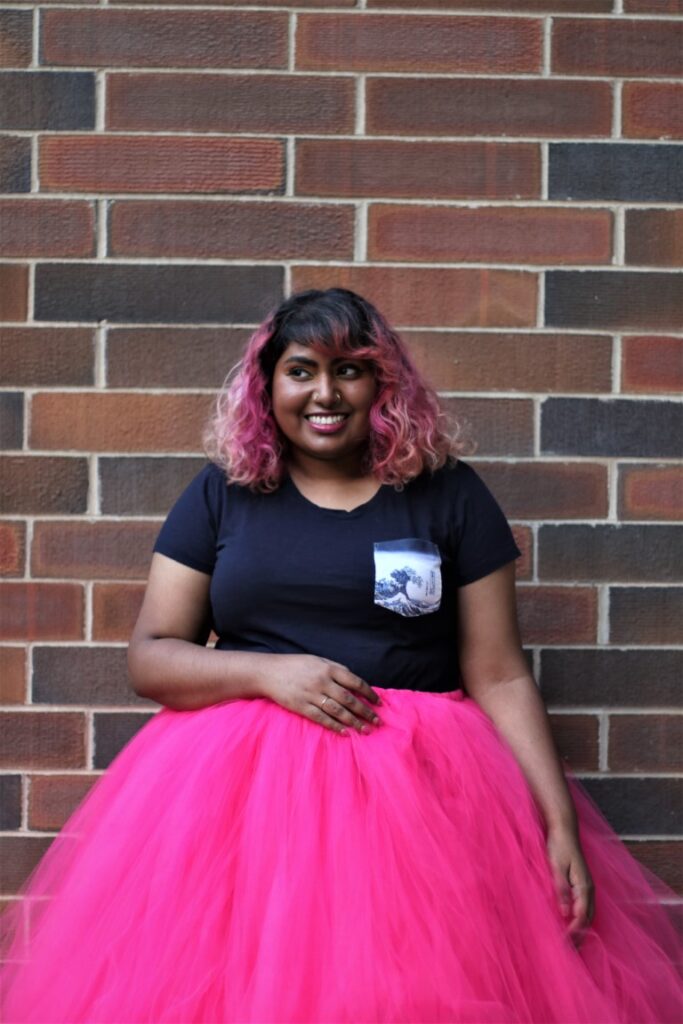 Though she adds that after doing this for seven months now, she's gotten a lot better at these performances and is learning to trust her instincts. She feels that having to perform almost entirely online has enhanced her performance, not necessarily better or worse, but at least in trying to find the limits of what an online performance can do and then trying to reach those limits every single time. It's helped her grow in a new way as a performer.
In addition to Zoom performances, every once and a while Nisha takes an even more creative approach to performance and organizes a poetry reading on her island in Animal Crossing: New Horizons. If we're having to go online for everything, why not get creative about it right? If this has piqued your curiosity like it did for me—it had never occurred to me as a possibility until I learned Nisha was doing it— she gives updates on her AC:NH performances through her Instagram. It's just one of the ways she's worked to adapt to the new medium.
Despite the uncertainty with everything going on right now, Nisha seems optimistic about the future. "I have a few projects that are up in the air," she tells me, when I ask what the next little while looks like. One of these is her debut book, COCONUT, which is being released in early 2021, and she's already at work on the first draft of her second manuscript.
Another is the serious consideration of pursuing an MFA so that eventually she might be able to teach at University. In the meantime, she's already lined up a year-long residency to give her the chance to focus on this new manuscript. For someone who wasn't sure if she was going to be able to make a career here only a few years ago, the future she's building herself is shaping up to be incredibly bright.