The Aftermath of COVID-19: A Challenging, But Optimistic Sphere for Edmonton's Rock Band, FKB and its Frontman, Drew Shalka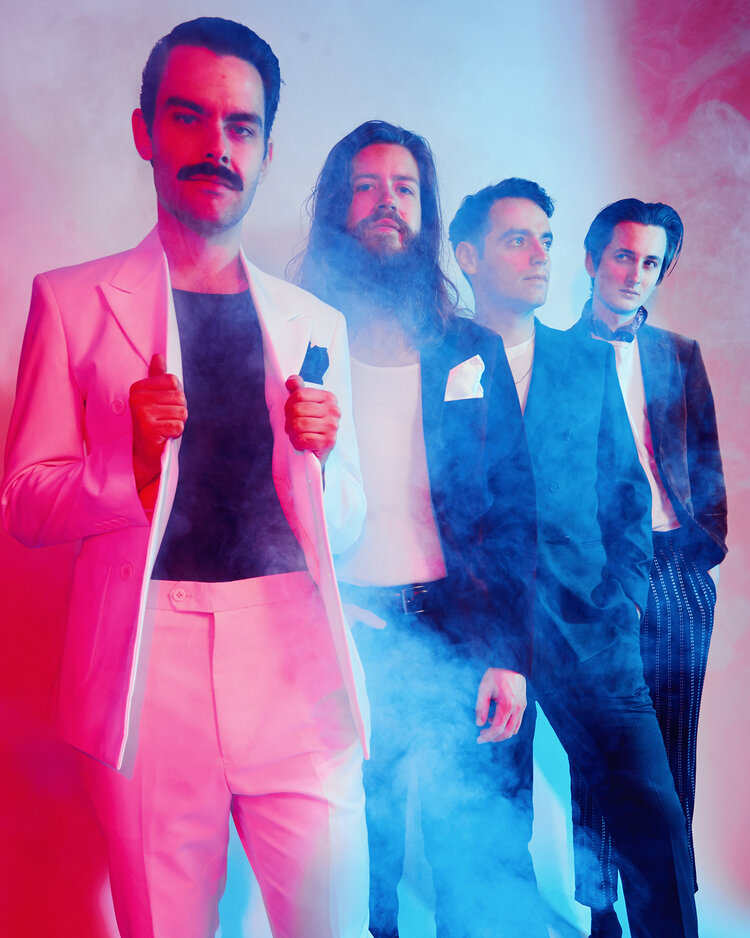 ---
interview by Shelby Marler
---
The Edmonton rock scene has changed drastically in the wake of COVID-19. What would've otherwise been a bustling roomful of boisterous cheering and laughter, with bass so strong that the floors vibrate, pounding with the rhythm of the starstruck crowd, has turned into an unusually quiet space filled instead by the dust of tumble-weeds.
One Edmonton band that exemplified this bygone example of lively performance is FKB – well-known for their head-banging, crowd-rousing stage presence and eclectic in their musical talent.
FKB started out as a high-school endeavour in Bonnyville, Alberta, but has now turned into an Edmonton group. Since then, the group was grown to become one of Canada's up-and-coming rock bands, having performed over 200 shows across Canada and the U.S. since 2017. They were nominated for the Edmonton Music Awards, have gained international press coverage and are even seen as themselves in Chris Cowden's 2020 feature film Moments in Spacetime.    
As a result of Edmonton's dark venues, FKB, like so many other musicians, has had to give up the excitement of in-person concerts. So, what does the Edmonton band, FKB, have in the place of that adrenaline?
I got the chance to call the frontman for FKB, Drew Shalka, who was nominated for a Juno Award in 2019. He says that without in-person performance and collaboration, COVID-19 has dulled the edge that comes with connection and spontaneity.
"You learn a lot playing to a room of people," Shalka remarks, "you can read their reactions, you kinda figure out what works, what doesn't work, and it's very different not doing that."
The Juno Award-nominated artist tells me that there's difficulty in being cut off from the music community – musicians and fans alike – which all would've otherwise stimulated spontaneous, free-flowing ideas for their future performances and music.
"Everyone's collaborating on Zoom now, but it's still different than getting into a room with someone and writing a song and going and sharing a speech with a bunch of bands in one night."
I sighed in agreement with Shalka, for this is an essential experience for the alternative rock scene of FKB – I remember this fondly as part of seeing them perform. The staple venue of Buckingham on Whyte was where I experienced FKB's music up-close and personal for the first time in early 2020. I got to witness their talent of reading the energy of a room with skill, where the head-banging made you forget how late into the night the clock had struck.
It struck a chord in me as a vintage lover to experience their quintessentially nostalgic style, bringing the classic mid-century rock sound of Elvis and The Beatles with hints of the alternative Smashing Pumpkins and sunroof openers of my high school years. Thus, a person like me at the scene simply couldn't help but join with zest. An otherwise cramped and hot space full of strangers became forgettable in the wave of the rich timbre of the experience as the band united the audience into one mantra of their rockin' soundtrack. This wasn't a band that just knew how to write and play good music but knew how to deliver it with pride.
Despite the challenges, not all hope is lost. Shalka and FKB's strategy has been to be proactive for when things open up. Shalka tells me that the prospects are much more hopeful than we might initially assume, with musical and performance improvements coming in surprising places. It is like a switch from performance to practice.
"Our skill levels on certain things improves a lot more…for myself personally, my production abilities and the things I can do now on my own have gotten significantly better…the quality of songs are getting better just because of the fact that we're not on the road, we're not spending our time driving around all the time."
Shalka also says that there's been a lot more time for that daily, consistent, no-interruption writing process, which has been a huge positive for his music work.
He says that in preparation for the Stony Plain Summer Sessions 2020 live stream, which aired July 8, "we filmed our rehearsals for a week, and would watch back the videos and be our own audience. We would watch what we were doing, fix things and try and figure out, whereas audience members, we would get excited and where we would want the energy to be."
I found myself both pleasantly surprised and relieved. If the COVID-19 pandemic is a crisis of missed opportunities, Shalka makes the extra time sound like a period of reflection and refinement. Instead of sighing at the missed opportunities, FKB's time away from the in-person scene has demanded an apt grasp of strategy and self-awareness, not just audience awareness.
Though there are obvious downsides to the lack of in-person concerts for FKB, my time with Drew Shalka made me hopeful for what this extra time and planning might bring for the band. I left my call with him excited for the future instead of being reminded once again of what many consider to be the lost year. The fact that these developments are brewing is something I can be proud of.
If there's anything positive that we can see come out of the COVID-19 pandemic, it's an incubation period for the best to come yet – something that once the doors swing open, the music and energy can flood in like it has never before.
---
FKB website
---