---
by Bree Meiklejohn
---
I stood on the checkerboard stage facing the DJ. Back to the audience with hand on hip, I exhaled, and waited for the music to start, hoping some of the butterflies in my stomach would fly away. When the first few beats of the music began to play, I spun around, trying my hardest to remember the lyrics to the song and my choreography.
At the same time, the bright stage lights assaulted my heavily make-uped face, my natural hair was poking out of my wig, one of my false eyelashes was irritating my eye, and my heels were painful to dance in.
Regardless, I performed my little heart out to audience cheers, collecting the bills being handed to me or placed on the stage for me to pick up. Afterwards, I exited to the back room of Evolution Wonderlounge with barely a memory of what just happened, my fellow performers applauding me.
My first performance in drag was unpolished and amateur, but that didn't matter, because I was being welcomed into a tight-knit Edmonton community of queer and gender-diverse artists. It was unlike anything I'd ever been a part of before: a strange kind of familiarity amongst kindred souls.
But when the pandemic came, Evo was one of the first places to shut its doors, putting an end to one of the most popular locations for Edmonton drag for an indefinite amount of time. I worried that this new connectedness I'd found would vanish just after I'd gotten my foot in the door, but one of the many things I adore about the queer community is our resilience and adaptability. If we couldn't perform on a physical stage, then we'd do it on a virtual one. But Drag is an artform that thrives in communal spaces; the performer and the audience feed off of each other's energy, so I was unsure of how well performers would adjust to this new format.
To learn more about how switching to online has affected Drag artists, I spoke with a queen who is also relatively new in the Edmonton Drag scene, and who has become somewhat of an expert on online performances.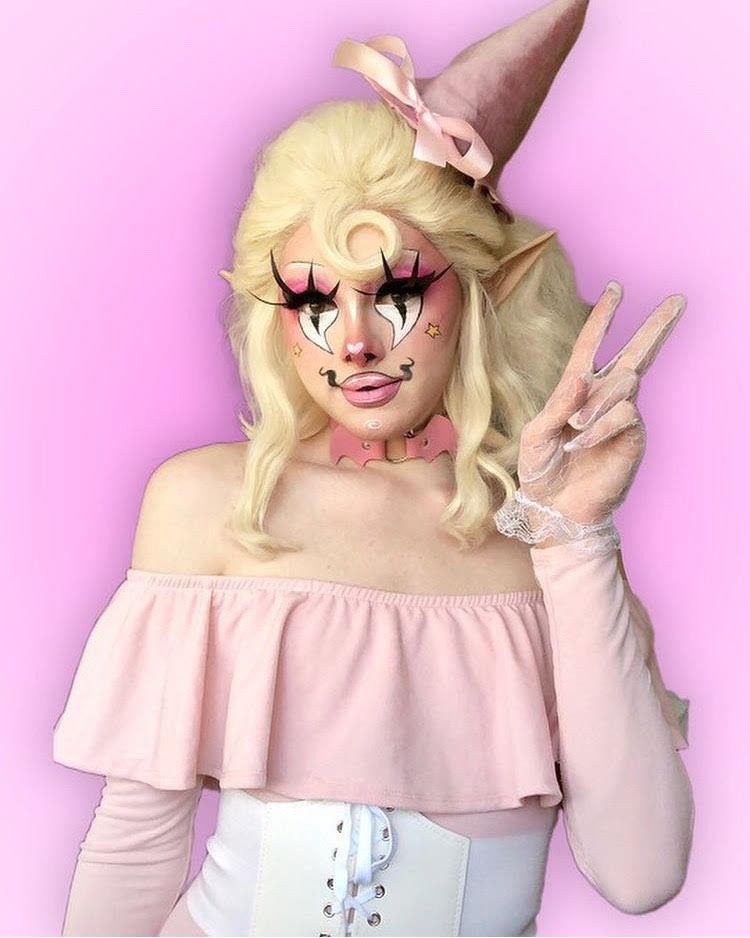 Mars Dawn (instagram @marsdawn) has been performing in Edmonton for over a year, and has come into her own style as a comedy and camp queen.
"I just like to make people laugh. That's the best feeling in the world," Mars told me.
Mars recalled that she was lost when the first lockdown started. At that point, performing had been her main focus. "It was kind of bittersweet because I knew I wasn't going to be able to perform, but at the same time I knew I had time to perfect this face."
I solemnly agreed with Mars, laughing half-heartedly as I remembered how the lockdown also left me stranded, without a way to practice this artform, and with the safety net of community seemingly pulled out from beneath me. But luckily, the world wide web provided a way fulfill the need for live performance.
Mars' first online show was in March 2020, organized by Party Queens, a Drag performer booking company. The show was held over Zoom, with performers lip-synching in their homes in front of their computer cameras and with audience members sending them tips via PayPal or e-transfer. Mars said that even though it was a strange experience to be performing in her bedroom, not needing to wear heels was a bright side. As well, there is an air of comfort when lip-synching in private.
Here's her online video:
"When you perform in front of a crowd…you get nervous because a bunch of people are watching you. But when you're in your bedroom alone you don't have the same feeling."
Mars also stated the main difference between online and physical shows is the lack of interaction with others. As both a performer and an avid fan of Drag Shows, Mars said one of her favourite parts of the experience is watching performances and connecting with an audience. She described her experience with virtual drag as a double edged sword. As much as she may want to go out and perform in front of people, meet performers, and interact with an audience, she has also found success in starting her own show. The Teleport Me To Mars show has a double meaning; a cross between a RuPaul's Drag Race reference and a pun on Mars' name.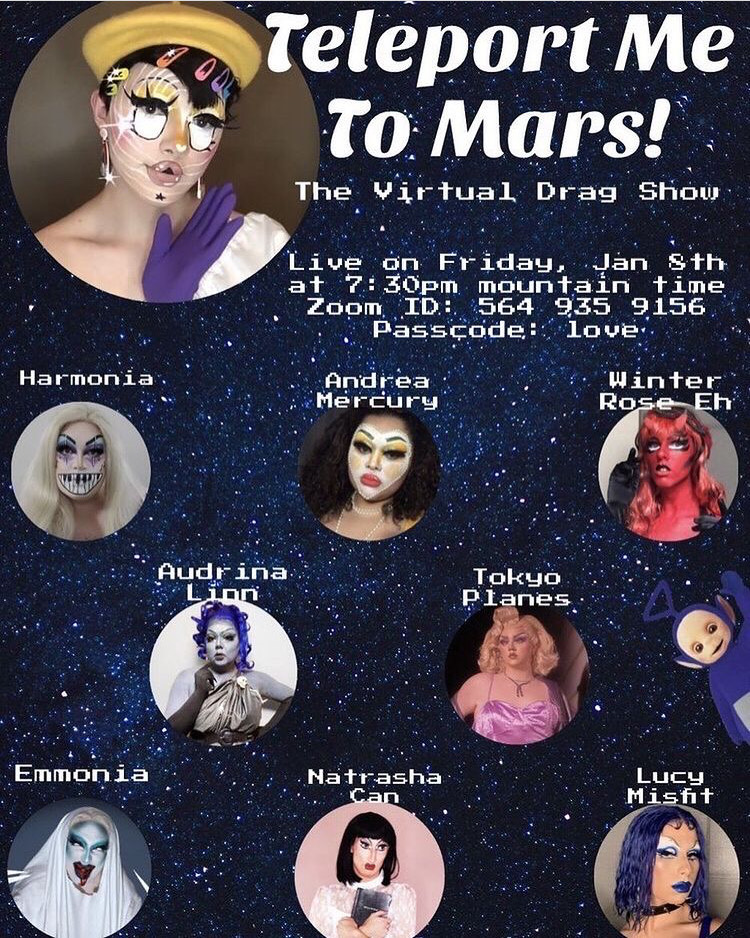 "It's been a really cool experience to start my own show and have that as motivation to keep creating art and keep performing, but in a different way," she explained. "I noticed a lot of my friends and other performers doing these online Zoom shows and I was like, 'Bet, I want in.' So I realized it was really easy to start your own show. It was a little intimidating at first because I didn't know if people would actually join, but it ended up being pretty successful, so I'm very happy with that."
After the interview, I closed my laptop and took a breath, relieved to see that someone else with nearly the same amount of experience in the Edmonton Drag scene was able to thrive in unprecedented adversity. As I recalled some of my favourite performances, how pre-show nerves give way to adrenaline on stage, and how after a performance you're numb with euphoria, the helplessness I'd felt was replaced with imagination. I have to admit that the thought of starting my own show is rather tempting — if Mars did, then maybe I could too.
When people share a passion, there's little that can be done to stop them from pursuing it. Even though the past year has been difficult for the arts, drag performers and fans have found an alternate way to continue enjoying this form of entertainment. While physical interaction may have to wait until a later time, this art form will continue to grow, evolve, and flourish. Edmonton's Drag community has assured me that the shows must go on.
---