"There emerges a universal theme in their messages. Concentrated in cultural strengthening, progress & development, combating racism & prejudice, and raising awareness for Indigenous topics and issues."
---
By Chaylene Ribbonleg
---
I'm going to be discussing four Indigenous role models in Edmonton. The four individuals are all inspirational and motivational figures within their communities and the wider indigenous community. I think the most distinctive aspect of becoming a role model within the Indigenous community is how much you have to exemplify a wide range of cultural attributes while also taking a role as a social advocate. These role models have displayed a wide range of characteristics and have built a platform to raise awareness for indigenous communities.
The four role models display a wide range of ideas centring around Indigenous ideology. There emerges a universal theme in their messages. Concentrated in cultural strengthening, progress & development, combating racism & prejudice, and raising awareness for Indigenous topics and issues.
I'm going to be exploring the platforms of Tia Wood, Don Burnstick, Ethan Bear, and Ashley Callingbull. The only way to access the individuals right now is through social media so it's important to highlight what they stand for and how they're steering their careers in the age of the internet.
---
Don Burnstick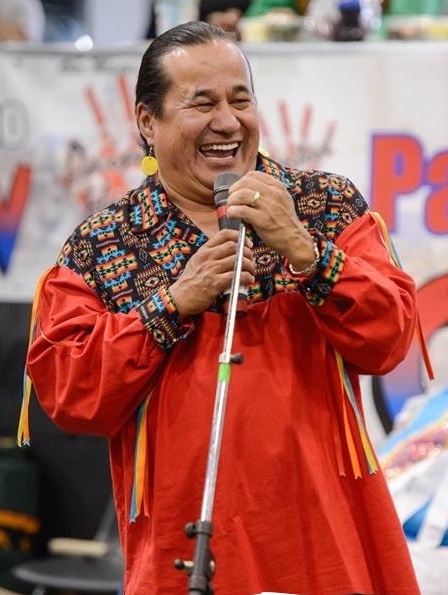 Don Burnstick is an Indigenous comedian. He resides in Edmonton and he is originally from Alexander First Nations, a community 55 km west of the city. The comedian had amassed a large following on the social media platform, Facebook, with a total of 100,120 followers. He manages his profile personally, and his feed incorporates news and updates on Indigenous issues. He also adds personal stories and anecdotes about his past and life experiences.
On Burnstick's website, he explains the methodology behind his comedic talents. As an individual with a history of drug and alcohol abuse, Burnstick uses humour as a natural, holistic pathway towards sobriety and healing.
Don Burnstick uses his platform to highlight intergeneration trauma, drug and alcohol addiction, and cultural revival. The comedian wishes to establish healthy indigenous communities- where the cycle of abuse and trauma ends as indigenous peoples move into the future. He presents a lot of information on the immediate issues of indigenous personhood. He travels all over the world to use humour as a healing tool for the future.
---
Tia Wood
Tia Wood is an Indigenous social media influencer. She's from Saddle Lake, a community that's 171 km east of Edmonton, which is also a part of Saddle Lake Cree Nation. She's active on many social media sites like Facebook, Instagram and Tiktok.
As an individual who's a part of the younger generation, she uses a variety of mediums to relate and connect with her audience. A notable feature of Wood's online personality is sharing funny memes, videos, and content. Tia Wood also uses her platform to showcase a wide variety of Indigenous voices and media and as she navigates an expanding platform. She is able to highlight her performances as a singer and a traditional Pow-wow dancer.
Tia Wood highlights a pathway for indigenous youth with the use of social media. It is vital to have a role model who uses major forms of social media to grow a brand. As an indigenous person, it is hard to see ourselves reflected in contemporary culture, so it is important for young adults, teenagers, and kids to see how one could celebrate indigenous culture on social media.
---
Ethan Bear
Ethan Bear is an indigenous professional ice hockey defenseman for the Edmonton Oilers. Bear is Cree, and he's originally from The Ochapowace Nation, in Saskatchewan. He was drafted in the fifth round in 2015 but, he played for the Seattle Thunderbirds in the WHL for the 2016-17 season. He was recalled to the Oilers organization in March 2018.
Bear has remained on the team's roster since his first official game. The hockey player has garnered a large following from his fans on Instagram. He shares content that surrounds his personal life, career, sportsmanship, and charities he volunteers with.
He also has talked about his childhood role models in the hockey world as a growing hockey player. Highlighting their role in building his hockey career, for example, Jordan TooToo, Carey Price. Bear has been very vocal about the racism he has experienced playing hockey
Ethan Bear is truly an inspiration. I think the most compelling thing about his career is the emphasis he puts on his culture. He runs a training camp in the summer for indigenous children on his reservation- camp similar to the one he went to as a child.
---
Ashley Callingbull
Ashley Callingbull is Cree and she's from the Enoch Cree First Nation in Alberta. The Enoch reservation sits adjacent to Edmonton, and it's a part of Treaty 6 territory. Ashley Callingbull rose to fame in the Miss Universe 2015 competition as the first Indigenous winner. And, she has since launched a modeling and acting career.
Her modeling career has spanned magazine covers, campaigns but she's now the spokesperson for the Nike N7 organization–a program dedicated to the physical wellbeing of Native and Indigenous communities in North America.
She's appeared on the APTN series Blackstone– a show that's based in and around Edmonton. She has also participated in the 2016 Amazing Race Canada.
Ashley Callingbull has made a point to give back to her community. She is a self-proclaimed activist. And, she has brought Indigenous issues to the forefront of her brand. She is open about her personal struggles with sexual abuse, the impact of residential schools, racism, prejudice, and creating a career in the entertainment industry as an indigenous woman.
---
I think these four individuals have had a large impact on indigenous communities throughout Alberta and the rest of Canada. I've personally watched their careers grow and evolve. I am glad they have turned into role models and activists for our communities.
The variety of careers and pathways for success in indigenous communities are reflected in the role models that we choose to look up to. I had the chance to experience Don Burnsticks's motivational speeches and watch Tia Wood's social media profile grow to over one million followers. It is so fulfilling to watch Ethan Bear play professionally with the Edmonton Oilers. And the Miss Universe pageant bringing light to the career of Ashley Callingbull. It is important to look at the way that indigenous people take up space as a minority in Canada.
It is really important for indigenous people to create a space in which we are recognized and celebrated for our culture and difference. I think it is important to highlight the different roles these role models bring because it signifies the growing representation in Canadian culture.
---