Preview by Ben Reeves
---
Confectionery fairies and tyrant rodents dance to life this Christmas, as Alberta Ballet brings us Tchaikovsky's classic adaptation of E. T. A. Hoffmann's seasonal tale of the titular tiny toy protector from German folklore, The Nutcracker.
International conductor and Music Director for the Alberta Ballet, Peter Dala, will be leading the performance of one of Tchaikovsky's most renowned compositions again this December. He's a former student of the Royal Collage of Music, known for his performances of Mozart's Don Giovanni and Mendelssohn's ballet A Midsummer Night's Dream in the Singapore and Hong Kong Festival of Arts. He started conducting for Alberta Ballet in its 2001 production of The Nutcracker.
Award winning choreographer Edmund Stripe, who joined the Alberta Ballet as Ballet Master in 2002 and was especially praised for his work in its 2006 production of Alice in Wonderland, returns to make the fairies fly once again this Christmas. His debut of the show in 2008 made the production into a yearly tradition for the company.
"The core of the production," Stripe says, " – that is the choreography, scenery, costumes, lighting and music – essentially remain the same from year to year. Any tweaks are usually minor and inconspicuous, and made only to enhance the original choreography and/or highlight a particular dancer or group of dancers."
However, every year – and this year is no exception – there are new dancers in the Company who are new to the production, bringing their own particular talents. Each year there is also a brand-new cast of 70 plus student dancers, who, in Stripe's words, "bring their vibrant and joyful exuberance to the stage." For the Edmonton performances they are drawn from the Alberta Ballet School and through local area open auditions.
"I'm sure," says Stripe,"there will also be a few surprises with our walk on guests in Act 1 to look out for."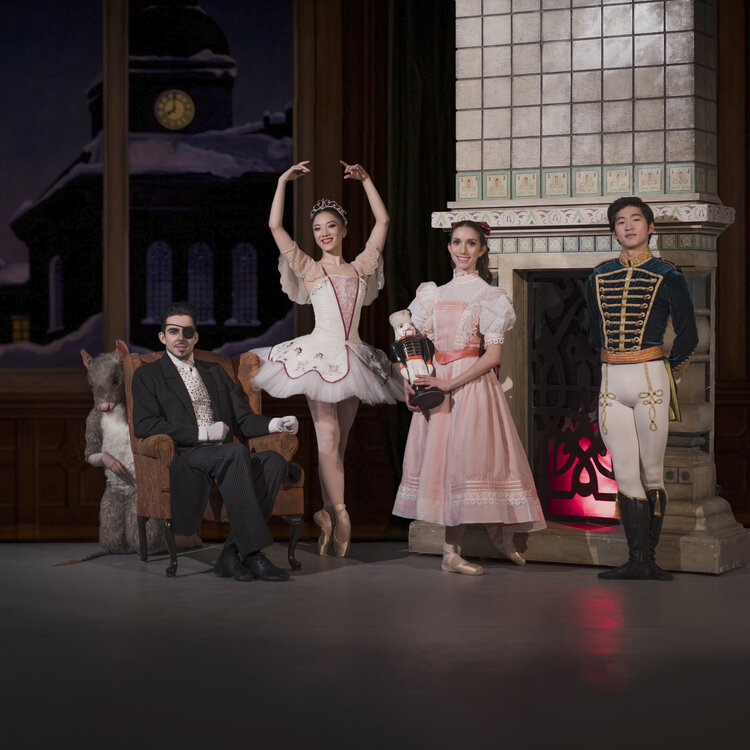 Costume and scenery design are by Zack Brown, a veteran of theatre, having designed for over 150 different productions for numerous ballet companies. His work includes the sets and costumes for the Tony award winning revival of On Your Toes on Broadway, and he was the winner of two separate Emmys for sets and costumes when the San Francisco Opera's production of La Gioconda was telecast in 1979.
The Nutcracker will be at the Jubilee (11455 – 87th Avenue) in Edmonton December 5th-8th, before moving on to Calgary for its December 13th-15th and 20th-24th performances.
---
Alberta Ballet website
Tickets ($50 to $150) are available though Ticketmaster.
The Jubilee is just a quick walk from the Health Sciences/Jubilee LRT station. There is paid parking in the Jubilee Auditorium Car Park, with a $6.00 special rate.
---
Edmonton Performances:
MATINEES
EVENINGS