This Christmas spectacle is sure to warm even the coldest of hearts.
Review by Erica Gallup
---
Most people I know have heard of the Christmas Carol story, or at least know Ebenezer Scrooge's classic line "Bah Humbug!". My favourite version of Dickens's story growing up was always the Mickey version with Scrooge McDuck. This year however, I thought I'd delight myself with a different adaptation and see David van Belle's A Christmas Carol at the Citadel Theatre on December 7, 2019.
The previous 19 years of the Citadel's annual Yuletide production have been Tom Wood's adaptation; so, if you've been before, don't shy away from returning – this year is different! Instead of being in the 1800's, Scrooge's story is bumped up a century, reminiscent of the 1940's and 50's. In Belle's Playwright's Notes in the playbill, he says they chose this time period because the world "was healing from family separation, profound loss, and war – a perfect setting for a story of redemption".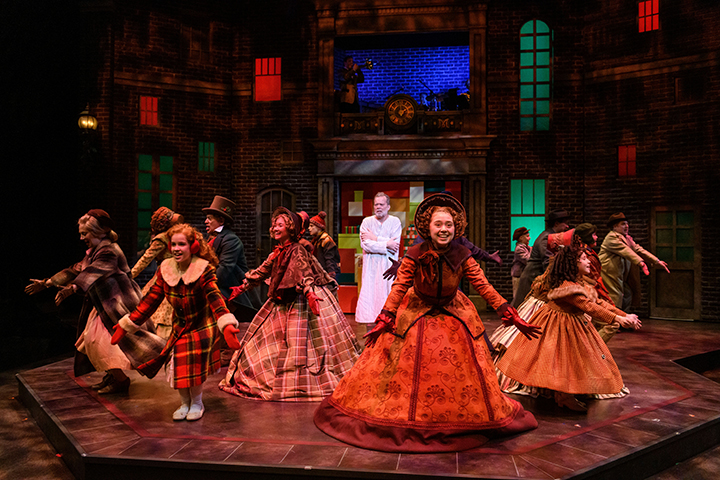 Sprinkled throughout the play are many of your favourite Christmas carols taken from that time period, such as Winter Wonderland, White Christmas, and Holly Jolly Christmas. The songs range from being sung as large ensemble pieces that brighten the entire room, to slow-paced solos that make you think about each word in the lyrics.
Alison MacDonald (Emily Cratchet) and Lilla Solymos (Ghost of Christmas Past), were two voices that particularly stood out to me. McDonald had a clear tone that rang like bells through the theatre. It was never a struggle to understand the words she was singing. That was the same for Solymos, who also managed to turn White Christmas into a tune that will haunt my dreams with the ghostly edge of her singing.
Their performances were made even better by the set and costume design by Cory Sincennes. Both designs supported that the play is a storybook come to life, with bright colours and easily recognizable set pieces that tied seamlessly together to create a completed picture on stage. When the set design was minimal, the lighting (designer: Leigh Ann Vardy) made up for it. Lighting was a very useful tool in helping the audience distinguish between the shifts of past, present and future; and was especially important in conveying the terrifying nature of what Mr. Scrooge was going through. There were many times that the eerie glow of the lights had my breath catching in my throat.
The worst case of my breath-catching came from watching Tiny Tim Cratcket (Sasha Rybalko) struggle for air as his sickly lungs couldn't keep up with what he wanted to say. The panic in Rybalko's eyes, the realness of her wheezing – it honestly made me anxious. Her acting was superb, and she has only been with the youth ensemble at the Citadel Theatre for two years! She did spectacularly well at making me believe Tim's illness, and she was able to handle staying on crutches for the entire performance, which is impressive in and of itself. I guess she had done it before, though, because she played Tiny Tim in the 2018 performance as well.
Lastly, I want to acknowledge Ted Dykstra, who played the one and only Ebenezer Scrooge. He is a National Theatre School graduate who has also founded two theatres; Soulpepper and The Coal Mine. Dykstra has many notable works under his belt, particularly his co-creation of 2 Pianos, 4 Hands, and has won numerous awards in the realm of theatre. I loved his performance.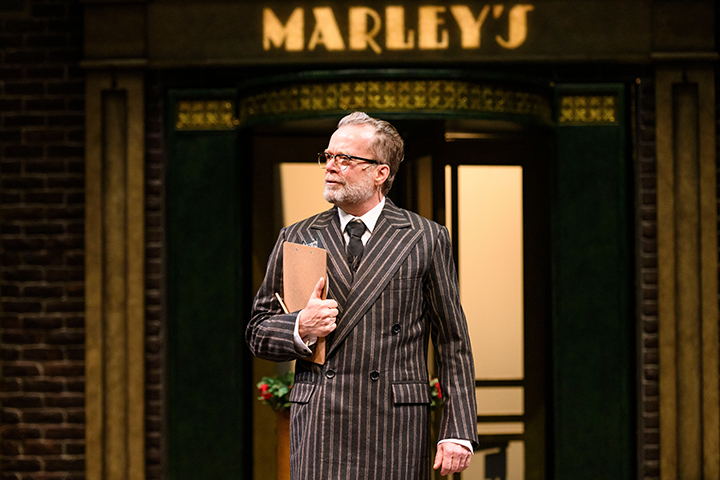 He was so vital in the beginning, which made it easy to dislike him and see him the way the townsfolk did. His anguished screams as he begged for his life with the Ghost of Christmas Future were impressively realistic as well. That scene tore at my heart, but it made his redemption at the end even more of a joy to watch.
The giddy way he wished his housekeeper "Merry Christmas" for the first time had tears prickling in my eyes. Scrooge was overwhelmed with happiness, and Dykstra's entire face and body language showed it. He did a little dance and leapt around the room, expressing his happiness in more than just a smile. It was contagious.
I left that theatre with a smile plastered on my face and Christmas songs in my head. The performance truly was a holiday treat. You haven't missed out yet! A Christmas Carol runs until December 23, 2019, so get your tickets soon. I've heard they are selling out quickly. It's no wonder, because this Christmas spectacle is sure to warm even the coldest of hearts.
---
A Christmas Carol
until December 23
The Citadel
Citadel website
---