By Sarah Elezaby
---
The Met's nightly opera streams began at the beginning of the pandemic and I've been fortunate to see a few. Although nothing can beat the experience of sitting in the Orchestra section three rows from the stage, as I did in 2019 at Yannick Seguin's production of Adriana Lecouvreur by Cilea, I'll gladly take advantage of free opera.
Considering the Met offers a paid streaming service "The Met On Demand", cataloguing hundreds of their live filmed productions, their free daily opera streams are something you'll want to make time for.
The Metropolitan Opera's 2017 production of Dvořák's Czech opera Rusalka is dark and mysterious as the libretto, music and staging leave you wondering what will happen next. Based on the Hans Christian Andersen fairy tale "The Little Mermaid," the opera follows the life of the sea-nymph Rusalka, sung by Kristine Opolais, who wishes to become human after falling in love with a human Prince from a distance. She watches him daily underneath the silver moon, and although he can't see her, she reaches out to him, willing the waves to move and lure him into the water. 
Her father, the Water Sprite, played by Eric Owens, looks like a large frog on The Met stage, and begs Rusalka to think twice before asking Jezibaba, a human witch unlike our Ursula, to trade her fins for a feet.
Here Rusalka sings one of the most iconic arias from opera, "Měsíčku na nebi hlubokém" or "Song to the Moon," asking the moon to bring her star-crossed lover closer to her. Kristine Opolais in the title role sings this song tenderly, like a lullaby. The orchestra matches her interpretation with a reserved and minimal atmosphere. Their pianissimo moments feel like tension on a string about to snap, and Opolais voice just barely leads some of the strings into the next phrase as they follow her cue. Encouraging her voice to move, the pluck of strings spurs on her vibrato. Having heard this aria performed largely before, this was a welcome change.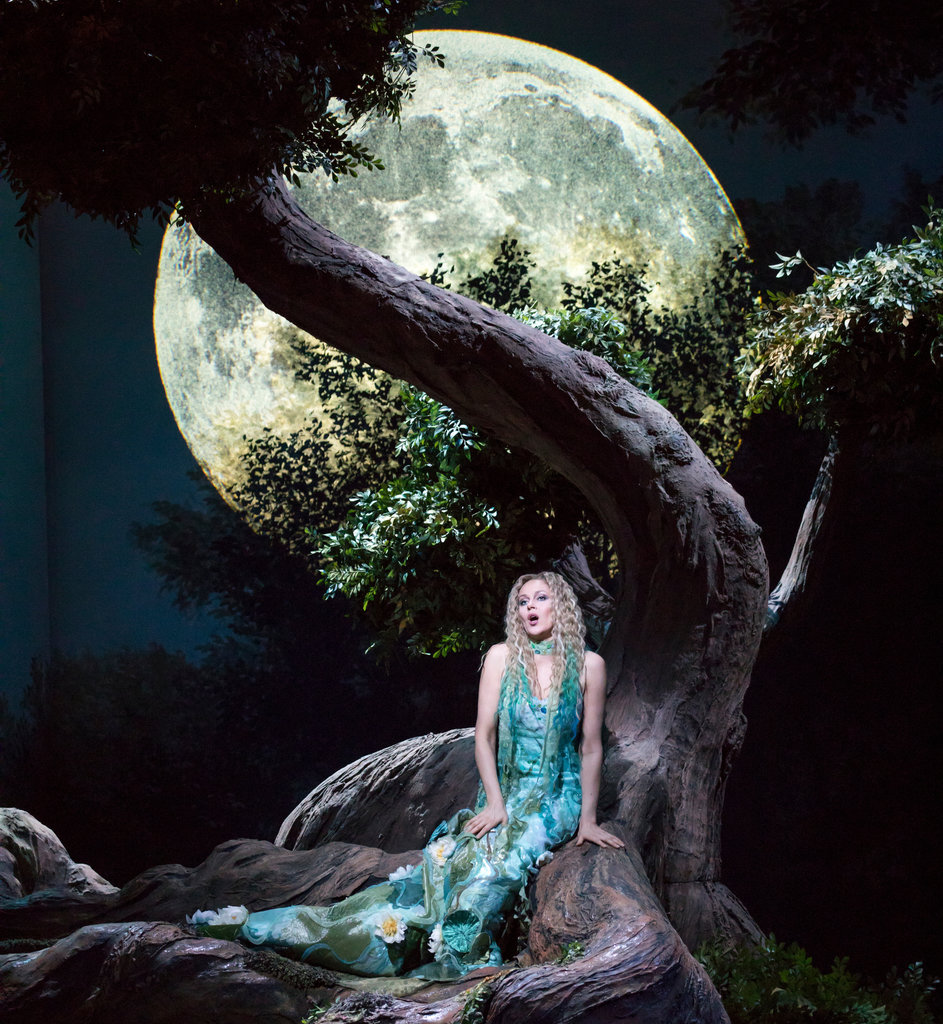 Kristine's Rusalka is timid and shy, and her "Song to the Moon" represents a point of vulnerability that carries throughout the rest of the opera. Although I love a good heavy lyric, I couldn't complain with Opolais' artistic choices, since they better suit her vocal strengths.
Shortly after this aria, Rusalka summons Jezibaba, with Opolais bringing out a new richer colour in her voice in "Staleta moudrost tva vsechno vi." With the gothic rumbling bass trills in the orchestra, Rusalka sings about the witch's dark capabilities of metamorphosis. Recounting all the myths Rusalka's heard of Jezibaba, frightening sea nymphs, boiling potions for humans, but all in the name of a miracle, Rusalka begs the gothic witch to make her dream come true. The flute's popular phrase from "Song to the Moon" comes back, reminding the audience exactly why she's come to Jezibaba with such fervor.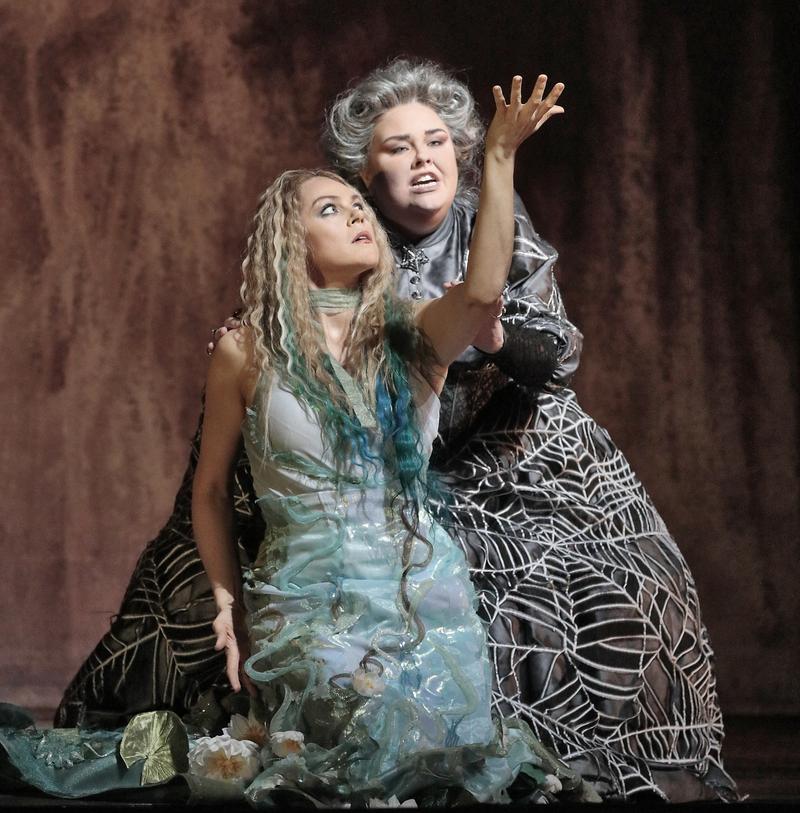 Jezibaba is probably one of my favourite characters from the production with Jamie Barton, a rich mezzo soprano, playing this villain in her Victorian spider webbed dress and corset. She comes across like a Dr. Frankenstein, her henchmen wheeling in a rack of potions and body parts and a silver medical table before Rusalka's transformation. Her evil laughs at the end of a long-held phrase bounce across the auditorium, leaving listeners quaking in their seats – even at home.
Rusalka walks out of Jezibaba's lair, and the she-villain puts on her grungy lab coat covered in who knows what, to make a potion that will silence the once sea-nymph, making her unable to communicate with any humans, the price of her humanity.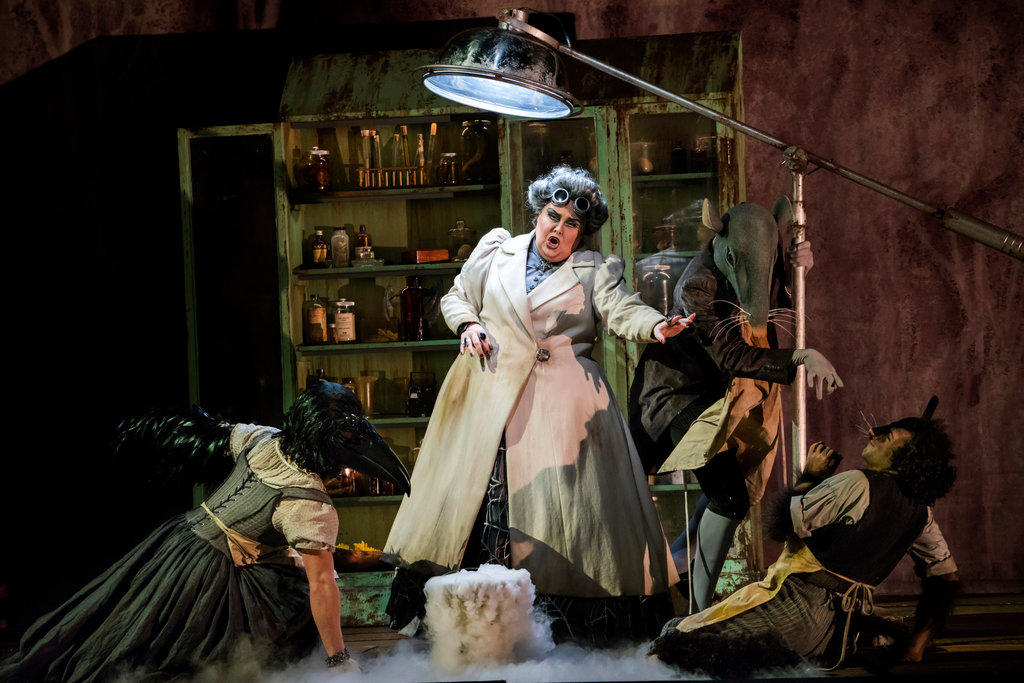 From here we change scenes to Brandon Jovanovich as the Prince on a hunt when he suddenly finds himself inexplicably drawn to the water. Obviously put under a spell, he considers diving into the nearby lake before the Water Sprite speaks to him, but only the Prince can hear it. The Sprites cautions him not to shoot the "white deer." His hunting companion's pull the Prince away from the water, and he sends them home just before Opolais comes on scene, dressed in nothing other than a white shift.
Like all good fairy tales, the Prince sees Rusalka and falls in love with her instantly. But Rusalka defies our expectations, and runs from the Prince, much like a skittish deer, while he attempts to seduce her.
He grabs her in semi-violent ways, and she struggles against his grasp, referencing a much darker type of romance. After running away from him and being caught a few times, she eventually faints and much to the audience's relief the Prince simply carries her to his castle.
When the next scene opens, we learn that Rusalka's been at the palace for about a week, and the Prince is utterly taken with her. His servants speak about her as if she's some kind of sorceress who has put him under her spell, and although it's clear he's fallen for her because of some magic, it's not by her doing. Rusalka continues to shake away from the Prince's physical passion, and we later learn that being a water nymph, Rusalka wasn't born with the capacity for human love. The Prince's lustful desires are much too warm for Rusalka's icy cool heart and she lives in torment, caring about the Prince, but causing him anger by her continuous rejections.
Rusalka shrinks at his touch but finds herself jealous of a foreign princess, mezzo Katarina Dalayman, who admires him a little too much. This Prince, desperate for flirtation, encourages her advances, eventually cheating on Rusalka, much to her dismay.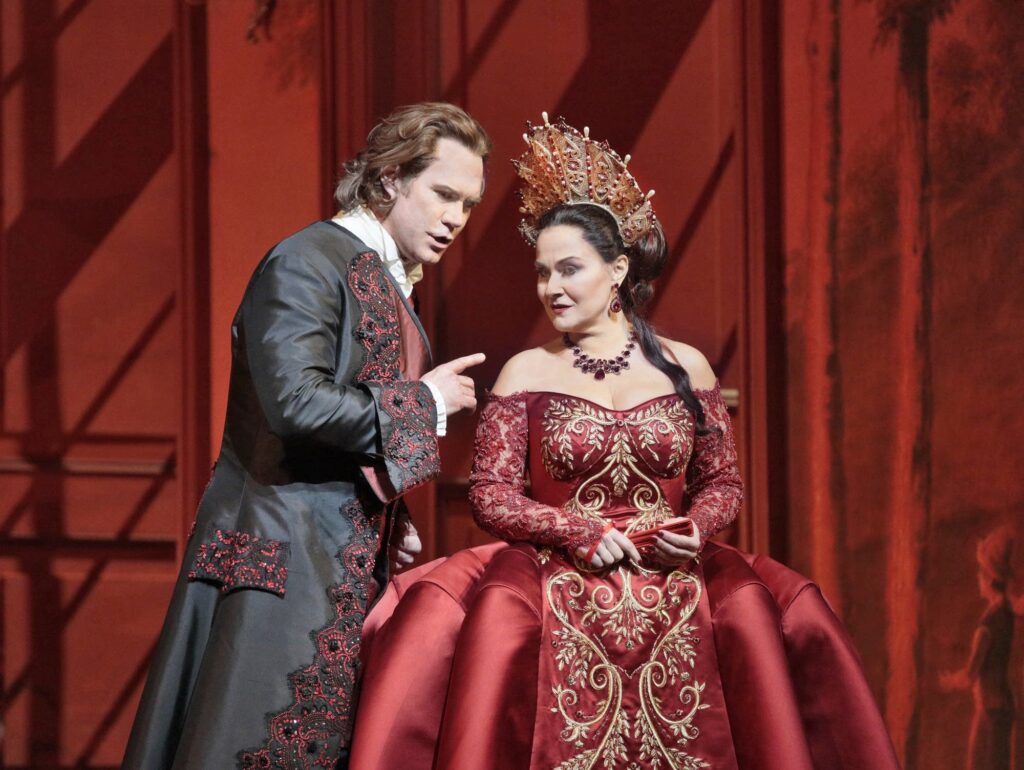 Unlike our beloved Disney rendition of The Little Mermaid, Rusalka ends with anything but a happy ending as she agreed to eternal damnation by signing Jezibaba's contract should she decide to ever return to the water. And as luck would have it, her love with the Prince turns out to be more complicated than expected considering she can't speak, nor can give him what he wants physically.
This dark and twisty opera comes to an end with her escaping her lover's palace to seek refuge in the woods, and him following her to his death, as his affair with the foreign princess makes their last kiss fatal.
The 2017 production of Rusalka takes a previously romantic production into one straight out of the gothic with booming bass from the orchestra, questions with not enough answers, and a tortuous kind of love.
---
Metropolitan Opera Rusalka Opera On Demand page
---