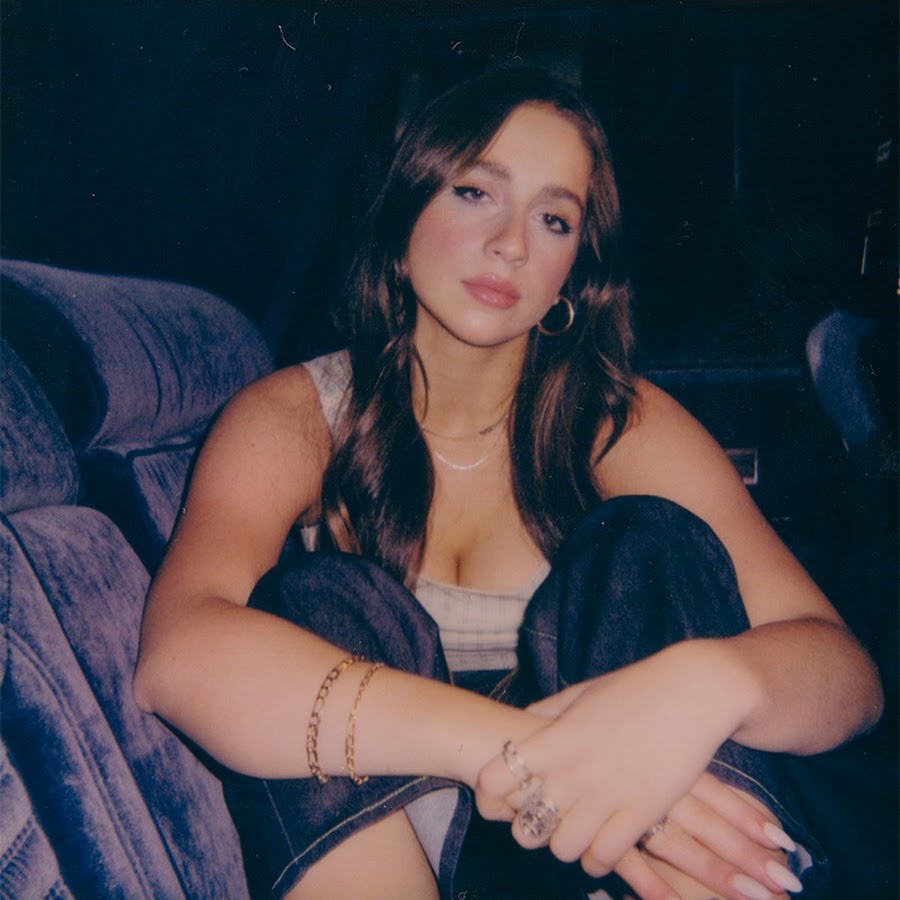 ---
review by Jocelyn Ash
---
Since the COVID-19 pandemic started, one of my favourite things to do is scroll through the music distribution app Spotify and discover new artists. It's works as a distraction from the whirlwind of panic and frustration of the outside world. It's an escape that I can use to just let myself focus on some good music.
Spotify popped up a playlist curated specifically for me, and I decided to give it a listen. The song "You Broke Me First" by Tate McRae, from her new EP Too Young to Be Sad, began to play and from that moment onwards I heard the song everywhere. It played on the car radio, Instagram reels, Tik Tok videos and so forth; it basically blew up in a span of days following its release on March 26.
"You Broke Me First" slaps so hard. It's the ultimate "scream in your car" kind of song. This tune is definitely a break-up ballad and features McRae's partner yearning for the relationship they once had after breaking up with her. The piano in this song takes the forefront and I think that it makes it all the more powerful. As the song progresses into the chorus some synthesized drums pick up the pace and rise into a dark mechanical rumble.
It's hard not to compare McRae to Billie Eilish with dark haunting lyrics such as "I don't really care how bad it hurts." The song is so bitter and angry in a completely justified way that it easily brings me back to a time in my life in which I felt numb to someone else. This song really set the tone for the rest of the EP and after listening through the entire thing, it ended up being exactly what I was hoping for.
Considering she is only seventeen, McRae's vocals and lyrics display a very dark and personal tone. There is so much depth to the stories she tells throughout her songs that it's impossible not to relate. However, the Canadian – born and raised in Calgary – isn't simply known for her vocals and catchy songs. McRae was actually the first Canadian contestant on So You Think You Can Dance and came in third place, afterwards finding her way to Justin Bieber's Purpose World Tour as a dancer.
However talented a dancer she is, her music is what has really taken the spotlight over the past year. Her first EP All The Things I Never Said (2020) landed her as the youngest musician to be featured on Forbes' 30 Under 30 list, which is a list of people under thirty years old that have created change and innovation in their specific industries.
It's easy to understand why, as in To Young to be Sad, McRae does melodrama so well and so stylishly. Her latest EP is the epitome of a teenage romance and covers everything from falling in love, to miscommunication, complications, breaking up and moving forwards onto something better. For such a young artist her lyrics display the roller-coaster that is dating and highlights her own misgivings about love in a very confessional and present tone.
Let's be real, we have all had our ups and downs when it comes to finding love. This EP was all too relatable and really hit some feelings I thought had been buried so far in the back of my mind that they could never be reached again.
Not every song features a completely sombre tone, however. "R U Ok?" kicks off with the with the chorus and some faded out retro ukulele chords. It is an upbeat song that had me grinning like an absolute fool. I want to play this song in the summertime on a long drive with the windows down and the wind raking through my hair. I want to dance in my kitchen to this song.
It isn't a particularly happy song by any means, I mean nobody (at least nobody that I know) wants to be in a complicated relationship, which is what McRae describes throughout this song; but the melancholy lyrics and the pure happiness that radiates from the sound of a ukulele kind of just do it for me. Lyrics like "And finally, I can sleep at night, makes you wanna lose your mind" kill me in the best way possible.
There is something so freeing about a former partner realizing that they made a mistake by hurting you and breaking things off. It probably looks horrible for me to say that, but I think it's such a relatable feeling- especially in complicated relationships. Perhaps it's my "you don't need no man" attitude shining through, but I thought this was awesome. In my opinion the song seems slightly sarcastic and I am totally here for it.
McRae is very much so a pop-indie singer. She has a deeper, raspy voice that matches up so well with minor chords and creates an almost soulful sound which shines through in the song "Rubberband." This song really demonstrates the depth and internalization of her experiences. In "Rubberband" McRae laments over a recently lost love. This song hits hard. Whether it be a romantic relationship or something platonic, I think at some point everyone misses or regrets a connection they had to cut off.
The song starts off slowly with lingering intervals of soft faded-out piano chords, almost sounding symphonic. A mellow synthesized drum picks up the beat in the pre-chorus before developing into a fast-paced trap-like medley of instruments- McRae's voice blending in smoothly. Her voice is soft and gritty at the same time on this track, a little bit of rasp hanging off of her every word.
The story arch of this song comes to a head at the chorus "I got this rubber band on my wrist, on my wrist, and I snap it every time that I think about your lips." I think the most profound thing about this song is the way it describes the rubber band as a coping mechanism. Doctors often suggest snapping a rubber band to people with depression or anxiety as a way to subconsciously train your brain to avoid mental pressures in order to circumvent the snapping of the rubber band. I think that this song shows a lot of maturity from McRae. Many people suffer from depression and anxiety and, in my opinion, this song really puts the struggle of trying to move forward from something huge and impactful, into words.
I think a lot of listeners from a multitude of ages would really enjoy McRae's music for how relatable and deep she is. The song "Wish I Loved You in the 90's" particularly highlights a theme I think is becoming more common as the years go by.
The song begins with the soft and sweet chords of an acoustic guitar that drops off at the pre-chorus and picks up again after that along with the beat of a drum. This track is so unique. It reminds me a lot of "Wonderwall" by Oasis. It's so gentle and ethereal and is definitely the type of song that makes you feel like you're in a movie while starring out the car window on a long drive.
I think that in this song she imagines a life without social media in order to experience true romance. When I say true romance, I mean the act of buying flowers and knocking on the door in comparison to a "here" text when your partner comes to pick you up for a date. In the chorus McRae says, "Say right guy, right vibe, wouldn't have to try, bet it wouldn't hurt." In the 90's cell phones specifically weren't used for texting 24/7 and playing games or for social media – they were used for talking. If anything, lovers probably wanted a cell phone to call each other without their parents trying to listen in on the landline (or for work, but that is beside the point).
McRae is expressing that social media and the advanced technology of contemporary society makes it harder to date, and honestly, I don't disagree.
Ultimately, although she is only seventeen, in this EP McRae displays a maturity and lyricism that anyone would love to listen to and can relate with. The indie-pop style of the music only works to enhance her soulful lyrics. These had me reminiscing over the times in my life that I felt exactly like McRae – and it's not a bad thing.
Most of the songs on this album circulate around the hardships of dating, but where would any of us be without these hardships? I find music like McRae's to be so helpful in revisiting and learning from my past experiences.
So please, take the time and give this album a listen- you won't regret it!
---
Tate McRae official site
---