Edmonton's variety of vegan food offerings is ever-expanding, with not only a handful of entirely vegan and plant-based restaurants available but many others offering vegan options or happily veganizing vegetarian items upon request. Below is a selection of five of the best vegan meals and treats currently available in Edmonton!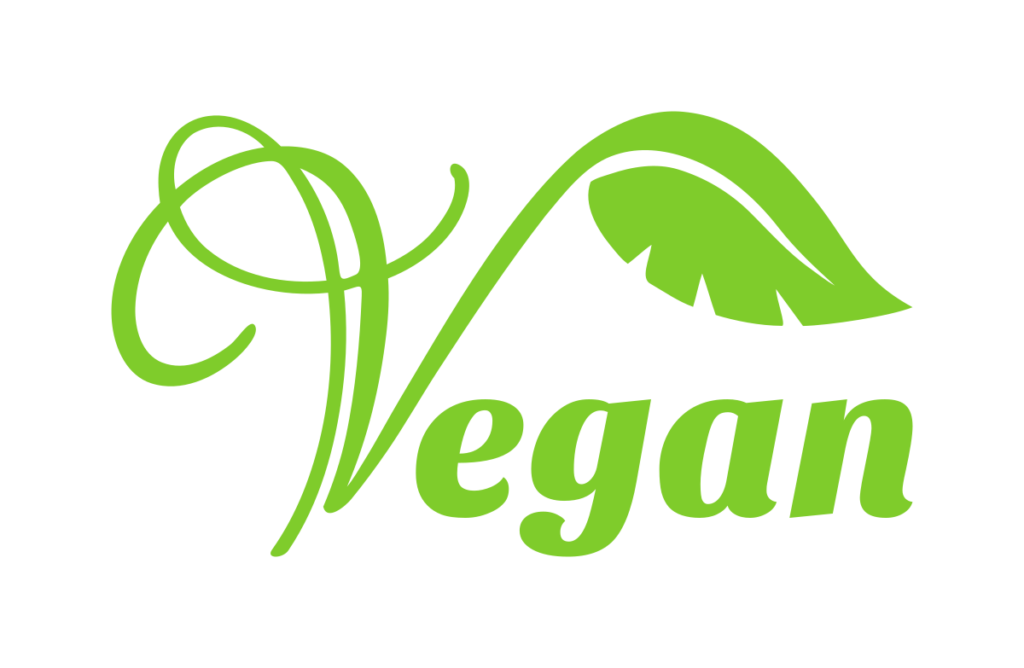 ---
Guide/review and photos by Kirsten Dika
---
Best of the Best
---
1. Chickn Stabwich at The Buckingham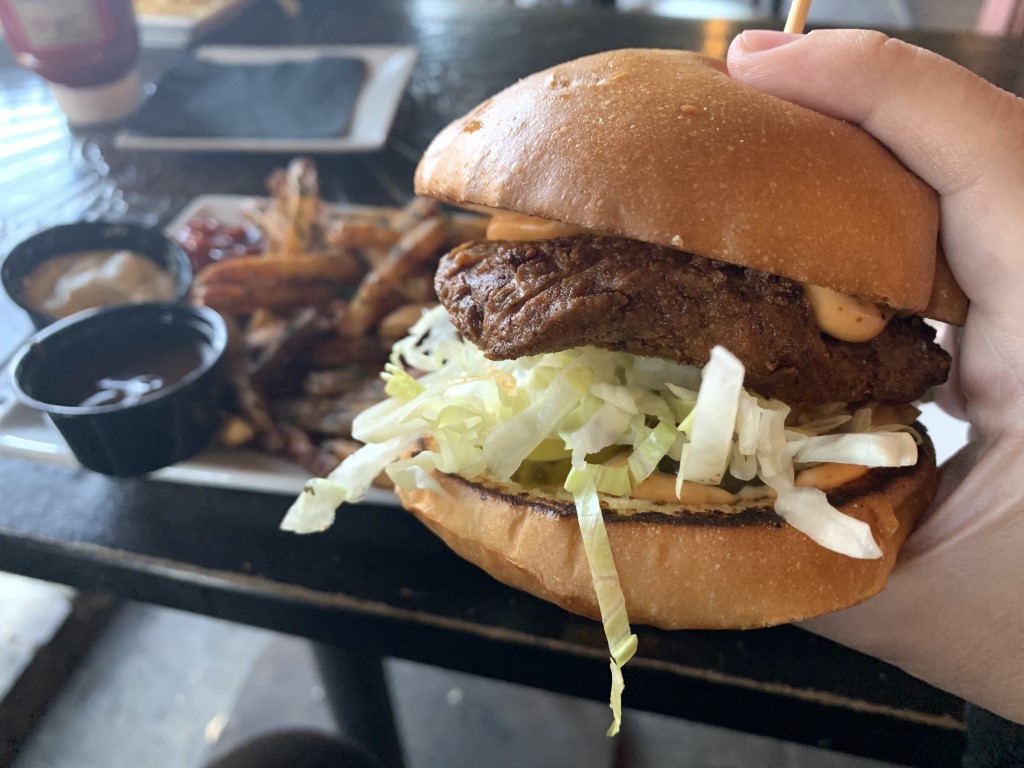 Pub food & beer
$$$
nearby pay parking
10439 82 Ave NW
780-761-1002
The Buckingham is my favorite place to eat in the city. Situated on busy Whyte Avenue and featuring a hole-in-the-wall aesthetic and loud live music, the self-described "vegan punk dance dive" offers 100% street-style vegan food.
The chickn stabwich wins first place for me: a gloriously thick and seasoned seitan chickn patty is topped with spicy "murder mayo" and pickles on a brioche bun and is accompanied by a mountain of house cut fries. Choose from OG, buffalo or nashville hot sauce (nashville is the best!).
Hot tip: upgrade to garlic fries for no fee and order a side of gravy or dill dip!
---
2. Crispy Tofu Bowl at The Cactus Club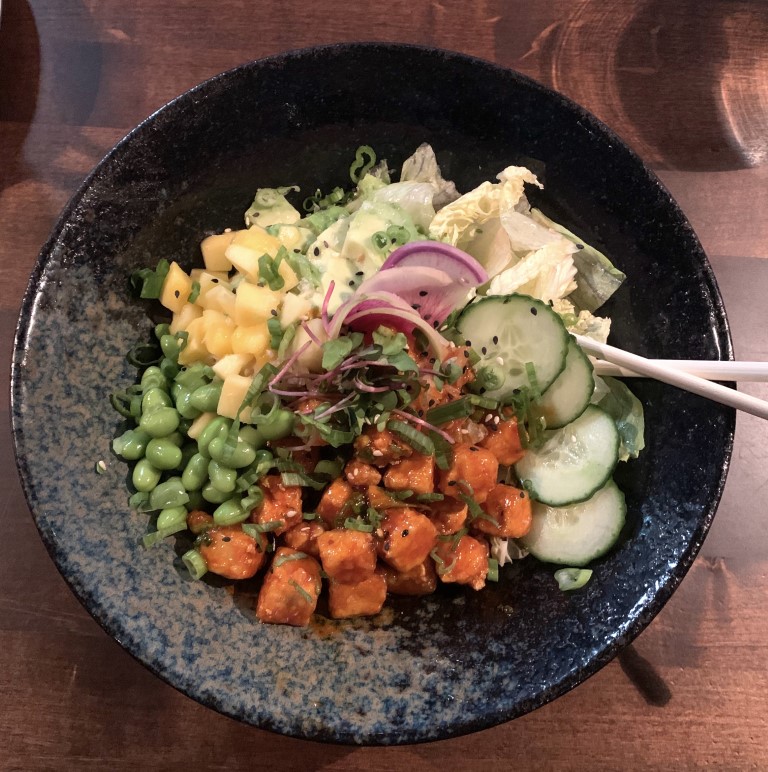 Upscale dining, plant-based options
$$$$
plenty of free parking
West Edmonton Mall 8882 170 St NW #1946
780-489-1002

It wasn't long ago that mainstream restaurants like The Cactus Club offered little in the way of vegan dishes. With the relatively recent trend of dedicated plant-based sections on many menus, The Cactus Club comes out on top with the incredible crispy tofu bowl.
Pressed agedashi-style tofu tossed in a sweet and mildly spicy soy-chili glaze rests atop a nest of jasmine rice alongside fresh mango, edamame, avocado, and radish. I haven't found a better tofu bowl anywhere in the city, and even my non-vegan family members have fallen in love with this dish!
The Cactus Club's stylish and upscale atmosphere is a perfect place to celebrate a birthday or special occasion, too!
Bonus tip: if you want to be uncomfortably full, order a side of truffle fries sans cheese and aioli dip.
---
3. Vegan Egg & Swiss Bagel at Remedy Café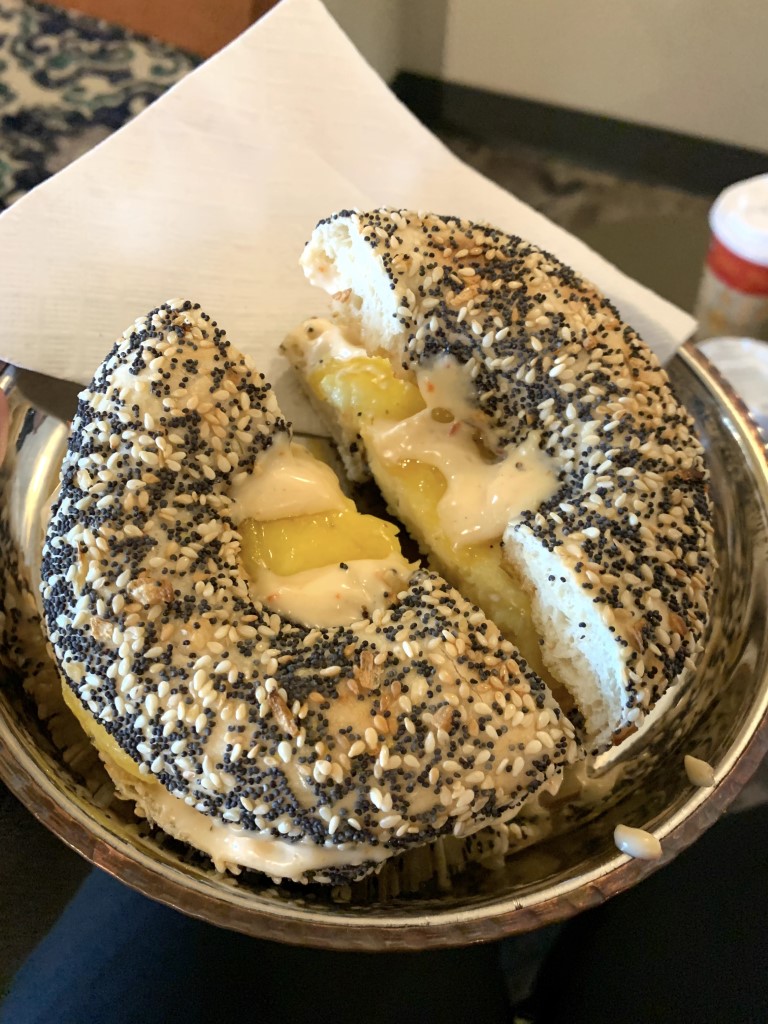 Casual coffee house, lots of vegan options
$$
free short-term parking
200 Festival Lane #110, Sherwood Park
780-489-1002
Remedy Café is one of those places that you will crave to return to shortly after you visit.
My partner and I often reward ourselves after a long morning bike ride by stopping in at the cozy Sherwood Park location for a vegan egg & swiss bagel, with a soy chai tea for me and a soy London fog for my partner.
Always served hot, the bagel sandwich is spread with a spiced mayo and is a satisfying breakfast that is perfectly complimented by Remedy's unbeatable chai tea.
The funky décor features colourful walls and comfortable armchairs, making for a perfect spot to chat or study while you munch.
Hot tip: Remedy Café offers a variety of other vegan options, including the famous vegan Bloom Cookies!
[see also Mabel Luong's edmontonscene review of the Remedy Café]
---
4. Vegan Doughnuts at Doughnut Party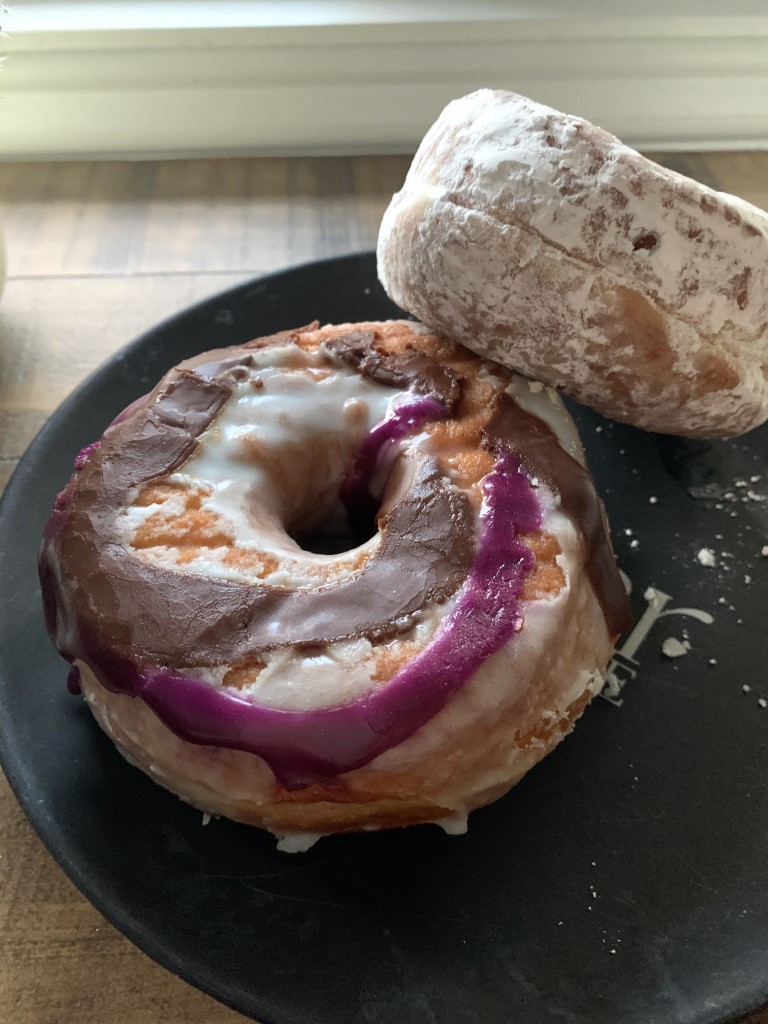 Mostly vegan doughnut shop
$$
free parking
9610 76th Ave NW
Doughnut Party is a fun and vibrant small doughnut shop tucked away in a small strip mall in Ritchie, with a second location downtown.
It routinely offers many vegan doughnut options, including fun flavours like the classic vanilla dip, death by chocolate, and ooky spooky cookie crumble.
The small, bright and modern shop features a walk up counter where you can view all the daily flavours and make your picks! Choose one or two or opt for a boxed half or full dozen.
My flavour recommends are the insomnia doughnut, which is huge, light and fluffy with cotton candy, chocolate, and grape icing, and the raspberry jam jam bismark, a jam filled delight rolled in powdered sugar.
Hands down, there is no better vegan doughnut to be found in Edmonton!
Hot tip: order online for quick and easy pickup or delivery!
---
5. Cinnamon Buns at Cinnaholic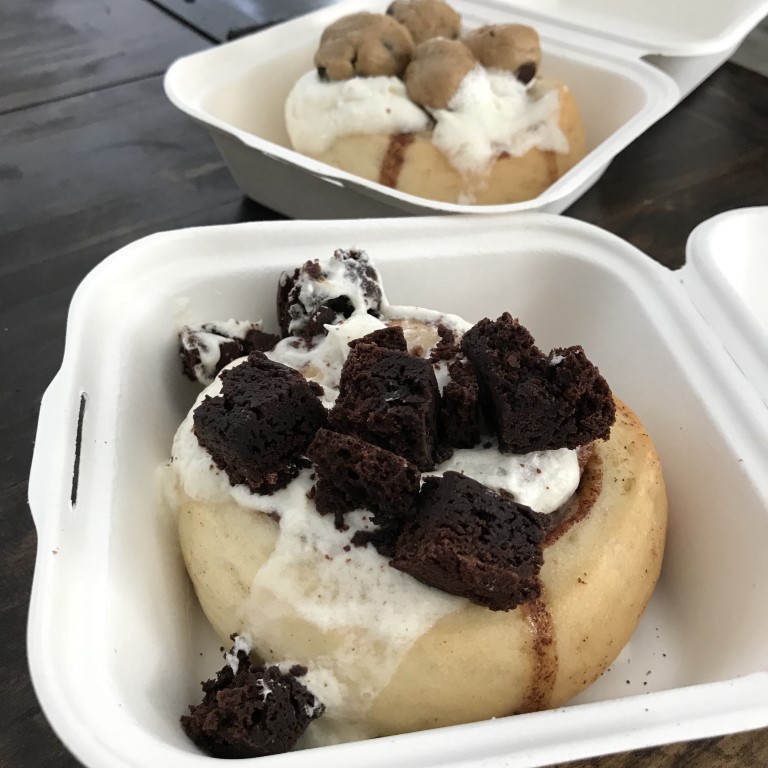 100% vegan bakery & coffee house
$$
nearby pay parking
10345 82 Ave NW Suite 101
780-433-3450

Cinnaholic is a completely vegan, plant-based bakery with to-die-for customizable, gourmet cinnamon buns.
This small, cozy bakery on Whyte Ave has a coffee house feel, and is perfect for sitting in for a drink & desert with a friend or picking up to go.
I always opt for cream cheese icing, brownie bites and chocolate sauce, sometimes throwing in peanut butter cups or cookie dough for good measure.
Cinnaholic offers hot drinks, cookies, cakes and a lovely holiday wreath as well, also customizable and a smash hit at family get togethers: my completely non-vegan Nana claims Cinnaholic makes the best cinnamon buns she has ever tasted in her 89 years.
Hot tip: buy a tub of cookie dough to take home. Do it.
---
Bonus! Mango Sunrise Bubble Tea at Presotea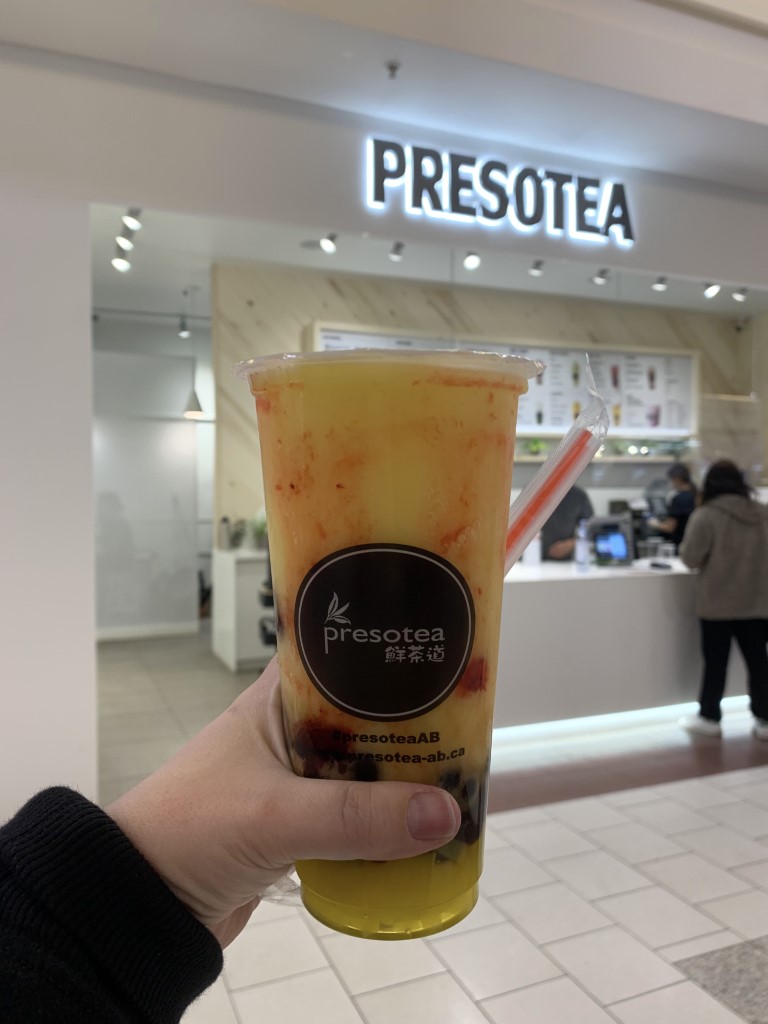 Mall walk-up counter, many vegan drink options
$$
free mall parking
Southgate Mall 5015 111 St NW #38
780-890-7298

Bubble tea is one of my favorite treats during any time of the year and I don't think this list would be complete without mentioning the best in the city: Presotea!
Every time I visit this small and bustling tea counter, I order the mango sunrise – it alone is good enough to warrant a drive to Southgate Mall. Slushie mango puree, passionfruit, mango jelly and black tapioca pearls make the mango sunrise a 10/10, and the incredibly friendly, fast service pushes it to an 11!
There is usually line up, but it's worth the wait.
Hot tip: for a less sweet but equally delicious option, try a royal earl grey milk tea with soymilk!
---
See also:
Trista Peterson's edmontonscene Brief Guide to Vegan Eats in Edmonton
---