A Taste of Italy, No Passport Required
---

---
Review by Piper Keyes
---
Vaticano Cucina's surroundings may not exactly call to mind picturesque cobblestone streets and centuries-old architecture, but its mouthwatering pasta dishes, inventive pizzas, and unique ceiling decor may be the closest one can get to visiting Vatican City without leaving Edmonton.
Vaticano Cucina opened in 2017, in the space on 45 Avenue and Gateway Boulevard where Koutouki Taverna used to reside. After extensive remodelling, the interior of this family-owned operation now boasts an open kitchen, open floor plan, and some very distinctive elements of decor. Its objective is to serve top-quality food with great visual presentation, using locally-sourced ingredients and family recipes which combine innovation and tradition.
It is currently open for dine-in, pickup, and delivery from 11am-9pm on weekdays, 4pm-9pm on weekends, and brunch for large groups on weekends by request.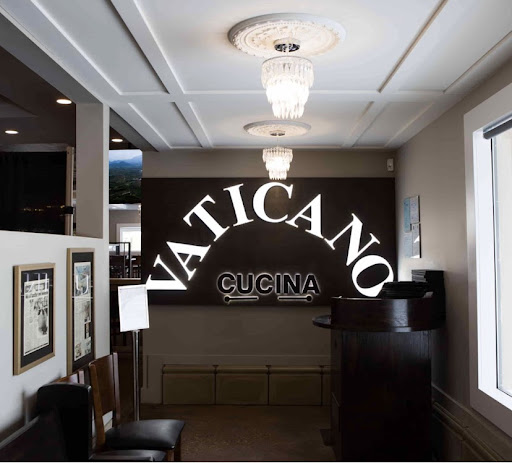 I dined at Vaticano Cucina with my friend Remy near the end of October 2021. We arrived around six-thirty and found ample free parking behind the building, which is nestled between two hotels and a few other industrial-looking businesses. From the outside, the restaurant—a squat, beige structure with black awnings and a patio area out front—is fairly unassuming. If not for the brightly-lit sign atop the building, we may have missed the turn. Inside the front doors, however, we were warmly greeted by a hostess and a massive, LED-lit sign proclaiming the restaurant's name. As a statement piece, it certainly made a grand first impression.
Although I hadn't made a reservation that night, we were in luck; they had room to spare, and we promptly found ourselves seated at a small wooden table for two. I chose the side with the comfortable black bench seat, and Remy took the chair opposite me, giving him an excellent view of the staff working in the open-concept kitchen behind us. We both remarked upon the unusual lion's-head shape of the wood-burning pizza oven.
We were a little less enthralled by the screaming baby at the next table over, but once it quieted down, the gentle, nondescript pop music was a welcome addition to the ambiance.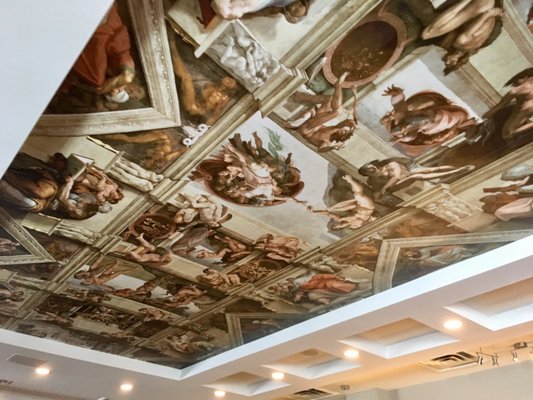 Within moments of sitting down, I knew my favourite element of the decor was by far the unique art on the ceiling of the main dining area. Inspired by Renaissance frescoes found in the Sistine Chapel, the ceiling of Vaticano Cucina depicts a colourful array of humans and angels—largely nude, much to Remy's enjoyment. I was enchanted by the large, detailed mural above our heads, and I often found myself looking up to admire it over the course of the evening. There were several more paintings on the walls featuring abstract patterns of pinks, blues and yellows, but I found these to be a little at odds with the more regal aesthetic of the ceiling and chandeliers.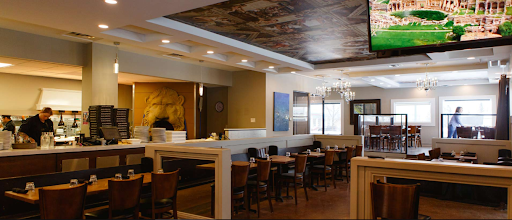 Vaticano Cucina's menu offers antipasti, insalata, pizza, pasta, principale (meat dishes), drinks, and dolce (desserts). Their intent, as their website states, is to create a blend of both familiar and inventive Italian dishes—a goal that quickly becomes apparent when browsing their selection of wood-fired pizzas, which are all named after saints, and which come topped with such innovative ingredients as La Bomba hot sauce, onion jam, figs, or artichoke.
Though Vaticano Cucina is a single-floor restaurant with seating for only about thirty or forty people in the center dining room (or a maximum of 150 people for complete buy-out events), the range of their menu is surprisingly broad, and their offerings are extensive enough that Remy and I were faced with some tough decisions.
We ultimately decided to order the chef's cheese-filled arancini, charity bread (focaccia with olive oil and balsamic vinegar), and gnocchi poutine as starters to share. For our entrées, I ordered the St. Francis pizza (goat cheese, arugula, onion jam, figs, and balsamic glaze), and he ordered the gnocchi bosaciola (house-made gnocchi with wild mushroom sauce and grana padano).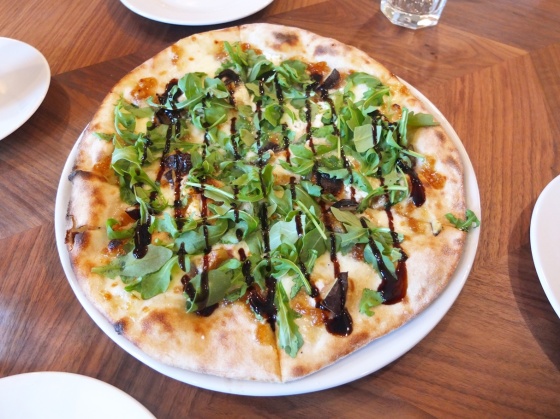 As a vegetarian myself, I felt that I had plenty of options, and our server made sure to double-check the meat-free status of a couple items for us. Remy and I stuck with water for the duration of the night, though the list of drinks did look quite robust, including specialty cocktails, classic cocktails, non-alcoholic beverages. (The house special? Holy Water, also known as vodka, blue Curaçao, peach schnapps, lemonade, and pineapple juice. Hallelujah!)
The wait for our starters was perfectly timed. It gave us ample time to chat and survey our surroundings, and for me to check out the washrooms—unfortunately, very plain compared to the rest of the restaurant's décor, and a broken latch on the stall door meant I had to awkwardly hold out a leg to keep it shut.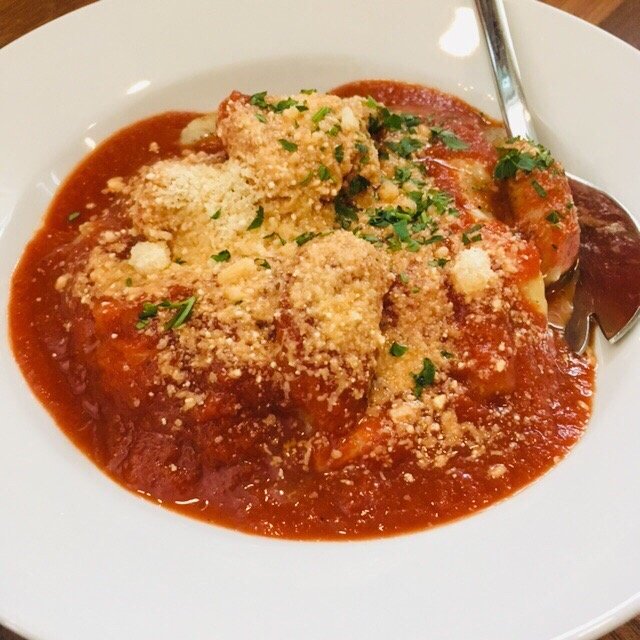 Regardless, the first few bites of our antipasti more than made up for the underwhelming washroom. The focaccia was warm and chewy, the arancini balls were the perfect blend of crispy breading and creamy risotto, and the gnocchi poutine… Well, it was hardly poutine in the traditional sense, but who wouldn't love a bowl of tender gnocchi topped with cheese curds and marinara sauce?
We took our time conversing and enjoying our antipasti. By the time our server reappeared to clear our dishes, I saw that the restaurant had largely filled up with other dinner-goers. This is a good sign for any restaurant on a Wednesday night, let alone one in such an out-of-the-way location. There were many couples dining together that evening, as well as several families with young children and one larger party of about ten or fifteen people in an area slightly raised from the rest of the dining room.
Not long after, our entrées arrived. I was once again impressed by the food. The pizza was served fresh out of the oven with soft, chewy dough and beautifully-melted Fiore di Latte cheese, and the fig slices were an interesting addition which beautifully complimented the sweetness of the onion jam and the tang of the balsamic drizzle.
Once I finished raving about my food, I attempted to prompt my dining partner for his own views on the gnocchi bosaciola.

"How is it?" I asked, ready to make a mental note of his feedback.
Remy just nodded. "It's good," he replied eloquently.
And then, more cryptically, "They weren't kidding about the mushrooms in here."
We finished eating around eight-thirty and decided not to order dessert. The tiramisu and cannoli did sound divine, but we had eaten our fill, and it was time to pay the bill and drive home.
Though Vaticano Cucina ended up being on the slightly pricier side for two students working part-time jobs (approximately $40 each, not including tip), the food was delicious and the portions were generous.
The staff we interacted with were pleasant and it's safe to say I was satisfied with the service provided. As Remy and I departed that night with our leftovers in hand, I was glad to have experienced Vaticano Cucina's delicious cuisine and unique ambiance.
---
Vaticano Cucina restaurant
10310 – 45 Avenue
780-250-1110
booking@vaticanoyeg.com
website
EV charging available in parking area
---