From Another on-line specializes in high price vintage sneakers and clothing. But they also have a retail store, From Another Flea.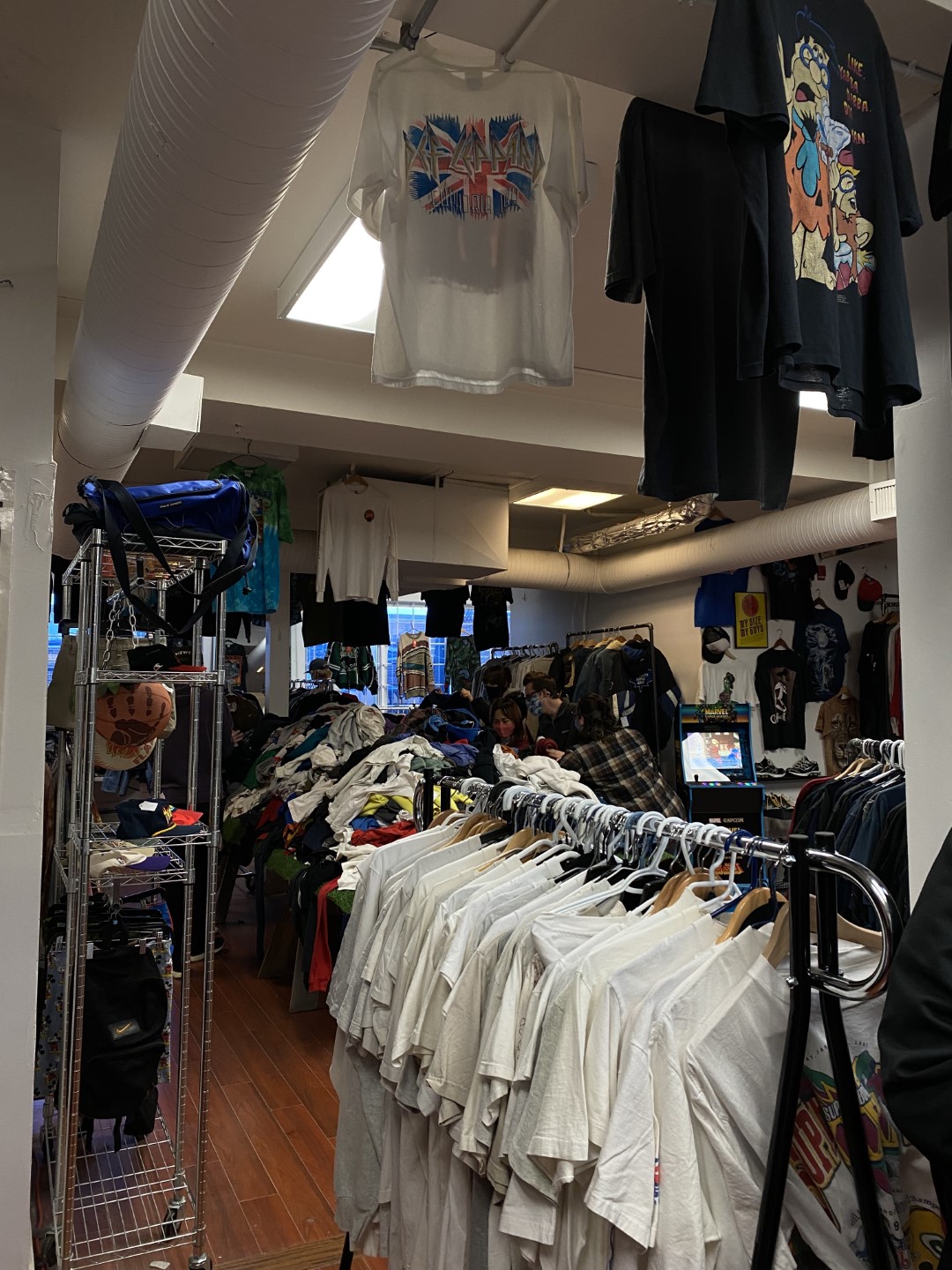 ---
review and photos by Abigail DiLullo
---
As thrifting becomes an increasingly popular phenomenon in today's culture, finding actual decent clothes that fit me at Value Village and Goodwill has become frustratingly difficult.
Don't get me wrong, I'm happy to see so many more people thrifting; it's sustainable, more affordable than shopping new, and helps combat fast fashion. It's just quite annoying walking into Value Village to shop as more of a necessity, and seeing teenage girls from the rich suburbs wipe out entire sections of clothes for aesthetic purposes. 
Teenage girls filming thrift hauls are not the only ones responsible for the barren shelves at your local Value Village, but upcoming vintage clothing stores also seem to share some of the responsibility. What I've noticed is that these specialty vintage clothing stores seem to binge shop the bigger box thrift stores, and then resell the hidden gems at triple the price. 
The past few years, Edmonton has seen a rise in popularity among these specialty vintage stores. The city has a variety of them such as The Come Up Streetwear, Swish, From Another, and one I more recently visited, From Another Flea. 
From Another Flea was opened up at the beginning of September by the owners of From Another, another vintage streetwear store specializing online in vintage sneakers.
From Another Flea brings together multiple different vintage wear vendors into one shop. The shop is located on the upper level of a building right on Whyte Ave and is open on Saturdays from 12pm-7pm, and Sundays from 12pm-5pm. Unfortunately as the shop is located on the upper level and I didn't see an elevator, the shop seems to be only accessible by stairs. 
My partner Mariano and I came across From Another Flea from a shared post on Instagram, and decided that we would head out on a Saturday afternoon and visit. Finding the shop was a bit confusing, as there is no storefront or display. If it weren't for the sign on the sidewalk directing us up the stairs, we would've had no idea where to go. I guess that's what signs are for! 
Once we got upstairs, we actually walked into the wrong shop. We had only seen a sign for From Another Flea, so we assumed there would only be one shop. We had walked into From Another, which was another vintage streetwear shop that owned From Another Flea. It wasn't until we looked around and started to leave that we realized From Another Flea was down the hall. So if you decide to visit, keep in mind it's not the first shop off the staircase – it's down the hall!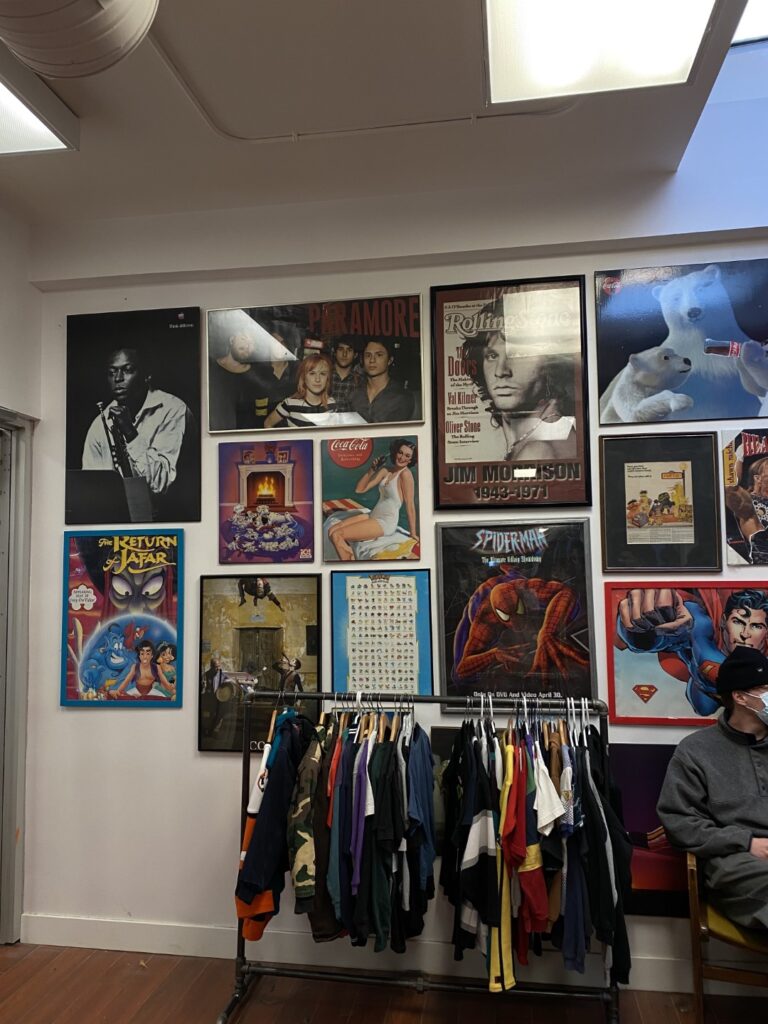 My first impression of "From Another Flea" was that it was quite overwhelming. It was located in a small room, but had lots of clothes and lots of people shopping around. The aesthetic of the shop itself was super funky. It had framed retro posters hanging on the walls, some little 90's trinkets near the front counter, and some of its most attractive vintage t-shirts hung around the room on display. There was some retro Basketball merch near the checkout counter that Mariano loved.
The vibe of the shop was definitely nostalgic, which was fitting for a specialty vintage shop. I loved the feel of the shop, I'm a sucker for nostalgia. 
There were racks of clothes everywhere; hanging from above with racks underneath all around the perimeter of the room, rows of clothes lined up in the middle of the room, everywhere I looked was racks of clothes. There wasn't very much space to move around and actually look at the clothes. I felt pretty claustrophobic. I'm not exactly sure about capacity protocols during Covid, but it was crowded. I also noticed a large picnic table near the back of the shop with a mountain full of clothes thrown on top of it. There were a handful of people scavenging through it.
The majority of the clothes seemed to be men's. Maybe you could consider them unisex. There was a really small selection of specifically women's clothes towards the back, which was a vendor called Red Licorice Vintage. Sadly, despite all the cute stuff this vendor had, nothing seemed to be in my size. The clothing racks were somewhat organized: there were racks of white shirts and black shirts in the middle of the room, then mostly jackets, jerseys, and other clothes on the racks around the room. 
Everything that I looked through seemed to be in pretty decent condition, for vintage clothing anyways. There was an attempt to colour code the racks, but it seemed weirdly selective. Honestly, I wish the clothes would've been organized by size. As I waded through, everytime I found a shirt that I would maybe consider splurging on, it wasn't in my size.
A major struggle for both Mariano and I when shopping is finding size inclusive clothing. I usually wear a size large or xlarge womens, and Mariano usually wears a xxlarge mens. Thrifting has always been great for us, as we've been able to stick to our starving student budget and find size inclusive clothes.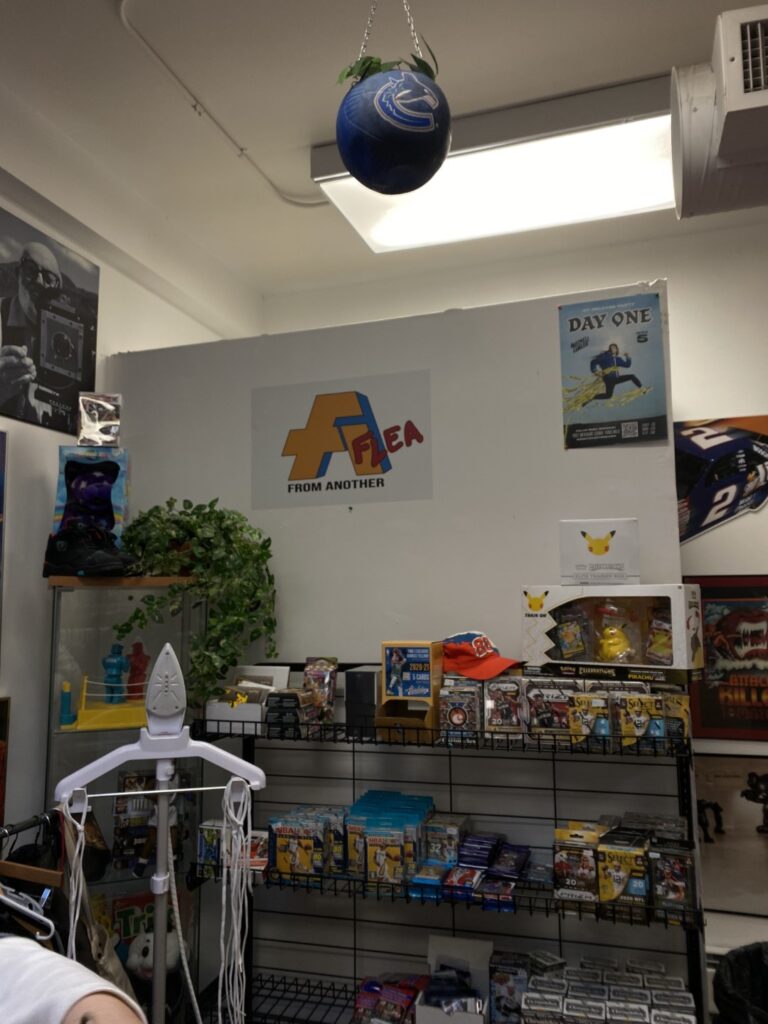 Thrifting has become frustrating lately, as many people who have started thrifting seem to be doing it for aesthetic purposes and search for the popular "oversized" fit.
Obviously I'm not trying to gatekeep thrifting, I'm glad people are thrifting! It's just really difficult because this "oversized" fit that is so sought after, is both Mariano and I's regular size. People who can fit a size small are now wiping out entire sections of large and xlarge clothing, leaving people who actually need those sizes with nothing. 
Nonetheless, From Another Flea had a lot of size inclusive stuff! I assume because specialty vintage stores also contribute to wiping out entire sections of xlarge mens clothing at local thrift stores, but it was awesome to come to this shop and find things in our size. Mariano and I both tried on multiple jackets and sweaters with ease which was a relief. There was one small fitting room that was open to the public, which was nice as most other thrift stores have taken their fitting rooms out. 
After shopping for a while through the racks and debating whether some nice things were worth the price, we made our way to the back of the room to the mountain on the picnic table. As we were able to sneak in and start looking through the pile, we noticed that they seemed to be unwanted items. They were significantly cheaper than the rest of the clothes in the store, but we quickly realized almost everything on the table had stains or tears, or were just really ugly. Nothing really interested us and we moved on to other racks.
The biggest downside of this shop was the prices. The shirts ranged from $20-$80, and some priced even higher. For just the shirts. Tshirts. For someone who shops at Value Village because I usually can't afford to shop new, these price tags were unjustifiable. Especially when I am certain that most of these items were bought at 25% of the price tag that's on them now.
Without offering judgement, the demographic within the shop seemed to have no problem with dropping $500 on a few shirts and a jacket. There were some really cool vintage windbreakers and jackets that ranged from $40-$100, some priced higher, that were more reasonable. While looking through the wind breakers I came across one that was almost identical to one that I had found at Value Village for $7.99 in twelfth grade. At From Another Flea, the tag read $65.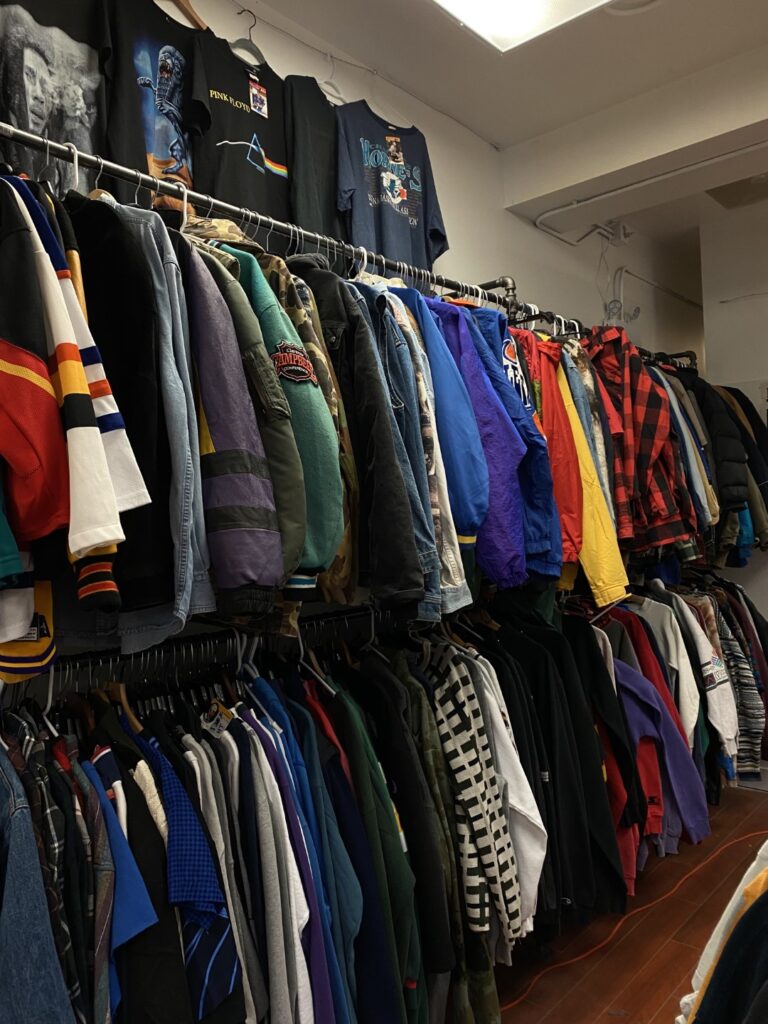 There were some good finds in From Another Flea. I ended up getting a fleece half zip sweater that was retro royal blue and a Mickey Mouse shirt that's cute, but I have to admit wasn't worth the price I paid. My sweater was $65, which was already pushing it, and my shirt was $35. I paid $100 for two items that would have amounted to no more than $20 at Value Village, even with their ridiculously rising prices.
Mariano found a nice Carhart jacket in his size, but the price was almost as high as if he were to buy it new. I made the splurge while he watched me in disgust. 
It was hard to tell who the staff members were, but there was a guy sitting on his phone near the checkout counter who I assumed was an employee. The cashier was nice enough, but in all honesty the people who I assumed to be staff, seemed quite unapproachable or maybe even pretentious.
Overall, From Another Flea was a unique shopping experience. Can the unique experience and vintage aesthetic justify the prices? Not for me. Judging by the amount of people in the store, maybe others can. I didn't pay much attention to the amount of people making actual purchases rather than just searching through the racks, but the total for the guy in front of me was almost $600. He didn't even break a sweat when the cashier told him! 
For those looking to splurge on unique good quality vintage items, From Another Flea might be worth checking out! My trip to From Another Flea made me realize that this is the future of thrifting; all the stuff that we used to be able to find on the racks at Goodwill, are now hanging in From Another Flea at triple the price. There definitely were some stand out speciality pieces worth checking out, but if you're on a budget you might end up leaving empty handed. 
---
From Another Flea
10444 82 Ave, 2nd Floor
Facebook
website
---