I turned to my friend and gasped, "I can't believe there is this much nudity," to which she said, "This is a Burlesque Show, what did you expect?"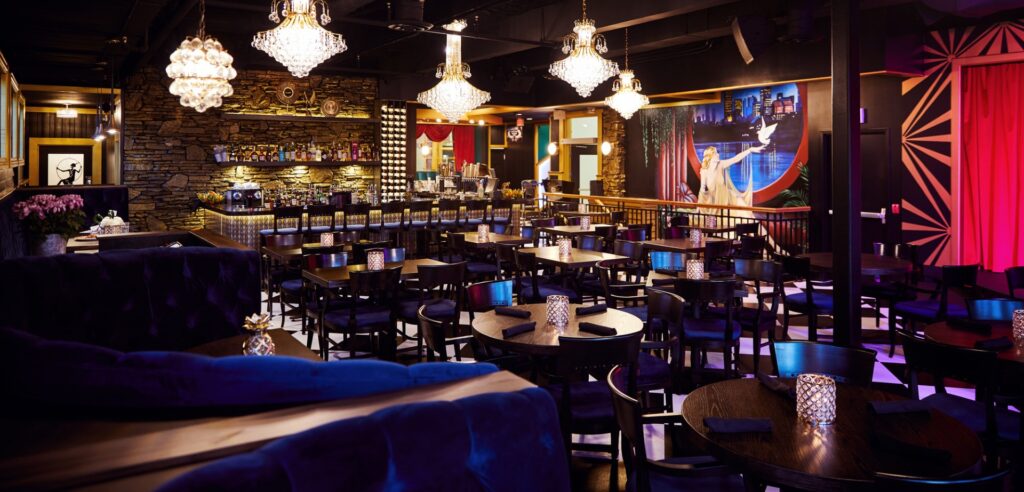 ---
review and photos by Juanita Cordova
---
Every Thursday, Spotlight Cabaret, a rooftop restaurant, bar, and patio, opens its doors for Bourbon and Burlesque. Despite it being just off bustling Whyte Avenue, you could almost walk right past the cabaret if you weren't looking. But after you ascend three steep sets of stairs, you find yourself in a speakeasy that takes you right back to the Roaring 20s.
My friends and I dressed in an R-Rated version of our Sunday Best and emotionally prepared for a night of nudity, alcohol, and music. Each of us clad in black, we trudged up the stairs in slippery platform shoes and heels, and adjusted ourselves at the top while the bouncer checked our vaccination cards and IDs. While waiting, I took in chandeliers, checkered floors, and candlelit tables that surrounded a tiny stage with lush, red curtains. We were escorted to a blue velvet booth with a golden centrepiece. The art deco style was even greater than I imagined.
While I was clumsily wolfing down a burger and a boozy strawberry basil lemonade, the MC stepped out in a well-fitted blue suit. I really enjoyed the burger and fries, but I did not love the basil in my lemonade. Still, for half a pitcher of the lemonade, the burger, and the tip for the waitress, it all ended up being in the ballpark of $40.
Jeff, one of the owners and the MC, joked and interacted with the crowd. He introduced himself, mentioned his business partner Aimee, and told us what was in store for the evening. The sound engineer, Aaron, started playing "Luck Be a Lady," and I thought to myself, This place is freaking classy. Immediately after, Jeff said, "Fuck, you know what? I think this isn't a 'Luck Be a Lady' type of crowd, I think this is a 'Jump Around,' type of crowd". Jeff started bursting with raunchy jokes and witty one-liners, and a couple of references I didn't understand. Jeff ended his introduction with a land acknowledgement. Whether the land acknowledgement was performative or not, I felt safe.
Before I get into the nitty-gritty I need to preface some things. I am a bisexual woman who was raised in a Mexican/Indigenous Roman Catholic household. So, you can imagine the stress I was under when I saw all these beautiful women who stripped to practically nothing (I am also in a happy relationship).
I turned to my friend and gasped, "I can't believe there is this much nudity," to which she said, "This is a Burlesque Show, what did you expect?"
The only knowledge I had of burlesque prior to this event was watching the movie Burlesque with my mother. One thing I learned is that burlesque is a flirtatious dance that often involves strip-teasing and sexual/creative liberation. What makes Burlesque different from stripping is the creativity; it is not just a dance, it is a performance. Burlesque often contains satirical, flamboyant, seductive, and performative aspects. With Burlesque, you are not restricted to selling yourself, you are also selling your art.
Jeff introduced our first act of the night, Pearl Sociere, and she was unforgettable. She was like a real-life Jessica Rabbit. She sauntered out in a red dress to Nina Simone's "Put a Spell on You," a great choice. The crowd hollered and cheered as she teased the audience and stripped to essentially nothing but a dainty piece of underwear and glittery bat-shaped pasties. Pearl was a very well-endowed lady and she flirted with the crowd by shaking her breasts in a circular motion. I could not help but chuckle a little and wondered how painful that must have been. She bent over to reveal her underwear that said "bite me" in red, glittery letters. My friends and I let out a few whoops and laughs. Her stage presence was so strong, I wanted to hop up on the stage with her. But alas, her appearance was short and sweet, and she was soon replaced by Jeff.
Jeff interacted with the crowd again. I noticed that he likes swearing, but then again so do I. He mentioned that this was the first night in months that the Burlesque show was not sold out.
He told more jokes and wished some audience members a happy birthday with a shot (I made a note to myself to come here on mine). He also teased some couples and meandered through the crowd. He was so good at improv, I almost forgot this is a Burlesque show and not a comedy show. You can tell he was comfortable with the spotlight. Finally, after some teasing, he introduced our next act, Raven.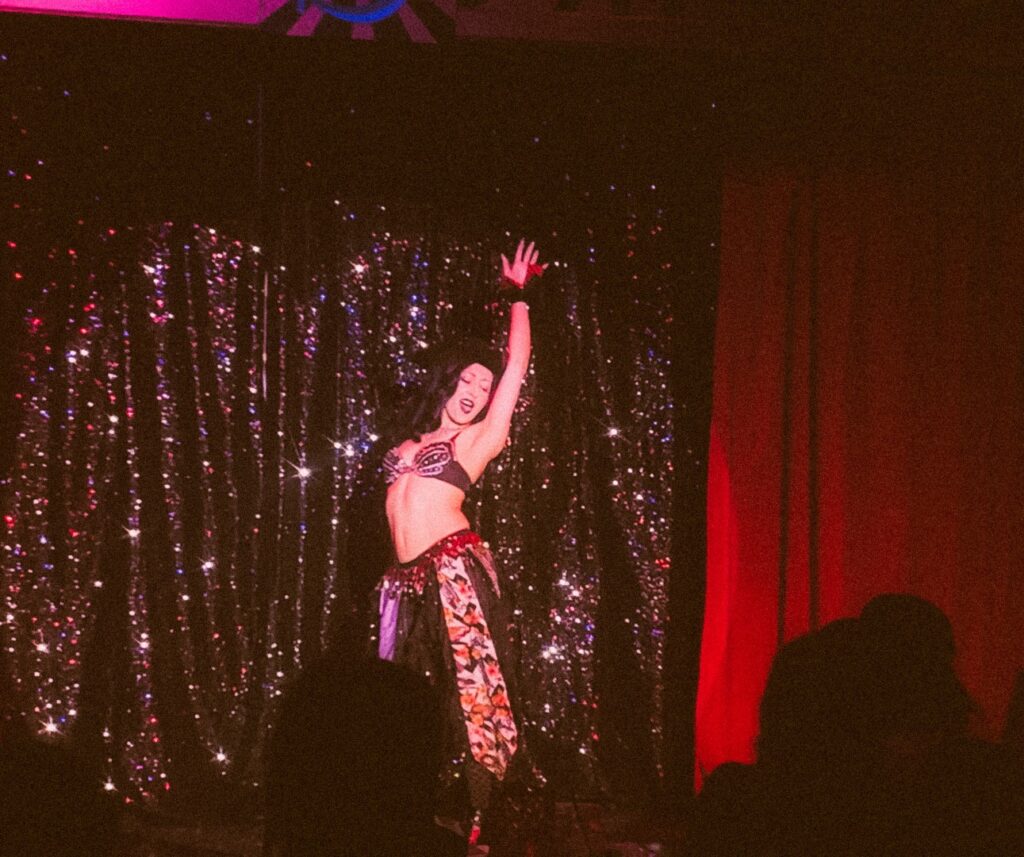 She jumped out of the curtains in an 80s costume with "Tell It to My Heart," by Taylor Dayne blaring over the speakers. She lingered in one of my blind spots; there was a pillar that sat directly in front of me, so I did not see a ton of her for this song. I lost a bit of interest since I could not see her, but eventually she stripped to pasties again and jumped around the stage and into my view. Raven was a fine performer, but I found that she was outshined by her coworkers. Still, the crowd roared, and she danced on. As an ex-theatre kid, I was a little frustrated with how little she used her space onstage.
Jeff introduced the headliner of our show, Onyx. She is an award-winning dancer and an expert in pole/silk dancing. Jeff took this time to remind us how much our Burlesque ticket cost (it's $12), and my friends and I awkwardly fished out some tips for our dancers. He also vamped for a bit while the stage crew pulled out an additional circular stage for Onyx. I am grateful that they pulled this stage out because I am vertically impaired, and was practically standing to peer over everyone's head.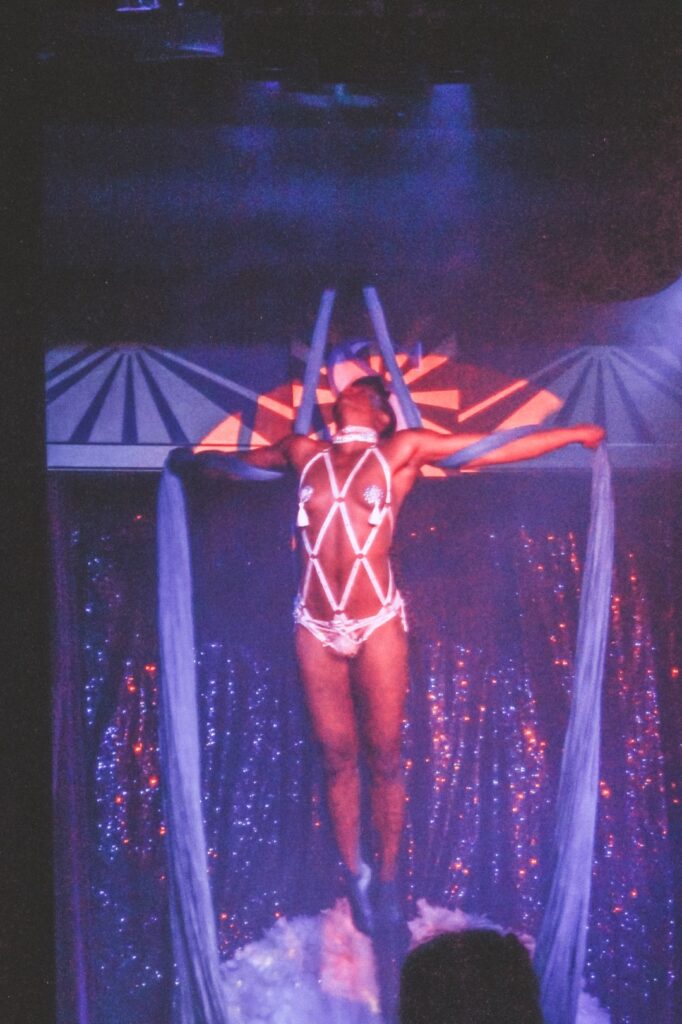 Now, Onyx was the headliner for good reason. She entered the stage in a glittery luchador/devil costume, completely covered from head to toe. A heavy rock song that I did not recognize blasted, and she swaggered onto the stage. She contorted and bent in ways I can only dream of moving, and she slowly revealed her body and face. She pulled out a pole from nowhere, and the crowd lost their minds.
Onyx is no amateur, and she proves that by doing some impressive leaps, turns, flip-flops, splits, and even lurch herself onto the pole. I must note that I do not know the first thing when it comes to professional dancing – my experience is limited to musical theatre in high school – so to say I was enamoured by Onyx's skill is an understatement. I started feeling a bit frumpy whilst Onyx is literally suspended in the air. I recall a time when I fell up the stairs and dropped hundreds of popcorn kernels.
The final section of the first act was a dance with all three Burlesque divas, and they interacted with each other and just had fun on the dance floor. There was no set choreography, just jumping and laughing and sashaying.
After a brief intermission, we were welcomed back by my favourite, Jeff. The three ladies did their own separate performances followed by a couple of full-cast performances.
My favourite dancer of all was Pearl, who kept to a Halloween theme with all of her costumes. Her style was cheeky, funny, but still empowering and sensual when she chose.
In one performance, she came out in a trench coat with ties on the inside, and cleverly chose the song "Private Eyes," by Daryl Hall and John Oates. She rhythmically unpopped her jacket buttons to the tempo of the song, and revealed a googly-eyed bra. Haha, that's cheeky, I thought to myself. At this moment, my friends and I lost our voices from cheering so much.
Ironically, she had the least comments in my notebook because I was so distracted by her dancing.
Pearl actually came to our table at the end of the show and thanked us for our support and cheering. She also called all of the ladies at the table beautiful, which just solidified our decision to come again.
I asked Pearl how she got to where she is and she said, "I saw someone else doing it and felt a little spark in me to go and try it. I am so happy to be here and I love working for Spotlight. It was also great to see that they are hiring plus-size dancers, because not every establishment does that".
Pearl's dancing in particular struck a chord with my friends and me. The representation of a plus-sized girl told us we were capable of dancing as well.
A close second for the battle of my favourite dancer, was Onyx. She was more of a serious dancer. In her last performance, she sported a captivating LED angel costume and emerged in a smoky haze. She danced on the pole, dazzling the crowd once again, and pulled a lush, emerald silk rope from the ceiling. Onyx dazzled the crowd, she didn't need to interact with us to steal our attention. With Pearl, there were screams, with Onyx, there was silence. I can't help but notice how poised she was, and how gracefully she swung from the silks. One moment, her head was near the ceiling, in another moment, she was inches from the floor. The amount of core strength required for silks is incomprehensible, considering I lose my breath doing a plank for more than 20 seconds. If dance is all about lines, and shapes, Onyx would be a geometric figure.
I would highly recommend visiting this establishment if you are interested in a truly entertaining show. It was empowering and fun. If attending a burlesque show is sinful, I am never making it to Heaven.
---
Spotlight Cabaret
8217 104th Street
780-760-0202
website
---
See also:
Dawson Black's 2020 edmontonscene review of Spotlight Cabaret.
---