---
By Kristen Maiorana
---
Quite a few of my Calgarian friends often refer to our beautiful city as "deadmonton." Unfortunately, they mean this as an insult, not to be confused with the Halloween haunted house. I, however, know they're wrong. Fortunately, I am somewhat of a café connoisseur, and every time these friends of mine attempt to threaten the integrity of my city or tell me what little it has to offer, I have a host of gorgeous cafes and eateries to share in order to prove them wrong. I won't bore you with the entire list, as it's become quite a long one, so I've decided to share a few favourites I've come across in recent years.
Price rating legend: out of 5 dollar signs ($$$$$)
---
Dalla Tavola Zenari
$$
10166 100A St NW
Hidden away in the heart of downtown Edmonton is a gem known as Dalla Tavola Zenari. This Italian café and eatery offers a wide range of Italian comfort food and drinks: from gnocchi and other pasta to flatbreads, salads, and paninis, you're sure to find something you'll like.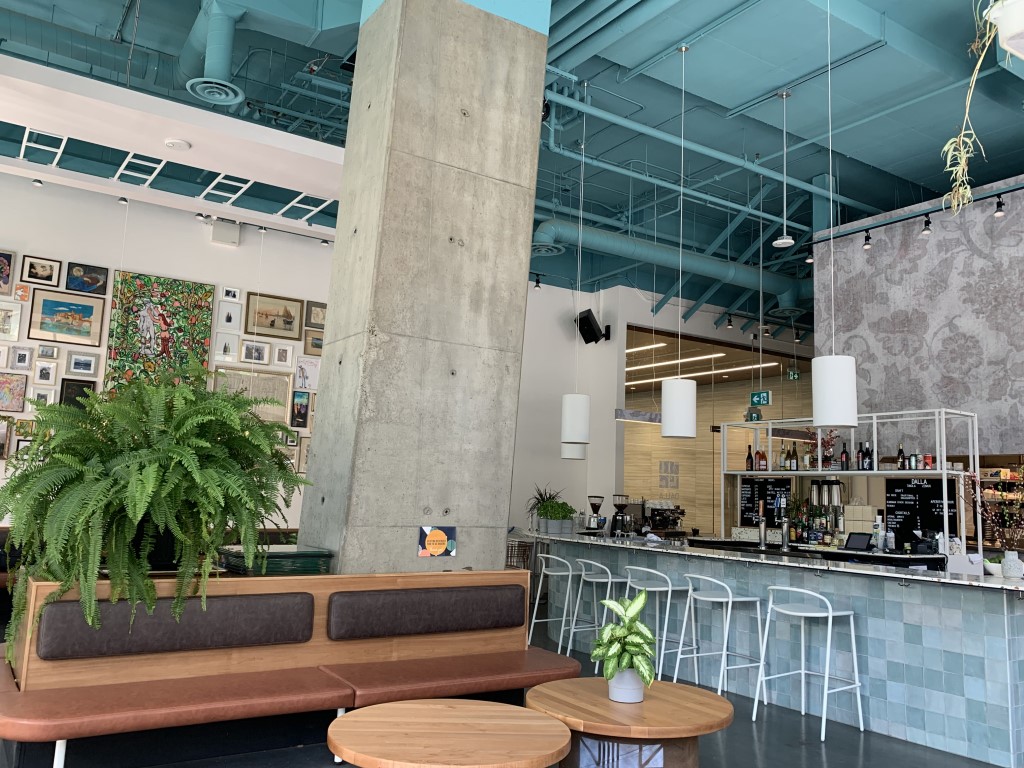 A personal favourite of mine is the salmone crostoni, a sourdough flatbread smothered with thick and rich dill cream cheese and topped with smoked salmon, red onions, salty capers, mozzarella, and bocconcini. This perfect combination of savoury flavours is sure to tickle your tastebuds!
This flatbread does come in a bit on the pricier side at $18, though there are many more affordable items in each section of the menu. The average starter is around $13, while entrees range anywhere from $12 to $28. The wine, beer, and cocktail lists are also on the more affordable side, with the average 6oz glass of wine costing $11, 9oz glasses costing about $16, and most beers costing $8. Cocktails are slightly pricier, ranging from $10 to $16. Though Dalla is relatively affordable, there are a few pricier wines and beers available, if you're in the mood to splurge. Other beverages, like coffee and pop, are also available at very reasonable prices. The average price of any classic coffee, including an espresso, americano, latte, or cappuccino is $3.50, so you can save your wallet from Starbucks!
My only disappointment with Dalla Tavola Zenari is its lack of a dessert menu. As they are marketed towards being Italian comfort food, you'd think that would include things like cannolis, tiramisu, biscotti, panna cotta, and other traditional Italian desserts. As someone with quite a sweet tooth, I generally enjoy desserts more than entrees, and always like to have something sweet at the end of a meal. Despite this, I still love Dalla Tavola Zenari just the same, as it reminds me of my own Italian roots, and nonna's (grandmother's) incredible cooking.
Dalla Tavola Zenari is a family-owned and operated restaurant that sources all of its ingredients locally and makes each dish in-house. The appeal of Dalla also goes far beyond its food, with huge windows bathing the interior in bright light. Plants and art adorn nearly every inch of the restaurant, creating an inviting and calming environment to enjoy your meal or study session. As I grew up with Italian cooking, I may be a bit biased, but Dalla Tavola Zenari is sure to please anyone with an eye for aesthetics and a love for homemade Italian cuisine.
---
The Moth Café
$$$$
9449 Jasper Ave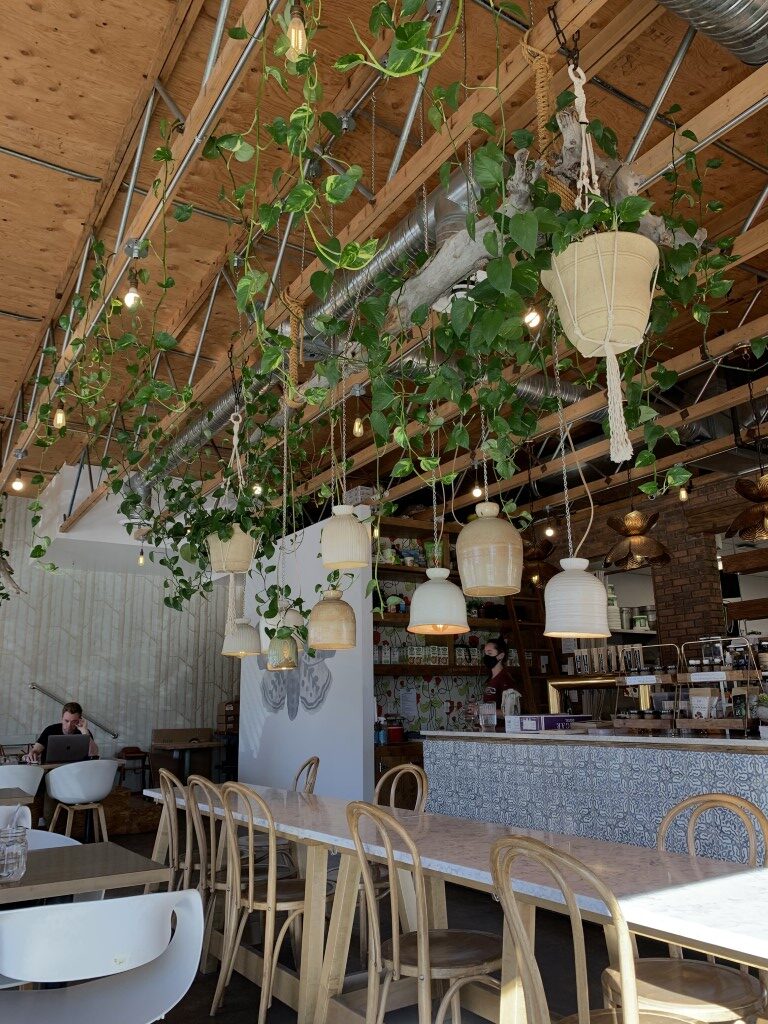 The Moth Café is a vegan restaurant and café located in an up-and -coming area on the edge of downtown Edmonton. This POC, family, and women-owned eatery is nothing short of phenomenal. The interior mimics that of La Bosco with high ceilings, plants galore, and a rustic modern feel. A wide range of gluten-free and vegan/vegetarian food items ensures there is something for everyone, and there is no shortage of specialty drinks including coffee, tea, kombucha on tap, wine, beer, and "moth tails."
The majority of these beverages, though delicious, are a bit on the pricier side, with the average "tea latte" coming in at $7. The average glass of wine and "moth tail" costs $12, while beer is around $7 and kombucha is anywhere from $4-$16.

Being a non-vegan myself, I was skeptical about the food, but after ordering the vegan nachos and vegan/gluten-free key lime cheesecake, I was blown away. There was no way I could tell that the sour cream on those nachos was made from cashews, or that the key lime cheesecake was free of both cheese and dairy. I loved the key lime cheesecake so much that I even tried to make it myself! Unfortunately, I'm not the best baker even when it comes to non-vegan baked goods, so it didn't turn out quite as good as the Moth's.

Another reason I tried to make this cheesecake at home is the price tag. Coming in at a whopping $11 for just one slice seems a bit excessive to me. Despite absolutely loving it, I think saving The Moth for special occasions or for when you want to splurge a bit is the way to go. The nachos were also on the expensive side, almost $15 for the small size or $19 for the large. A bit steep for something meant to be a starter. Nearly every entrée is $20 as well, some with the option for add-ons that cost $1.50-$4 extra. Though I do have some reservations about the prices, overall I would definitely recommend The Moth Café to anyone looking to treat themselves to some delicious vegan food, but warn them of the price tag that comes with it.
---
Brew + Bloom Café
$$$
10550 115 St NW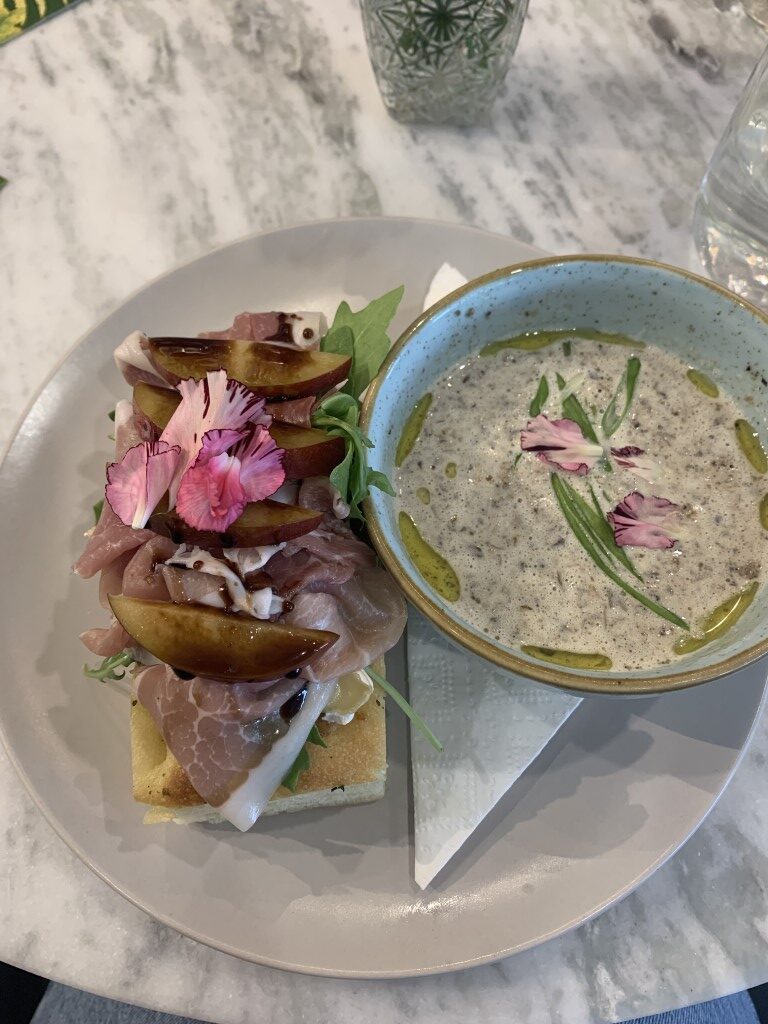 This woman-owned café is one of the most unique eateries I've been to and is conveniently located just North of Oliver Square near MacEwan University.
Though small, the interior is chic yet comfortable, with the star of the show being a huge floral display climbing up one wall to the ceiling. Fortunately, the display is made of fake flowers, so the gorgeous spread will last for years to come.
This café is a bit different from the rest included in this guide, however, as it has more of a restaurant-type feel. You are waited on by a server, and reservations are recommended. I usually prefer cafés where I can stay and study for a while, but Brew + Bloom has become a favourite of mine despite that. It's perfect for a lunch date, either with friends or that special someone.
The food is delicious, though a bit pricey, with costs similar to that of La Bosco. I love the prosciutto + fig + brie tartine ($16) with the creamy mushroom soup ($8). The tartine was an amazing combination of salty and sweet, perfectly complemented by the rich, creamy soup. The integration of flora into every dish works to elevate the food as well. The owner's mission is to raise each guest's "vibrational energy through flora."
I'm not sure how much I buy into the idea that flowers can do this, but they certainly add a unique and distinct flair to each and every menu item.
---
The Hexagon Board Game Café
$
10750 82 Ave NW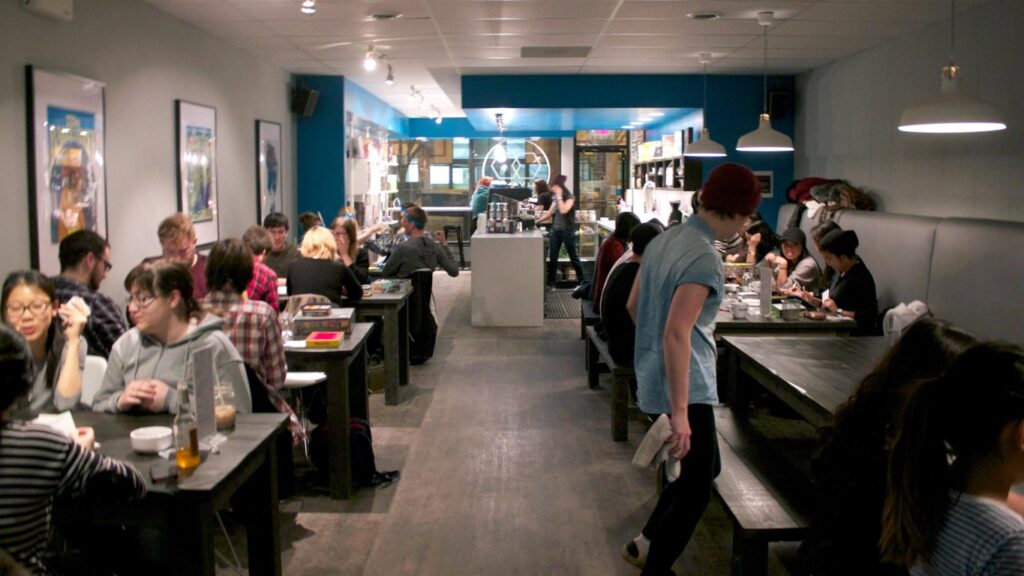 Do you love to play board games? Do you also love specialty coffee and tea? Then The Hexagon Board Game Café is the place for you. This one of a kind café is situated at the West end of Whyte Ave (close to the University of Alberta) and offers hundreds of card and board games for guests to play during their stay.
With many games for groups of two or more people, this café offers a truly unique experience. And for the low price of $3 an hour per person (plus the cost of drinks and food, the purchase of which is required), Hexagon is perfect for groups looking to have a game night without buying an expensive game they might only place once or twice. And if you do find a game you love, there's a good chance you'll be able to purchase it in-store, as they offer a wide range of brand new, captivating board games for customers to purchase.

In addition to the multitude of board games available, Hexagon also hosts a "Beats and Board Games" night every third Thursday of the month. The café's mission statement is to help artists grow, no matter what stage they are at in their careers, and local musicians are invited to perform live music for café patrons. Tickets are available for purchase in advance and cost $13, while tickets sold at the door are $15. On performance days, ticket sales at the door start at 5:30, and the show starts at 6:30. The line-ups for each performance can be found online on YEG music's website and Facebook page. These performances are the perfect way to help you get over your midweek hump.

If you're looking for a good study space close to campus, Hexagon is also a great option. The front area of the café is reserved for those looking for a more quiet and intimate experience, while the larger back room is full of tables for those looking to play games.
Low prices for food and drinks are perfect for struggling students that still want to get out and study. Sandwiches and the Thai beef satay are $8.50, while dishes like the vegetable curry, taco pie, and beef curry cost $6.95. Specialty coffee like an espresso, macchiato, cappuccino, latte, mocha, americano and many cold drinks are all around $4 while beer, wine, and cider are about $7. This café is definitely a unique and affordable experience for anyone who enjoys board games and the welcoming atmosphere of a café.
---
Block 1912 Café
$$
10361 82 Ave NW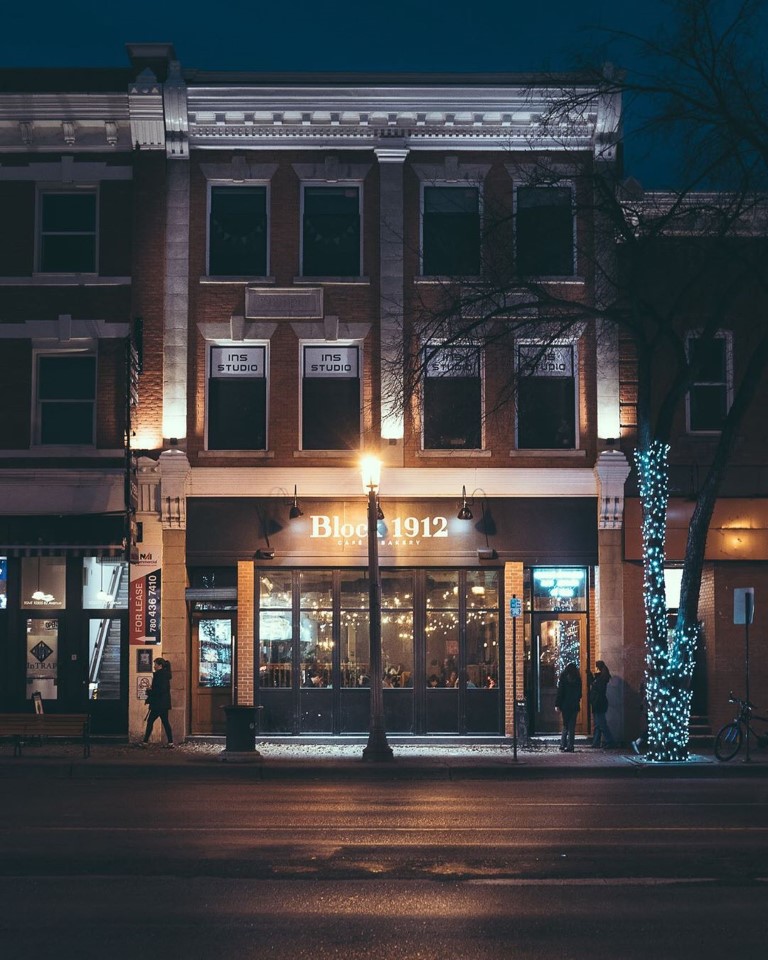 This hidden gem is located on Whyte Ave, in an old brick building built in 1912, hence the name. Block 1912 is an intimate and quaint café, complete with mismatched furniture for an aged, yet homey feel. No two tables or chairs are the same, and the comfortable couches are the perfect spot for an afternoon of reading, studying, or lunch with a friend.
Besides the comfortable and welcoming atmosphere, the food is exceptional. Not only has the café been featured on the Food Network, it has also won numerous Golden Fork Awards for its coffee, desserts, and sandwiches.

Though a bit on the pricier side, with most sandwiches and "comfort food" options costing $15-$16, they are definitely worth it. Favorites of mine include the turkey apple brie sandwich and herb-crusted chicken pot pie. They also offer more affordable menu options if you're craving a small mid-day snack. The seasonal quiche is $8.50, the three-cheese grilled cheese is $9, and the grilled onion cakes are $8. There is also a consistent rotation of different cookies, cakes, and muffins, with gluten-free and vegan options available, each of which costs about $7. Wine by the glass ($7-$9.50) and a few classic cocktails ($9-$11) are offered as well, all at reasonable prices.

Other attractions include jazz night on Mondays and a small library inside for customers to browse. Block 1912 is quite involved in Edmonton's music and art scene as well, displaying paintings and photographs from many local artists. New artists and musicians are encouraged to pitch to the manager to be featured in the café.
One final thing that makes Block 1912 so special are the letters found in drawers throughout the many mismatched desks and tables. Each one was supposedly left behind by a previous customer, either a love letter or note about the restaurant. Whether or not these letters are authentic, I couldn't say, but I'd like to believe they are! They definitely add a distinct character and charm to this beautiful and unique café that keeps me coming back.
---
After attending any one of these unique cafés, those Calgarian friends of mine usually take back their comments about our beautiful city. And whether you're from Calgary or some other city, I hope you try out one of them as well and realize just how much Edmonton has to offer!
Each and every one of these cafés is sure to become a new favourite of yours, just as they've become mine. Especially now that the holiday season is upon us, going to intimate cafés with a warm and welcoming atmosphere are a must. As of right now, I'm typing this from within the walls of La Bosco café, enjoying the gorgeous Christmas tree they've set up and a warm London Fog while it softly snows outside.
---