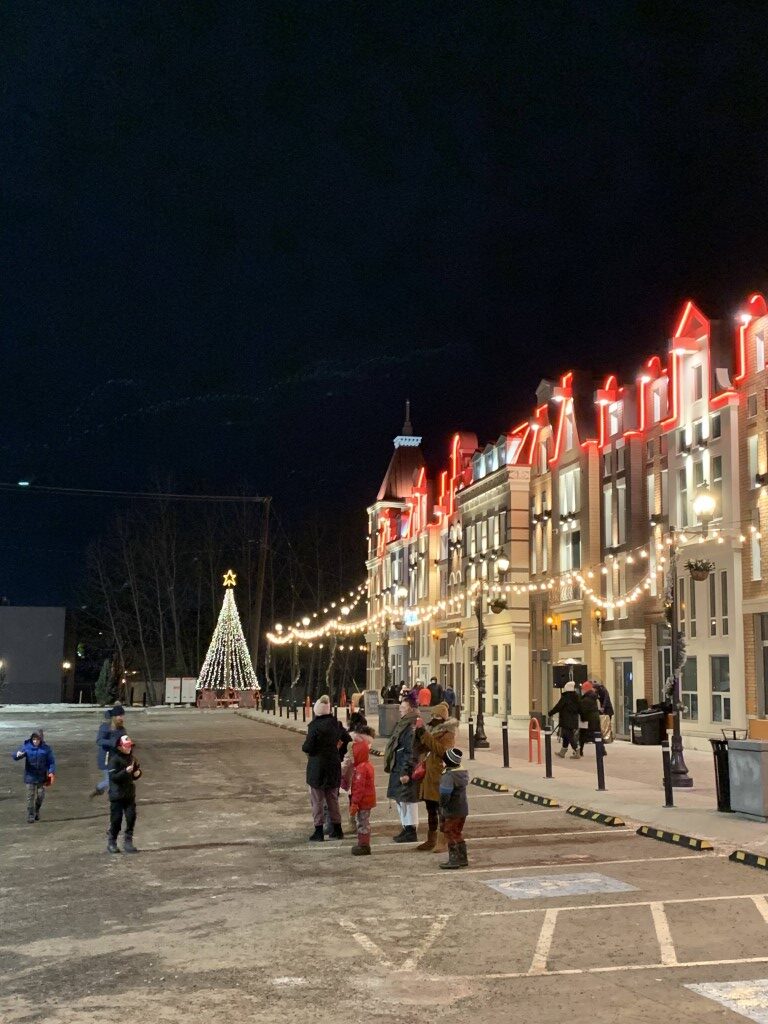 review and photos by Kristen Maiorana
---
Since Christmas is my favourite holiday by far, I love attending winter festivals and celebrations that have some sort of winter or Christmas theme. So when I came across an event being advertised on Facebook as a "Winter Wonderland at Manchester Square," I knew I had to go.
A brief look at the advertisement informed me that, starting at 10:30 am, there would be a host of different vendors, as well as a DJ, sleigh rides, ice sculptures, princesses, hot chocolate stations, and photos with Santa. So on Saturday, December 4th, I dragged my boyfriend Omar out into the cold, and to the little slice of Europe in Edmonton known as Manchester Square.
Located at 120 street and 107 Avenue NW, this architectural gem is just a few blocks West of Oliver Square and Queen Mary Park. Unfortunately upon arrival, we realized that the parking lot directly in front of Manchester Square was blocked off for the festivities, and would have to find parking elsewhere. I was lucky though and found a spot on the side of a road adjacent to Manchester Square. I'm not sure if it was free or not, but we decided to take a chance and hope for the best.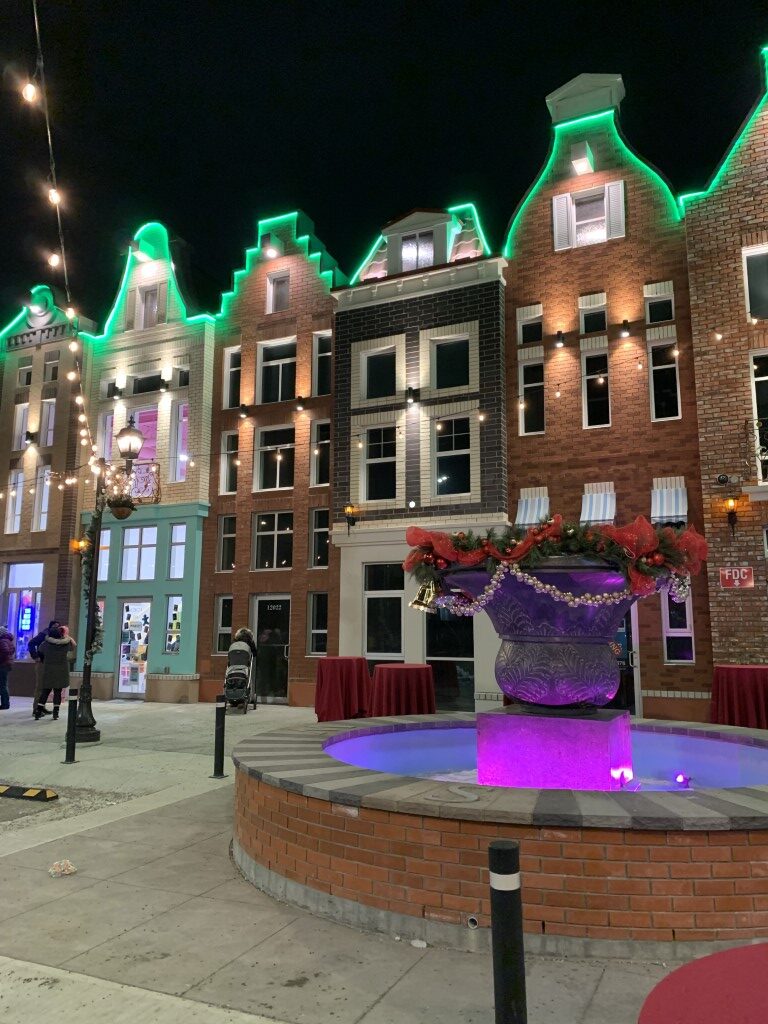 We began our experience by stepping inside one of the businesses in Manchester Square for some free hot chocolate. Just inside the Carbon Environmental boutique was a large thermos claiming to be vegan, gluten-free, and organic. I would've been much happier with some normal non-vegan hot chocolate, as this one tasted a bit watery, but I suppose they wanted to keep with the theme of the store, as the majority of products sold there were either organic/all-natural, vegan, vegetarian, or some combination of the three.
I always enjoy shops just like this one but am usually discouraged from actually purchasing anything due to high prices. Omar, on the other hand, loves finding new things to try and purchased two different types of powdered mushrooms, each of which claiming to have a multitude of different health benefits. The internet seemed to support the claims as well, so I suppose the only thing to do now is to wait and see if they hold true! Each container of these powdered mushrooms was $27-$30, so I'm really hoping they have the desired effect and weren't a total waste of money!
Other than health, wellness, and beauty products, Carbon Environmental also sells home goods like towels, bowls, cutlery, and cooking utensils. These are unfortunately quite expensive as well. Even toques were priced at a whopping $45, quite ridiculous when I could go to another store and find a similar toque for a quarter of the price. Handmade cards were surprisingly on the less expensive side, with most priced at $6-$8, and an array of beautiful cards for most occasions available. Overall, the unique products at Carbon Environmental were fun to browse, but definitely on the expensive side and out of my university student budget.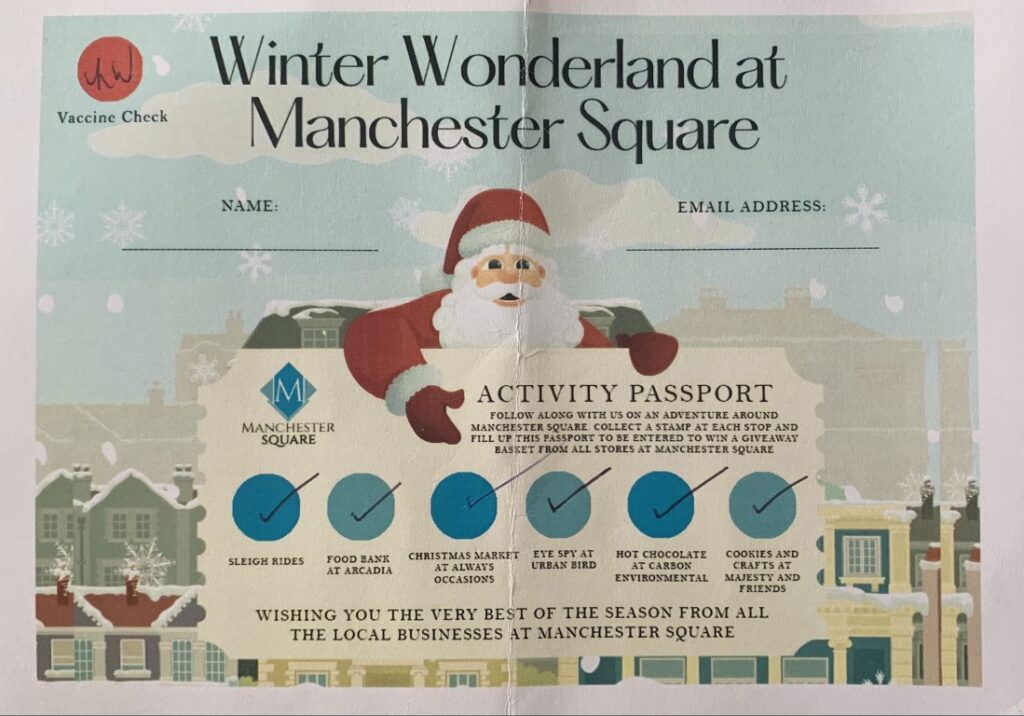 After leaving Carbon Environmental, we decided to check out the winter market set up within Always Occasions Inc. Just before entering, we were stopped in the foyer in front of the market and asked for proof of vaccination. We were then given an "activity passport" with different stops to be checked off. A signature in the top left corner let workers at the other stops know that our proof of vaccination had already been verified. This would have been more effective had the other stops actually been checking the activity passport, but we weren't asked for it a single time after receiving it. I still checked off all of the stops as we went along just to make sure we attended all of the events being held!
The Facebook page lists many different vendors set up within Always Occasions Inc., my favourite being Alpine Lily Boutique. Their booth had a variety of trendy clothing, Christmas-themed sweaters and t-shirts, toques, gloves, and assorted jewelry. I resisted the urge to purchase anything, however, as the prices were a bit on the higher side. Even though the clothing did seem to be of high quality, I was not about to spend almost $70 on a cardigan. Christmas sweaters were all around $50, but I figured it would be better to stick with the ones my grandma always makes for me!
I also enjoyed all of the freshly baked macaroons and homemade salted caramels made by Baked by Bre! The holiday-themed treats were delicious, and a perfect fit for this winter market. Though a bit on the pricier side, with boxes of eight holiday macarons costing $18, boxes of twelve costing $36, and bags of salted caramels costing $15, they were definitely worth the money. Perhaps it's just my unrelenting sweet tooth, but the salted caramels were to die for. Even Omar, who isn't the biggest fan of sweets, enjoyed the caramels, and ate almost as many as I did!
The many other vendors sold a wide variety of items, from macramé creations, homemade polymer clay jewelry, and scented candles to beautiful silk kimonos, homemade knitted winter wear, and candy.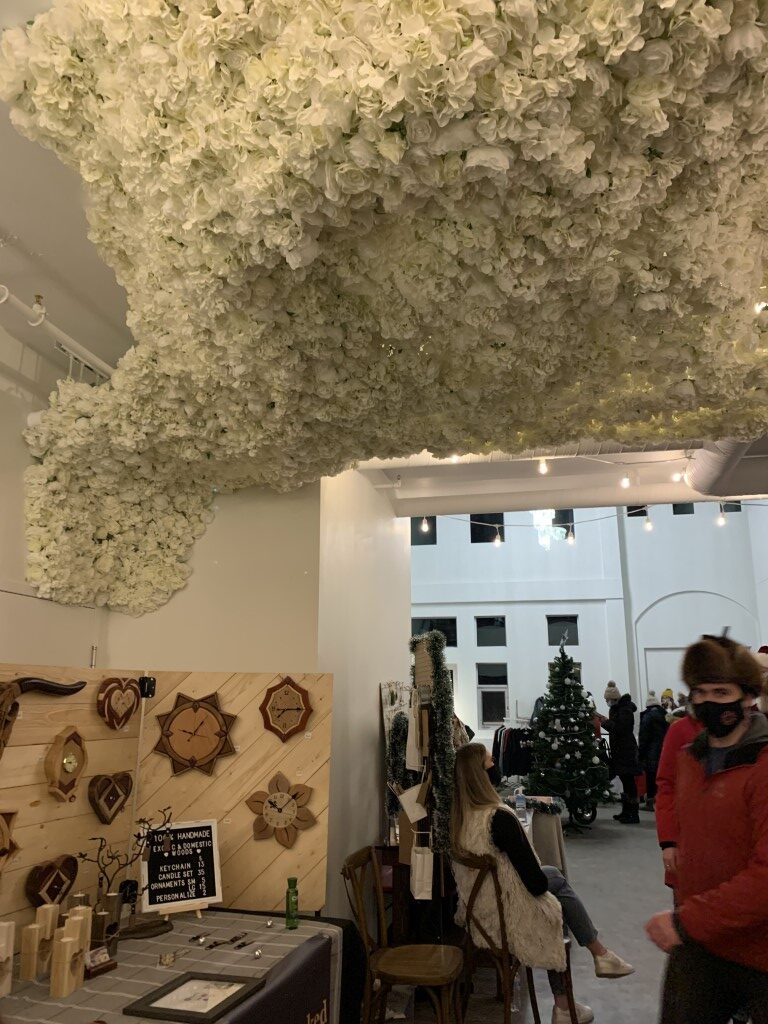 In the upstairs portion of Always Occasions Inc., there was a little café area. They were selling slices of pizza, hot apple cider, and coolers for relatively reasonable prices. Unfortunately, there weren't any vegan or gluten intolerant food options available, which was a bit disappointing as I'm gluten intolerant and Omar is lactose intolerant (quite the pair, aren't we!).
The only vegetarian food option was the cheese pizza, and even then I would be hesitant to eat it, as it was dripping with grease. Another reservation of mine for purchasing anything from here was the size of the space. There was no room for a seating area upstairs, so the crowd of people eating and drinking before venturing back out into the cold was standing around in the little space available.
This made it very difficult to maneuver through the crowd without bumping into someone. I was quite uncomfortable with this because most people had their masks off while eating and drinking. So, almost as soon as we had made our way upstairs to the café, we walked right back down. In theory (or in a Covid free world), a café seems like a great idea for the hungry customers wandering through the market, but without a designated area for Covid-safe eating, I didn't feel safe or comfortable purchasing anything to eat or drink.
There was also a royal presence at the market! Princesses Anna and Elsa from Frozen could be found roaming about from 11 am – 3 pm, while princess Belle from Beauty and the Beast was there from 3 – 7 pm. Photos with Anna and Elsa were available, though you had to pay just under $6 for a photo with them.
Santa Clause also made an appearance, though he didn't seem particularly Jolly to me. His slim figure, not so grand beard, and solemn expression made him seem a bit unapproachable, and if I were a child excited to see Santa, I'd be a bit disappointed by this one. The princesses, however, were all very welcoming and kind, making up for the disappointing Santa, despite a photo with them having such a high price tag. It seemed a bit ridiculous to me that each family also had to pay just to get a photo with Santa. One photo with the not-so-jolly man in a red suit cost around $4.
This seems like a small price to pay for a photo with Santa, though he didn't seem particularly interested in the poor children wanting a photo with him. If I were a hopeful child, excited for photos with Santa Clause, I would be more than a bit disappointed in him. In my opinion, photos with Santa were not worth the money. I'm positive you could find a much more jolly Santa elsewhere.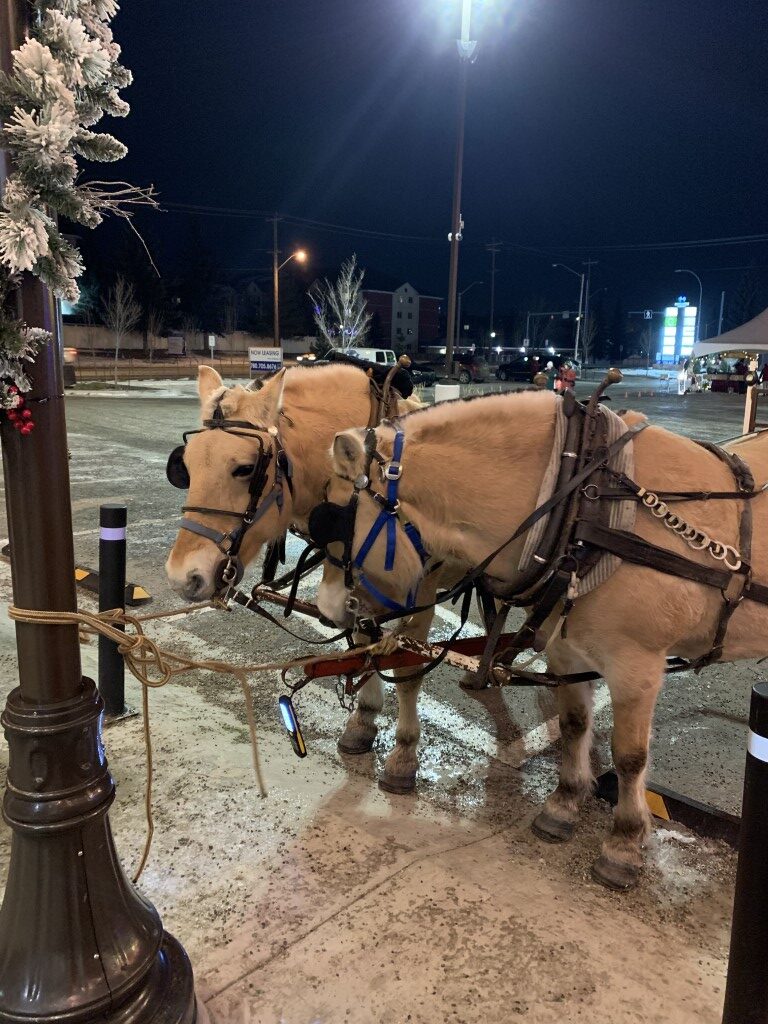 Sleigh rides around Manchester Square weren't something to miss out on. This was probably my favourite part of the entire winter market! The beautiful horses and ambience of the square made the high price of $8 per ticket worthwhile. The horses pulling the sleigh were well-groomed and a gorgeous beige, outfitted with black leather halters and silver jingle bells, that jingle-jangled with every step. I couldn't help but feel a bit bad for them though, walking around in circles in the freezing cold isn't my idea of a good time.
But after taking a ride around the square in the great red sleigh, I was happy to see that they got a well-deserved food and water break. Luckily the ride wasn't too long, as we discovered that Omar was very much allergic to horses after just a short time. He was a trooper though, and held out until the end of the ride. Thankfully he recovered soon after we got off the wagon. Even though I'm sure the ride was Omar's least favourite part of the market, it was still a highlight for me. The magic of the holidays was prevalent as ever, with distant holiday music and the jingling of bells audible throughout the ride.
The DJ located in the center of the square played endless holiday tunes, adding to the festive atmosphere of the market. All of the patrons (including myself) loved the songs, and many people were either dancing or singing along. Omar on the other hand, is not the biggest fan of Christmas music, as working at a bar last year where they relentlessly played Christmas music through all of December made him hate the classics a bit. I, on the other hand, love the nostalgia of old holiday music. Even though I've heard each song hundreds of times, they symbolize the magic and joy I (and so many others) associate so much with the holidays. And of course, I still force Omar to listen to all my favourite songs on repeat until well after New Year's!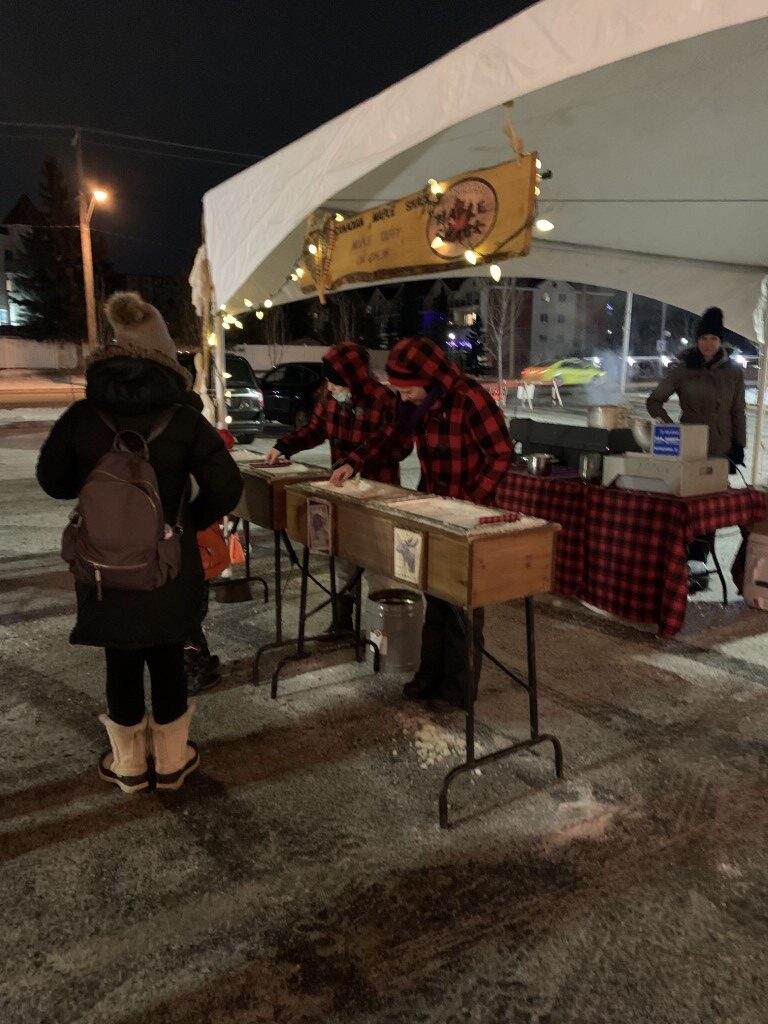 Next, we ventured to the center of the parking lot for some maple taffy. Omar had never had it before, so I made sure we didn't leave without him trying some. One stick cost $5 or you could get two for $8, a bit pricy but not too bad when you consider that the people running the stand are continuously cooking up the maple syrup concoction out in the cold all day. You're also paying for the experience, as the workers pour the maple syrup mixture over clean snow before helping you roll it up yourself. It's an engaging and delicious experience I would definitely recommend, and after trying it for himself, Omar recommends it as well! I do feel a bit bad for families that purchase this tasty treat though, as there is absolutely no way to leave without some seriously sticky fingers.
Finally, we visited The Urban Bird, a shop designed for budding aviary enthusiasts. I have a bit of an irrational fear of birds, so I wasn't particularly thrilled to be entering the shop. As it turns out though, the only animal within the store to be worried about was a big brown chocolate lab named Waylon! He was quite the gentle giant and loved all of the attention from myself and the kids inside the store. Omar is, unfortunately, a bit allergic to dogs so he kept his distance, especially after the sleigh rides.
I definitely gave Waylon pets enough for both of us though! Waylon's and the stores' owners were very kind and welcoming despite us not being the most interested in birds. They also quickly informed us of an eye spy event being held there. They told us we were looking for something fuzzy and brown, not to be confused with Waylon! Omar and I looked for a bit, but some motivated kids were able to spy the little brown stuffed squirrel perched upon one of the birdhouses for sale before we could. They were a lot more determined than we were to find the little guy. As a reward for finding the little squirrel, the kids each got a piece of candy from the store owners.
Though this winter market wasn't the most elaborate one I've been to, it was still a lovely experience for a quiet Saturday evening. For the most part, it wasn't too crowded, as most people were either outside or roaming the stores, and there were activities for kids and adults of all ages. Though some of these activities turned out to be on the pricier side, there were still a few inexpensive or free activities for all of the broke university students in attendance, much like myself and Omar.
The ambience and nostalgia cultivated were something I enjoyed greatly and makes me wish the event was running for more than just that day. It's definitely an experience I'd want to share with my other friends and family, as I know they would love it!
---