Review by Juanita Cordova
---
"I think this is the turn," my partner mumbled, leaning over the wheel to get a better look at the sign through the frosty air.
"Yeah this looks right to me, but we haven't been here since summer, and it's also pitch black out here."
On December 9th, we almost missed out turn on our way to the University of Alberta Botanic Gardens, where they are hosting Luminaira from November 27th to January 9th. It's all the way out in Devon, but the trek is worth it.
Luminaria is a light experience in the UofA Botanical Gardens. Thousands upon thousands of candlelights in white paper bags line the trails of these gardens. There are also 'Snow Spirtes' dressed in white gowns from head to toe, with warm white lights glittered across their entire bodies. There is also the opportunity to meet the 'Snow Queen', a beautiful lady who also wears a lit-up white gown, but also has a huge headpiece with lights to match.
I have one qualm about this venture, but I will forgive it because of the weather. A day prior, we had some freezing rain warnings, and it was slippery and a bit dangerous out there. Still, I chose to come on this day in particular because they were hosting a night of traditional Cree teachings of the drum, which involved round dance songs and traditional lessons. The morning of the event, the event hosts said that the times for the drum teachings were brought forward from 7-9:30 pm to 5-6:30 pm. I bought tickets for 7:00 for this whole event, and my partner and I both work until 4:30-5, so much to our disappointment, we could not attend. Still, weather is weather.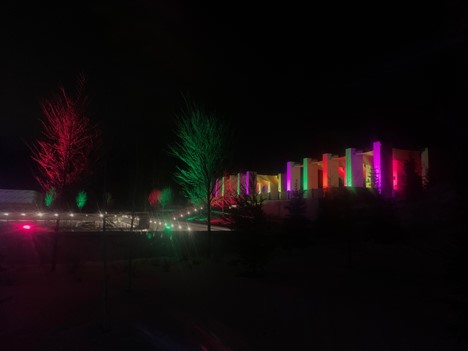 There were still plenty of other events during this time, but the Cree teachings were what I had kind of hoped for. Also, I knew they had bannock. So all was quickly forgiven and forgotten. We came up to the gates with not high hopes, but medium hopes. There was a Patio Café, a children's maze, a map, and a life-sized, light-up set of words that said "Winter Wonderland," or something of that sort. Lots of people were milling around in this area, so I was eager to jump to the first garden.
Our first stop was the Aga Khan Garden, which has this large rectangular structure with tall pillars at the front and trim, clean-cut paths that lead up to it. If it were summer, there would have been rectangular ponds alongside the paths and a waterfall. It was designed by the landscape architectural firm Nelson Byrd Woltz, and inspired by Islamic structures.  Projected onto the walls were various colours that overlapped and danced with each other. Big round balls of light sat in front of the building. To call it breathtaking even without the lights would be an understatement. Some Indigenous drum music was playing on loud speakers, and the lights matched the rhythm.
I looked up some reviews of Luminaria before going, and they weren't very kind. Actually, the reviews were downright cruel. But, right off the bat, I thought it was pretty damn cool. If I were a kid I would have 100% lost my chill. This would have been a core memory for me.
We kept walking past the building to the far end of the garden, there were two tipis with some lights projected onto them. Adjacent to them was a man by a fire with some bannock. Oh yeah, this is what I am here for, I thought to myself. He wore a toque, and had long dark hair pulled back, "Care for some bannock?" he asked.
"Yes please, thank you so much!" we said, holding out hands out like little children.
"There's wild blueberry jam as well," he noted.
Oh my gosh. It was good. The bannock was cold, but I did not care. It was freezing outside, and I was not expecting the bannock to be piping hot. It was still delicious. Light but heavy, dense but airy. I could have eaten three. Traditional teachings of the drum? I forgot completely about them by now.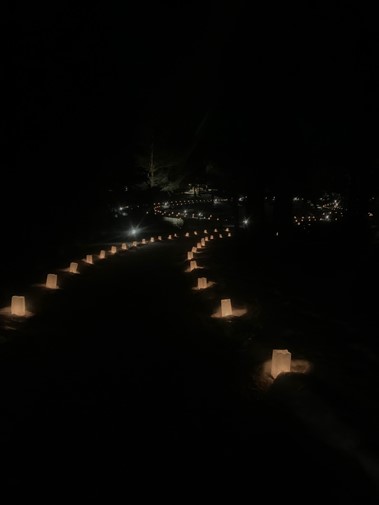 We meandered over to the Kurimoto Japanese Garden. On our way, there were several fire pits for visitors to warm up by. The Kurimoto Garden was named after, Dr. Yuichi Kurimoto, who was the first Japanese national to graduate from the University of Alberta's Faculty of Arts in 1930. It was my favourite place, both in the summer and winter. Here, thousands of tealights were lit in paper bags and lined the garden's paths. They were all so evenly spaced, and if you looked around, you could see them scattered across the garden like stars that fell on the earth. It radiated the kind of chilly warmth that made you almost believe that snow could be a blanket and not a sheet of ice.
All of the light here was warm and white. No light was coloured, but that worked with the design of the garden. An a capella choir sang Christmas carols while visitors strolled around the garden.  We stood on an arched bridge and listened to the choir. I am a person with a loud internal monologue, and for a brief moment, everything was calm. I sipped on a hot apple cider and took a deep breath. This was nice.
We talked about how much work it would take to light each candle every day, because they weren't electrical candles, they were real. We also debated how much time it took to place them in the first place and how weather effected them. It was obvious that an unfathomable amount of work went into this.
In the Kurimoto Gardens you could also walk down Memory Lane, a place where people donated some money and lit a candle in memory of people they loved and lost. It was a beautiful section, some paper bags were nestled together, which was a little painful to see. I debated lighting a few candles myself, but thought against it. Later on, to keep warm, we drank a hot chocolate and stood by some firepits like a bunch of moths. It was getting colder.
It was the same thing across the entire area, just thousands of lights. But, I never grew bored of them. I could have stayed all night if I didn't get cold. I lost track of time and didn't bother checking my phone. It was so peaceful, and I haven't felt that way in a long time. The world shut up for just a brief moment. If you are looking for some silence or calm, this was the place for it.
---
Luminaria
University of Alberta Botanical Gardens
website
runs until January 9, 2022
---