Review by Juanita Cordova
---
I walked into an intimate and unique venue, which had been repurposed from an old church building. It was a funky looking crowd too, lots of turtlenecks, doc martens, and berets. A disco ball sat at the top of a high, wooden ceiling and I made a Panic! At the Disco reference that no one heard, or at least acknowledged. Inside, there was a front stage and two bars, one with a clunky 90s TV with a sign that said, "BAR is open". It gave me Rocky Horror Picture Show meets A Fever You Can't Sweat Out vibes.
On November 16th, around 7 pm, the crowd slowly shuffled into the Starlite Room. We were waiting to get in to see the Weather Station perform their latest album, Ignorance. It is the Toronto-based band's fifth album that was appropriately focused on heartbreak and the climate crisis. After hearing about the climate crisis only through social media, it was refreshing to intake some new perspectives in person.
The Weather Station was formed in 2006. Both alike in political activism and size ( I mean this in the best way possible),  they are kind of a watered-down version of Arcade Fire. Imagine if Win Butler put down an electric guitar and pulled out an acoustic one, that's The Weather Station. It's folk, but not only folk. The current members are Tamara Lindemann on vocals, Ben Whiteley on bass, Will Kidman on electric guitar and keys, and Ian Kehoe on drums. Sometimes, if they are feeling particularly spicy, their music will include orchestral instruments, trumpets, and – this is my favourite for no personal reasons whatsoever – the clarinet.
Chatter slowly died as the opening act began. Matthew Cardinal, an Indigenous artist, was so tentative with his opening act, that I almost mistook him for soundcheck. Something about that fact made me want to give him my undivided attention. He sat on his knees, with a keyboard on the floor in front of him, and had a string of lights wrapped around his body.
Cardinal played ambient, electronic music that filled the room. I could not gather one song from another, as each piece flowed into another, and he didn't really stop to speak. It sounded kind of like that youtube playlist, "Soft Lo-fi Beats to Study To" except it also sounded a lot like Minecraft music too. It's the kind of stuff you either get high and listen to, or put on if you need to focus. Still, I liked it. I probably would have appreciated it more if I were high.
Once he finished, Cardinal came to join us in the crowd and waited for The Weather Station right in front of me, and turned around and gave me a nervous smile. I gave a nervous smile back. He gave me the feeling that he didn't want to be pestered for questions, so we just waited for the band to come on. The Weather Station was late.
By the time frontwoman Tamara Lindeman came out, we had been standing for two and a half hours. Lindeman was wearing a tailored yellow suit and some brown lace-up boots. She went on to explain her reasoning for being so fashionably late.  While she spoke, the rest of the band trickled out behind her. She said that their tour bus narrowly missed the flooding in BC. All of which made this performance more striking, but more on that later.
Now, I listened to some of the Weather Station's music before coming to this show, but not enough for me to recognize each song.
They played a steady, rhythmic set, with repetitive (but not too repetitive) melodies. One thing I must note is that Lindeman slurs her notes and is gentle with her enunciation. This is a lovely feat when listening to the studio version, but in a drafty venue, her lyrics often got lost. Don't get me wrong, I still loved her voice, it was breathy and light even when she got into a lower register. She had a crazy range and jumped between octaves and made it look easy. It's just that her voice was more like an instrument with the band, and not above it.
I must note one thing. I adore this band's lyricism. Lindeman is a fantastic writer – she even won the SOCAN Songwriting Prize in 2013. Ignorance is about heartbreak. But it's more than that. It's about heartbreak in a time when love feels futile, maybe even hopeless. Love in a time of late-stage capitalism. Heartbreak in a time when personal issues feel vain. Regardless of their lyricism, I love the music. It's upbeat, but it's got this heavy feeling.
At the "end" of their setlist, they played "Robber," their most popular song.
It's the kind of 5-minute song that begins with just one instrument, in this case, the drums, and builds to a full composition that's dramatic in the best way. Reminiscent of A Day in the Life, or I Know the End because this is a big and dramatic song about mundane things.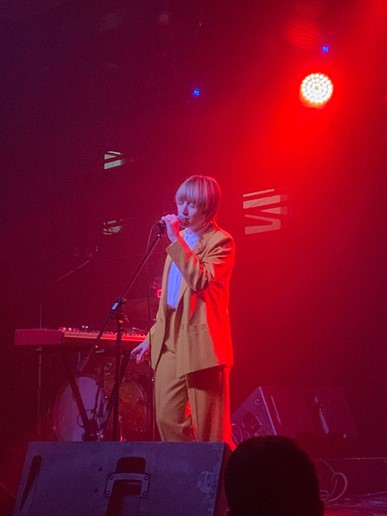 The song itself was clearly about corporate greed and its effects on the climate. My favourite lyric was:
No, the robber don't hate you, he had permission
Permission by words, permission of thanks
Permission by laws, permission of banks
She sang the politically charged lyrics in a falsetto with a voice that flew over the accompaniment. It was the kind of song that strikes a chord in your chest and the beat can be felt through your whole body. The band was steadily climbing in intensity and I was in awe.
Lindeman and the band finished with an abrupt stop, and the crowd clapped (very respectfully I might add – I think this was an older crowd) and the band humbly bowed and then "left". You know that like, "no no stop, no thank you, you're far too kind," dance that the audience and performers eat up.
Finally, Lindeman came out holding a guitar and sang a gentle ballad with a lone spotlight that shone just above her head. The pen is mightier than the sword, but with Lindeman, the guitar is mightier than the pen. I still couldn't make out the lyrics, but man, her voice was so airy and soft, I didn't care.
Would I see this band again? Absolutely. The only thing I recommend is getting more acquainted with the lyrics (like, pull up Genius lyrics and follow the song). I have never heard music that was so calm yet so intense. The Weather Station is a haunting band, but my god do I enjoy being spooked.
---
The Weather Station
website

The Starlight Room
10030-102 St.
website
---