"The musicians appeared to dance as they give their hearts to the music."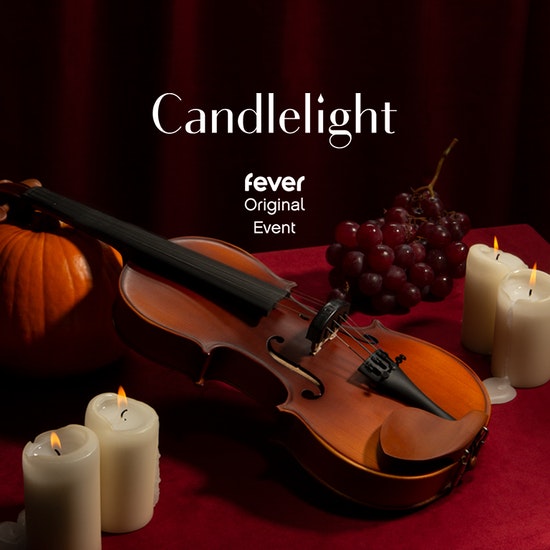 ---
Review and photos by Abigail Troppmann
---
A pirate, a vampire, and a skeleton walk into a candlelit log cabin… there is a joke in there somewhere. This was my first impression of the night's festivities: the Candlelight series hosted by Fever, an Edmonton-based events company, at the Pioneers Cabin. Essentially, the Candlelight series is a string quartet that plays a variety of music depending on the evening's theme. There are tons of holiday versions in December if you are looking for a fun date night. I brought my best friend Halle with me, and we had a blast.
The bards for the night were Sylvia Chow on first violin, Amy Nicholson on cello, Leanne Maitland on viola, and Alison Stewart on second violin. All of them are from Edmonton! The night opened with a bang: Thriller by Michael Jackson. Everyone was grooving in their seats. Musically, it was a little shaky, but it was still a fun song to kick off the evening.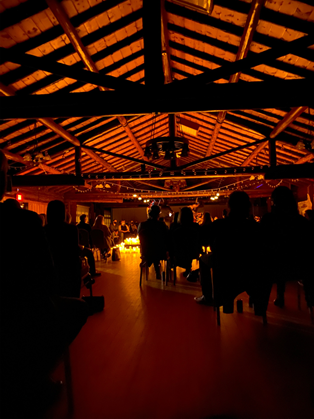 We had dinner before going to the show, so I was already three glasses of wine deep into the night. There was a small bar, which meant it was obviously time for my fourth. While Halle got us each a glass, I snagged two seats at the very back of the house. I ordered the white as a change-up from the rosés at dinner, but after sampling each other's wine, we decided to swap. Soon after we settled in our seats, nursing our glasses, the musicians walked in.
The view was great. Frankly, the venue was small enough that you wouldn't get a bad seat anyways. Besides! It's live music! I quickly learned that a string quartet is best listened to after a few drinks because it made me get invested in the music's stories. Chopin's funeral march was instantly recognizable. Melancholy twinged with regret filling the air. The musicians appeared to dance as they give their hearts to the music. They were swaying mournfully before switching into an upbeat tempo, as if in a celebration of life.
Up next were movements 3 and 4 of String Quartet No. 8 by Dmitri Shostakovich. They informed us that Shostakovich had been forced to join the communist party in Russia, and he was not happy about it. I can confirm that he certainly did not seem thrilled. Later, I discovered that it was about the destruction of Dresden, which he composed in three days. Right off the bat, the energy is hectic. It feels like The Flight of the Bumblebees' angry and vindictive sibling. An image is easily formed in my mind's eye: a tense family argument over dinner. The reveal of a betrayal and the unravelling thread of secrets. Perhaps a scorned lover? A MURDER? This is not a song that would be used to describe someone pure of heart. It's more of an homage to mischief managed.
I forgot how concerts make you feel alive. It was a novel moment to be in a space with strangers, masked up and ready to enjoy some spooky tunes. On the Halloween Richter scale, my energy was trending upwards into trickery. Beautiful music is entrancing, which made me suddenly realize the story of the Pied Piper makes a lot of sense. If some guy was absolutely shredding on a magical flute, I would probably follow him around too!
It was time for the iconic themes of Halloween and for 'guess the movie.' I was ready to challenge Halle to a battle of wits.
The first song's hint was "a group of kids going against evil things."
"Stranger Things?" Halle leans over to whisper in my ear.
"Harry Potter," I replied confidently.
It was Stranger Things.
Leaning my head back, I stared at the open wood beams and the chandelier above. Candlelight danced on the wood. It was dreamlike. The next hint was "my son's favourite thing: insects." The players struck a lively beat, and I had absolutely no idea what I was listening to.
"Spiderman?" I wonder aloud, just to feel included. "The Fly?"
Stomps break it up. What is this elusive piece? It's spooky, that is no doubt. But what is it? Some combination of James Bond and sci-fi? When they asked the crowd the name, there was a resounding cry of "Beetlejuice!" That made me shrink back in my seat. If you asked me to sing a song from Beetlejuice, I would immediately start hollering the Banana Boat Song. Daaaaaay-o! Admittedly, it is a bit embarrassing that neither of us caught that. I was 0 for 2. The feverish need to prove my pop culture knowledge increased. It was time for redemption.
Hint three: A very good-looking family and a very hairy creature.
"The Addams Family," I rush out, instantly gratified by the iconic snaps. How can such a peppy song belong to, arguably, the gothest family of all time? The quartet had the audience in the palm of their hand at this point. The musicians seemed genuinely happy to be playing these songs. We were all having a blast playing Name That Tune! (Except for me. I was playing to win.)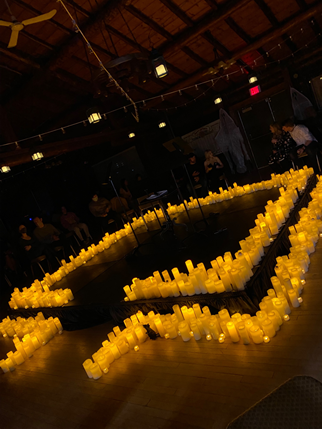 The fourth song was John Carpenter's Halloween, which is surprisingly hair-raising in person.
Too engrossed in sipping my wine and admiring the lights, I completely missed the fifth hint.
"I have no idea where this is from," I begrudgingly whisper in Halle's ear.
"I'm pretty sure it's Psycho," the film buff replied.
"That would make sense. I've never seen it."
Fine! I'll admit it! I hate the Psycho theme! It is so scary! To help me write the story, I compiled the night's setlist into a playlist to listen to. I refused to add this to the playlist because it was already seared into my brain. At the cabin, my shoulders were up to my ears. Somewhere nearby, a black cat was probably arching her back and hissing. If I heard that song for the first time, I would just know that I was about to die. This was the part of the night where I was thankful to be sitting in the last row. It had the makings of a cinematic moment:
"No one will come stab me!" The woman thought gleefully while a figure climbed out of the fireplace and stabbed her.
The last song we really guessed on was Ghostbusters, which was so much fun to listen to live. There is just something about iconic themes being played live before you that brings out your inner child. I wish I could bottle the excitement and giddiness that comes from guessing something correctly.
"Der Erlkönig" by Franz Schubert, better known as the Elf King in English, was played next. One of the players explained that while the music is sweet, the demon lures a little boy. She said it was the classic story of the stranger in the white van. I'm not sure if that's the vibe I got from it, but it was certainly unnerving. The elf king's sweetness crescendos into a malevolent and hectic melody that is sickeningly sweet.
The only noticeable mistake of the night was when they restarted This Is Halloween from The Nightmare Before Christmas because they had the wrong tempo. Hedwig's Theme from Harry Potter closed the evening off, as I was hoping it would. Listening to that song played live was nothing short of magical and wrapped the night up perfectly.
I would absolutely recommend going to the Candlelight concerts. You are supporting local musicians, which is lovely. $40-30 a ticket is not bad for a nice night out, and besides. How often do you get to watch a string quartet?
---
Fever Edmonton
website
---