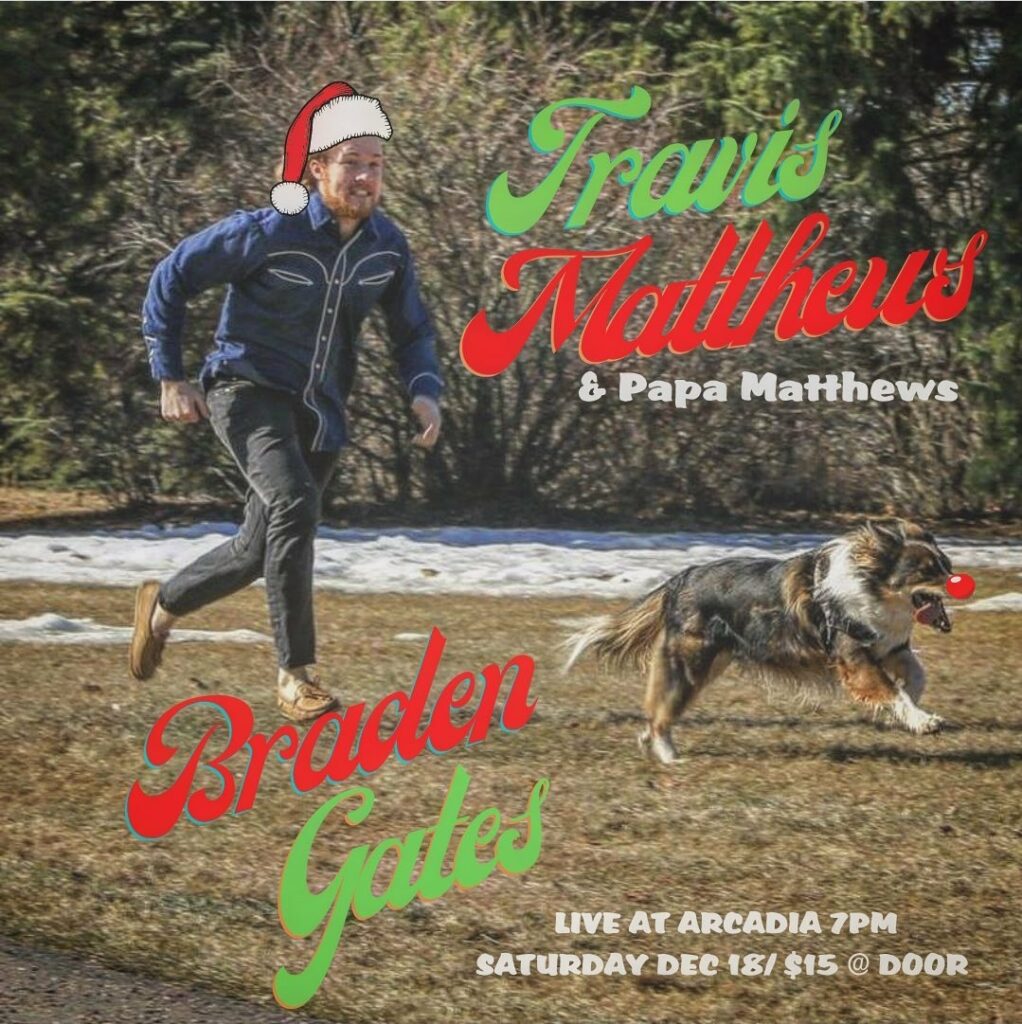 ---
Review by Levi Kettner
---
He may not see you when you're sleeping, nor does he know when you're awake, but Travis Matthews did come to town last weekend to bring our cold, icy city a little bit of warmth.
On December 18, the musician—a well-loved local of the City of Champions—returned to his hometown to perform at Arcadia Brewing Co. As it was his first 'real' show in almost two years, Travis brought along the help of fellow Edmontonians and musicians Braden Gates and Gord Matthews—whose last name is more than just a coincidence. With Gates and his dad in tow, I knew Travis's show was one I couldn't miss.
Travis's performances draw a loyal following of long-time fans, and I happen to be one of them. I first heard Travis play when we lived in the same apartment building. Late one evening, an incredible acoustic melody slid through the cracks of my door, and I took pursuit to find their source. I stumbled down the worn corridors of the apartment complex, following the echoes, half-dressed in a pair of torn long-johns, and looking like Gollum searching for something shiny and nice. I came to a halt in front of Travis's apartment door, where I sat down and listened to a rendition of Ray Charles's "Georgia on My Mind" that has still stuck with me years later.
Since then, I've attended many of Travis's shows—from open mics at our city's Dirtbag Café to impromptu campground performances in the middle of Utahn deserts—and have never been disappointed. Travis's music tends to resist definition, but most of his originals and renditions veer towards the acoustic-folk category. His voice and songs often impose the image of a rougher-edged Jack Johnson—imagine "Banana Pancakes" but sung by a surfer who works for an Alaskan logging company during the off-season. He is most often found with his Martin guitar and harmonica, but is also known to assume the role of conductor and use the audience for percussions and vocals.
Throughout all the shows I've attended, the one thing I've learned is that Travis is as talented a showman as much as he is a musician. Live music is where he thrives, and he knows the difference between playing good music and playing a good show. He carries this attitude to every one of his performances, whether the booming stages of the Edmonton Folk Fest or the quiet, dimly lit corners of barrooms and restaurants across the country.
Snow was just beginning to fall when I arrived at Arcadia. Located just outside of Queen Mary Park, the brewpub occupies the euro-style retail complex of Manchester Square—the perfect place for a brewery and live music.
Unfortunately, Arcadia's narrow, long, two-storied interior is more suited for a few lanes of five-pin bowling than it is for concerts. The performers were set up in a corner on the second level and most tables and chairs faced the wall adjacent to them. Despite this awkward setup, the brewpub offered a backdrop suitable for good beer and even better tunes. I grabbed a cozy stout, believing it matched the aura of the falling snow that drifted outside, and settled in for the show.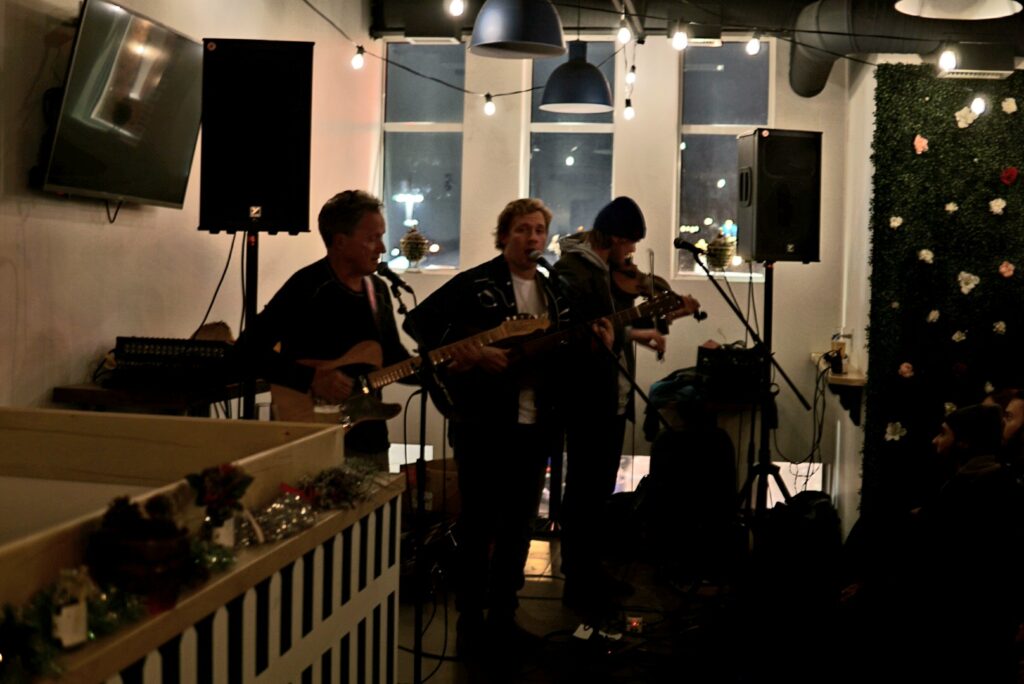 With Travis on acoustic guitar, Gord on electric, and Braden bowing the fiddle, the trio played a welcoming variety of originals, classic covers, and Christmas songs throughout the night. Braden Gates led a half-sarcastic performance of "Silent Night" that actually started out quite beautiful before being consumed by the performer's dark wits. This was also the only rendition of the song—as far as I'm aware—that has successfully rhymed "labia" into its verses. His skills as a poet are as strong as his songwriting and fiddle talents, which were also showcased in his original "Bonnie's Lounge"—an ode to an Edmonton dive bar that could represent the marrow of our city's chilly bones.
Braden and Travis formed a visible—and audible—connection on stage as though Braden was a part of the Matthews gang. Braden's dry humour, cold stares, and well-placed bouts of awkward silence pair perfectly with Travis's charismatic and free-flowing attitude on stage. As well, both artists have a penchant for finding art in mundane moments: whether it's the glances of a woman on an LRT, the quiet lulls of a coffee shop, or delivering pizzas and scrubbing dishes on a busy night..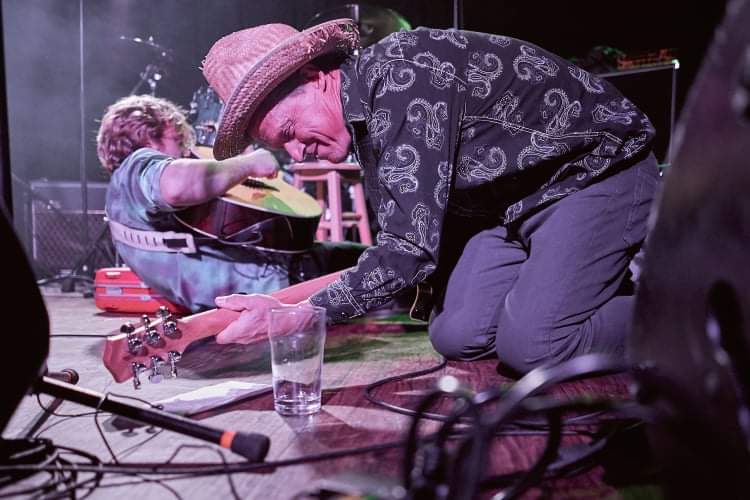 Gord Matthews stood out as he led a performance of his original "Lazarro"—a song with a smooth, funky beat that's about a guitar player he met while travelling in Honduras. And even though Travis may have suggested that the song's lyrics were the fruit of a homoerotic vacation, its dubious origins do not detract from the veteran guitarist's musical prowess. But what else would you expect from a man who has played alongside the likes of K.D. Lang and Ian Tyson?
Listening to Gord play his guitar was like watching a battle-scarred motorcycle outlaw ride his Harley 74: He takes risks without a hint of fear or hesitation and dominates the solos as though he was dropping into fourth gear on a wide-open Californian highway. Gord's slightly subdued vocals allowed this guitarwork to shine through.
As always, Travis's "Save the Whales" was a crowd favourite. As it tells a bizarre story about a scientist who seeks to clean up the ocean's pollution, the song is cleverly designed to promote audience participation, and I have yet to see it not get a positive response from the crowd. Along with his covers of Stealers Wheel's "Stuck in the Middle with You" and ABBA's "Dancing Queen", Travis delivered smooth vocals with an unmatched stage presence that brought everybody into his rhythm as though he was the communal, beating heart in the centre of the room.
Together, Travis, Braden and Gord played a show that demonstrated the incredible talent of Edmonton's local music scene. If these three are said to have chemistry, then they react violently together like fluorine, uranium, and nitrogen (FUN). The resulting compound has a coherency that was an absolute pleasure to see live.
The night's performance ended with a high-spirited fiddle tune that prepared everybody for the cold weather outside. And as I walked out of the doors of Arcadia, onto the streets lightly plated with snow, I was already humming the evening's songs and looking forward to the next time I'd hear them.
---
See also Rachel Babichuk's 'An introduction to Edmonton musician Travis Matthews' on edmontonscene
---
Arcadia Brewing Co. website
---