With a couple of changes, this place could be a real hidden gem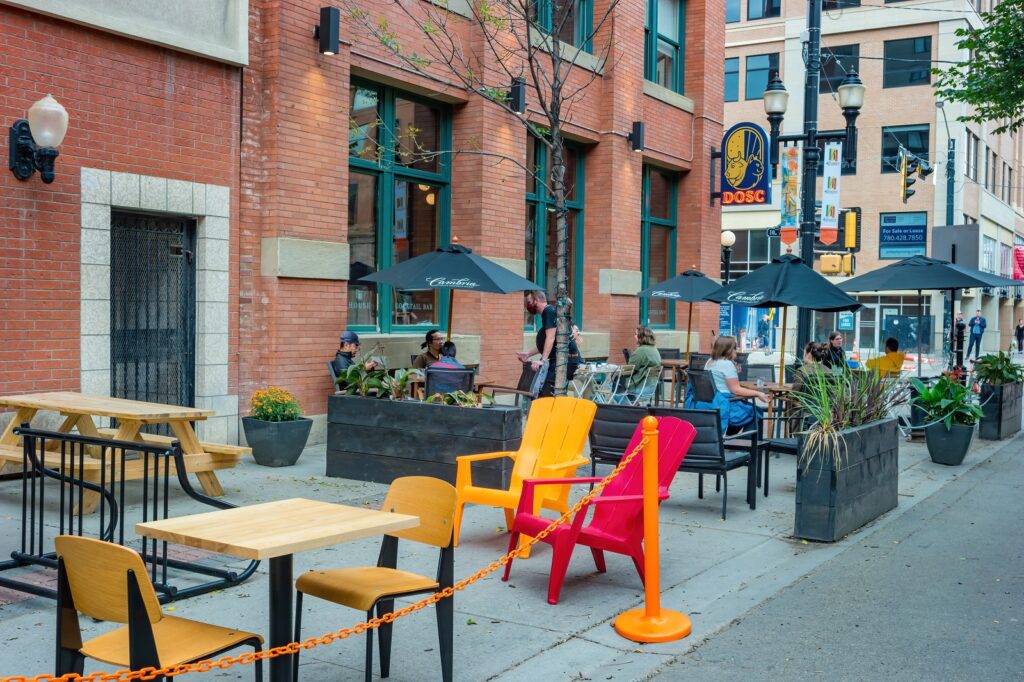 ---
Review by Kyle Levesque
---
Say Uncle is a bar.
It sits half a block off Jasper Ave, with a small white LED sign backlit with purple and blue. It has an old-school, maybe antiquated aesthetic. While it might be shooting for a retro look, it feels more genuinely 80's than cliché.
I watched 3rd Rock From the Sun on a TV hanging above an old wardrobe, and there were these stitched portraits of various birds, slightly yellowed, hanging on the walls. Classic radio rock filled the small space. This great U-shaped bar, made of a dark wood, dominated the centre of the floorplan, and throughout the meal, the wonderful white-lit kitchen roared in the background, smoke pillowing. At the centre of our large table, a small tea-cup candle burned in an old glass ashtray.
It gave me a distinctly local sense – as if my father, trying for a retro vibe, decorated the restaurant with pieces from my grandfather's house. Which, really, isn't as bad as it might sound. Kind of pleasant, really. 
I'd been wanting to visit this place since I'd learned it was locally owned. Part of some local restaurant group, along with some other small places around the city. I've been meaning to make an effort to get to know Edmonton, so my goal was to explore the city a bit, dance, get drunk, and visit some places I hadn't been before. So I came with a fairly large group of friends, hoping to make a night out of this review.
I hoped the bar called Say Uncle would be a great place to start drinking for the night. I was thinking of heavy BBQ, lots of carbs, southern hospitality, high energy. Perfect to start a night off with, right? That's not the kind of place Say Uncle is. It's a quieter spot, more relaxed, a bit more hole in the wall. By no means is it a dive – but it's closer to that than something like Beercade. Less Say Uncle, more Hi Grandma. 
There was a really magical moment while I was in this restaurant. We'd ordered drinks – I got a deep, rich porter, some of my friends light citrus beers, and we were sitting and talking around a little candle flickering in the centre of the table. The TV, desperately trying to load an ad, sat black for probably 10 minutes. The place got quiet. Then the smell of the kitchen filled the space. A smokey, rich scent, warm and full. I was excited. Something about the smell of BBQ, of smokehouses, of old bars and deep wood, that just feels like it promises good food. Rich, heavy, warm, smoked, full and happy.
Did the food deliver? No. Some of it was just bad. But, that being said, some of it was really good. Here's the thing: the entrees were disappointing, the sides even worse. I got some BBQ chicken, which was just tasteless. Grocery store rotisserie blows this stuff out of the water. The sides really aren't worth the words to type them. I and many of my friends got the jalapeno cornbread, which sounds super exciting, right? It tasted like lightly peppered drywall. Another popular side among our group was the panko macaroni. Which was different from the cornbread in the sense it felt like a different part of a drywaller's kit – the paste, this time.
But the sandwiches! The saving grace of this restaurant was the sandwiches. They were incredible. If you're going to come to this place, don't make like I did and get an entree. Get a sandwich. I tried bits and pieces of my friend's, and they got these absolutely gorgeous spicy fried chicken sandwiches, brisket subs, fried bologna sandwiches. Heavy, warm, smoked, the bread perfectly balanced between soft butter roll and crisped, browned edges, the meat all seasoned and cooked to perfection. They were truly amazing. Just don't even bother with anything but a sandwich and a drink, really. I was hard on the rest of the meal, because the sandwiches were so much better it's hard to understand how they came from the same kitchen. 
If you're heading out for the night, by no means start here. My advice? Go to some other bars, dance and drink, then, once you're tired out and a bit too drunk, come take a break at this place. Grab a sandwich and soak some of that liquor up, clean yourself, grab a beer. Don't start your night here – this place is a perfect pitstop for a midnight trek. If you're a member of a group that finds itself spending way too much time waiting in the hospital-white light of late-night donair shops, I'd recommend Say Uncle. It's warm, smells great, charming, and the food's heavy and filling.
Price wise, Say Uncle isn't surprising anymore.. I paid $28 for my entree, which came with two sides and a beer. If you get a sandwich it's a bit cheaper. With a lone side (you're not missing out) and a beer, you're looking at about $25 bucks. It's a bit pricey, sure, but honestly, not that bad. Look, if you're out drinking in Edmonton, you're insane if you're not expecting to spend some money anyways. Bring a flask and save yourself on getting a drink, and it's $15 for a sandwich. Not that different from a lot of other late-night stops that I've spent money on. At least a switch up.
It's also probably worth mentioning that Say Uncle BBQ smokehouse doesn't have very many vegetarian options. Which, if you're out with a large group of people, could really make this place a hard sell. 
All in all, Say Uncle doesn't provide a perfect experience, but it is enjoyable. Some of the food is bad, some of it is incredible. The atmosphere is nice, for sure, but nothing insane. It'd make a great pit-stop, and if I was passing by I'd stop in. I find it a bit ironic, a bit sad, that a place named Say Uncle was so… average, but what are you going to do? I went in hoping for some insane BBQ, maybe some wings so hot I'd have to tap out, and unfortunately, I didn't quite get that. I did get some killer sandwiches though, and I can recommend this spot as a good night ender – though, unfortunately, little else.
With a couple of changes, this place could be a real hidden gem. Really unique, fun. But as it stands right now, I can't say I'd make the effort to go out of my way to go there.
---
Say Uncle bar
10184 104 St NW
website
---