The Magic of Lights at RAD Torque Raceway (Castrol Raceway)
---
By: Nevada Massey/Dyck, translated by Corrinna Massey
---
I guess I should start by introducing my whole little family – all of whom will play major parts in tonight's event. First there is Cam. He is the king of the house and can be so grouchy sometimes, but he takes me for truck rides and that makes him ok in my book. Then there is Corrinna, she is the queen of the house, and she makes Cam do everything I want. She is one of a kind.
And of course, there is me!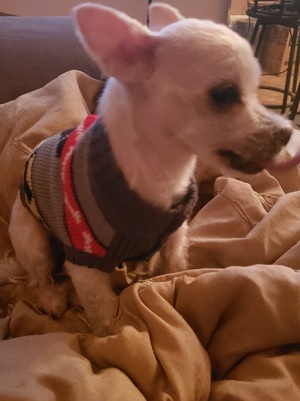 My name is Nevada, and I am the cutest five pound, white, Pom Maltese you will ever meet. Ok, so all dogs think they are cute, but I really am. I have the cutest little pink tongue and a nuzzling nature that makes my humans always smile when I am around. Because of this I am also quite spoiled. I get my way all the time and if not … well you can guess what happens. But that is another story.
For tonight's adventure I had been promised a truck ride to see the Magic of Lights at the raceway out of town. I heard them talking last night and they said this is supposed to be the greatest Christmas light show ever. Truly, I don't care too much about the lights … I just wonder about the food.
As soon as we were in the truck, I took my normal position sitting on her chest. I was so excited. This was the best seat ever.
I would be the first to see the lights and I was. They were so bright and sparkly. But I didn't smell anything. Is there no food at this event?
During our drive Corrinna broke the news to Cam. He was so mad. She paid $65.00 for us to go – see these Christmas lights, visit some old guy name Santa, and get our photos taken. I remember Santa, because every year Corrinna dresses me up in my favorite warm sweater, he then holds me up close to his bearded face, which tickles, and we get our picture taken. Hope this year he gives me another treat. I really like the red and white ones the best. They last all day.
When we first arrived, there were no other vehicles. There was no one around … no one to bark at …
No other dogs?
Not even a cat to chase?
A woman at the gate waved and wished us a Merry Christmas. Then Cam drove forward into this tunnel of hanging lights. They weren't that impressive. There were only a few colors – red, green, and blue – but they did twinkle nicely.
Then I saw him. There standing in front of the truck was that old man in a red suit with a white beard. Cam called him Santa.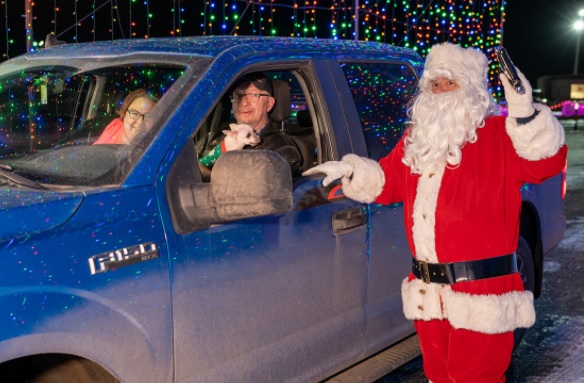 He came up to the truck on Cam's side and said some words I didn't hear. I know he didn't say Ho, Ho, Ho, I would have recognized those. This Santa was not as jolly as the one I usually get to see.
Jumping into Cam's lap, I waited impatiently for my treat.
Nothing.
Santa then moved to Corrinna's side. I jumped over to her side, up on her chest and hung my head out, my little pink tongue sticking out at him.
That was sure to get me something.
Again, nothing.
No treat.
What a waste of effort.
Even Corrinna and Cam didn't get anything.
Swishing around, I made myself comfortable and settled in to enjoy myself. There were so many lights, so many different colours – but no smells.
At one point, I pawed at Corrinna. Look over there at that guy, Santa. He must have been at least ten feet tall. He was stretched out and waving at me from a pink hammock tied between two palm trees.
I saw a two snowman all done in white lights with orange lights for their noses. One had a blue pipe that looked like the one Cam sometimes smokes. The other snowman was jumping and dancing around, just like me when I want Cam or Corrinna's attention.
Hey, his nose reminded me of a carrot – is that the only food here?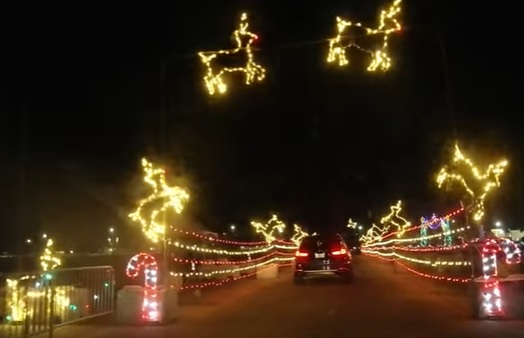 Everyone was excited when we came to the Reindeer Crossing. The reindeer were all white and jumped around even jumping right over us. I wanted to get out and chase them.
But then, I saw him. Cam said he was a T-Rex. He was the scariest, biggest thing I ever saw. He must have been at least fifty feet – maybe even one hundred tall. He was made of blue lights and had a red Santa hat. He had the biggest mouth and his head boobed up and down making him look like he was eating the presents under a green Christmas Insert Photo: T-Rex Tree. I barked at him …. hopefully that would scare him away.
Then, I heard Corrinna say we were at the end, and that even though it was against the rules, we needed to stop. She wanted pictures. Dropping me on the console, she jumped out, stood beside the truck, and started to take pictures.
I would teach her. I jumped up into Cam's arms. Oh … he had a better view. There it was rows and rows of red and white candy canes. It was magical. I could taste those beautiful candy canes now.
Finally, I would get my treat. I had been a good boy.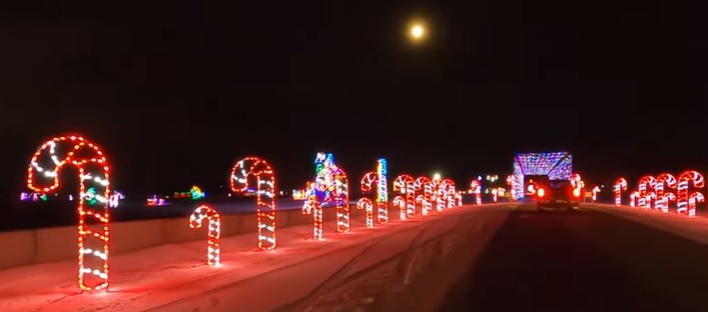 Corrinna got back in the truck and Cam continued to drive real, slow past the rows of candy canes, and we entered a tunnel of lights. The tunnel was made up of thousands of different colored lights – far different from the one when we entered. I saw red ones, and green ones and blue ones and even green ones. They flashed and twinkled and made me dizzy.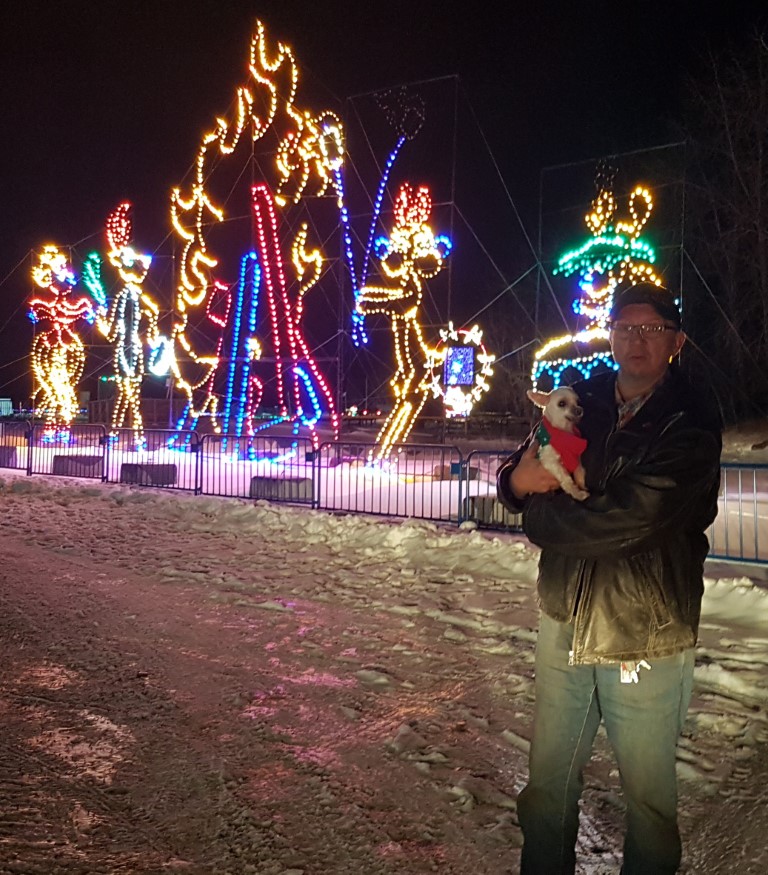 Finally, it was over, but of course, Corrinna wanted one more photo. Cam jumped out grabbed me and we posed in front of a light display that looked like a blazing fire with dancing reindeer.
I was sad … there had been no food … no treats. The lights were fun, but nothing I would remember later. I am sure, Corrinna and Cam thought the same too. They had been so quiet during the whole thing. They did not even sing a Christmas carol that had been playing on the radio the whole time.
Overall, it had been such a long day, and I was so tired. I just wanted them to take me home. This was not the event I would recommend to my fellow dogs or maybe even some humans. The excitement of the lights and meeting that fat, white bearded man was ok, but I would have preferred to visit that other Santa at the shopping mall, and then a trip to Dairy Queen and my favorite a "puppy cone."
---
Magic of the Lights
RAD Torque Raceway
website
runs until January 8, 2022
---