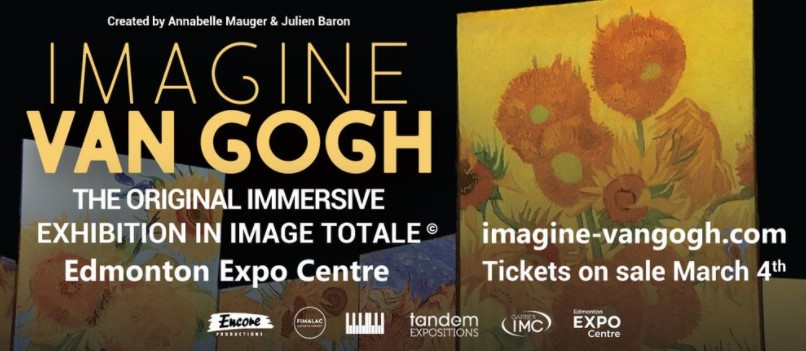 Review by Kaylene Stefaniuk
---
Vincent Van Gogh is often regarded as one of the greatest painters of all time. He created iconic pieces of art that are alive with vibrant colour and intense emotion. Imagine Van Gogh, created by Anabelle Mauger and Julien Baron, aims to bring the artist's dynamic brush strokes to life through an immersive experience.
Using a technology called Image Totale©, the paintings were projected onto every wall of hall H in the Edmonton Expo Centre, which allowed the visitor to become completely immersed in the tortured mind of Vincent Van Gogh. The exhibit has been presented in many locations across North America, with its stop in Edmonton lasting from July 6 to September 26. I attended on Saturday, September 25.
Before entering the actual exhibit, we first went through the pedagogical room, which was completely dark other than the spotlights that illuminated large signs hanging from the ceiling. The first few signs contained information about the exhibit, its creators, and Image Totale©. This method of projection allows the image to adapt to the surface while maintaining its scale. The projectors are in the ceiling and project the image down, making them almost undetectable.
The following signs detailed the life of Vincent Van Gogh, including parts of his family life, failed relationships, various careers, and deteriorating mental and physical health. This information gave us more context when we viewed the images in the main exhibit.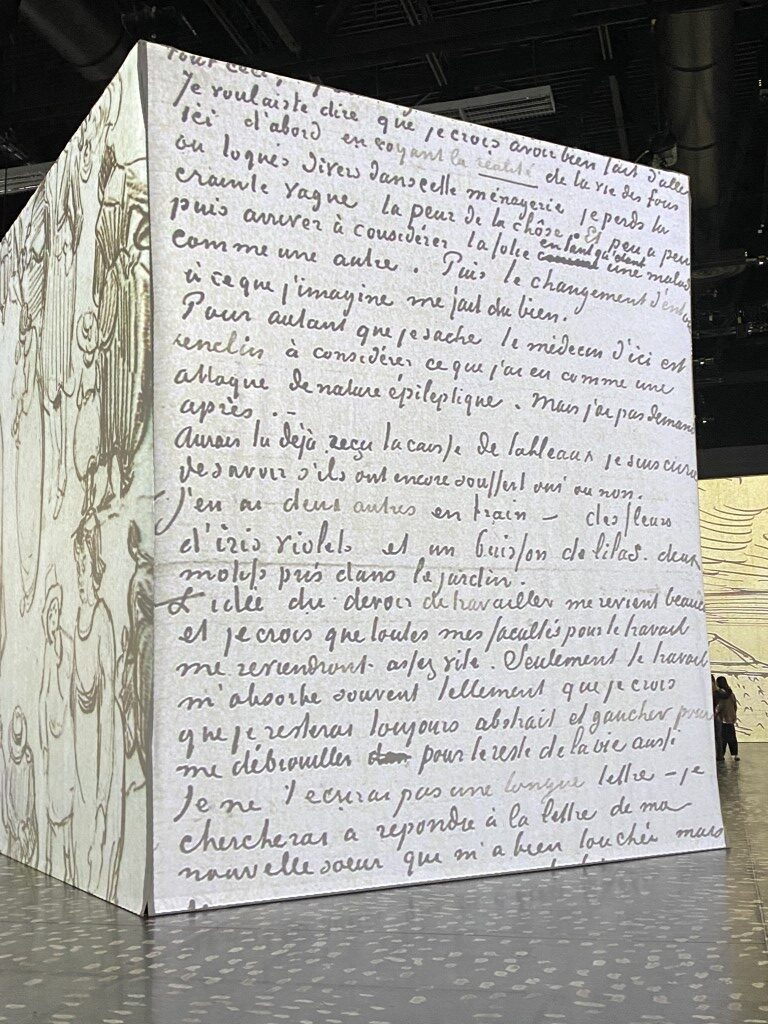 Unfortunately, I found the boards in the pedagogical room quite hard to read. There was an enormous amount of information on each sign that was printed in cursive and italicized font. Because it was so busy, we had to wait for the group before us to finish reading before we could move to the next sign. As a fairly fast reader, I found this a little frustrating as there was quite a bit of standing around in a crowded room. A short film would have been much more effective as you could easily present this information in about five minutes, whereas it took us about 30 minutes to get through this room.
Despite its flaws, the pedagogical room was invaluable to the exhibit. Along with Van Gogh's life story, we understood his thoughts and feelings through letters to his brother Theo, with whom he was incredibly close.
We entered the main exhibit and were completely immersed in the artwork. The room was filled with classical music by famous composers including Saint-Saëns, Mozart, Bach, Delibes, and Satie—each piece of music clearly selected to match the feel and emotion of each painting being displayed. I was amazed by how clearly the images were displayed on such a large scale. Every brushstroke was clearly visible, and Van Gogh's impressive use of light was amplified through the projection. The exhibit included work spanning all stages of his life as well as photos of the places he lived, his family, and the letters and sketches he had sent to his brother Theo.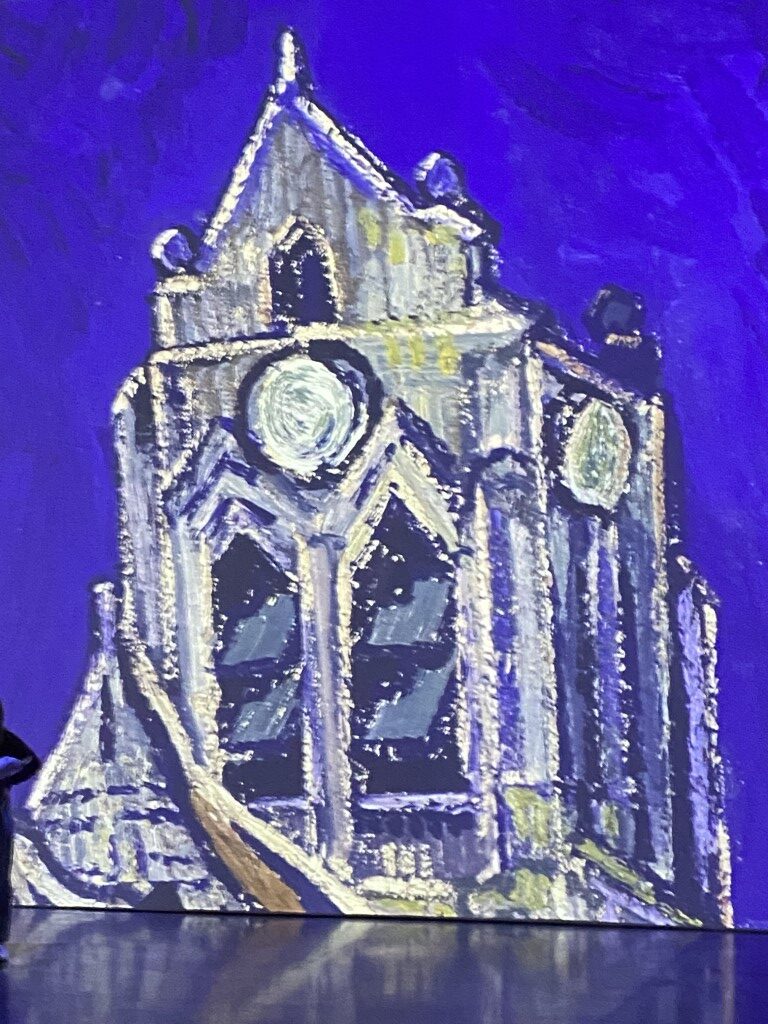 The most fascinating part of this exhibit was the story told through the paintings. The swirling sea of light and colours showed the progression of Van Gogh's work as it changed with location, influence, and mental state. We began by travelling through the dark, depressing greys of the Borinage coal mines in Belgium, where Van Gogh lived in extreme poverty with the miners. The charcoal sketches were paired with more somber sounding string music. The tone lightened slightly when we moved on to Van Gogh's peasant depictions from The Hague in Netherlands. These painting contained some colour though they maintained the feelings of disparity of the time. The projection beautifully emphasized Van Gogh's use of contrast and his first masterpiece The Potato Eaters truly glowed.
My favourite part of the exhibit was Van Gogh's paintings from Paris, where he took an interest in Japanese prints. The room was alive with bright music and the vibrant colours of traditional Japanese aesthetic combined with Van Gogh's signature style was unique.
The following section—though not my personal favourite—is undoubtably Van Gogh's most famous style of painting. The room was almost exclusively yellow as we observed Van Gogh's time at the yellow house in Arles. We were surrounded by sunflowers and fields and the atmosphere was light and happy.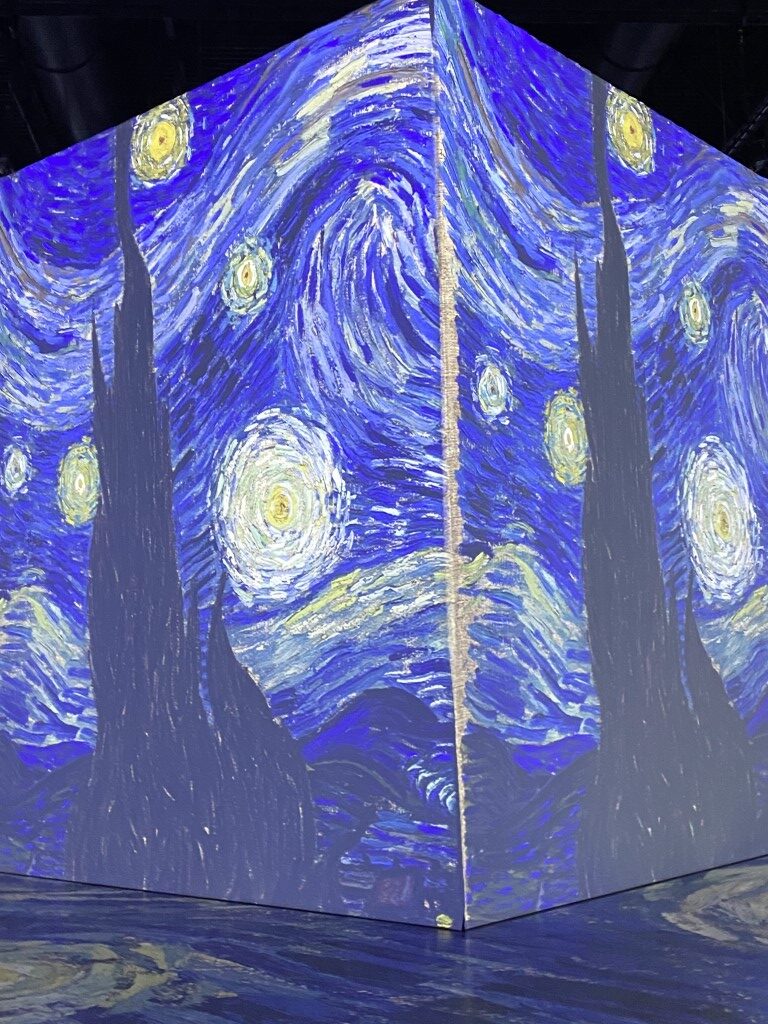 This exhibit was a unique view into the mind of a person progressing through serious mental struggles—something most notably seen in the way Van Gogh depicted himself in his self-portraits. His most famous self-portrait showed him with a bandage around his head after he cut off his own ear. Van Gogh never stopped painting throughout all his ups and downs—apart from a brief period of severe mental decline where he began to eat his lead paint and was allowed only to sketch. One of his most well-known paintings, The Starry Night, was painted from inside Saint-Remy, a psychiatric institution.
The magic of the exhibit was unfortunately hindered by the setup. There was no movement throughout the experience; the crowd was dispersed throughout the open room and most people stayed in one place, despite different areas showing different images. People mainly stood by the walls (other than the children, many of whom were lying on the ground playing games on their phones), making it difficult to get an unobstructed view of the artwork. Upon exiting, we passed a small merch store with only one attendant and absolutely no visible prices; but after paying $50 per ticket and $15 for parking, I was sure there was nothing I could afford anyway.
Despite having some faults, my overall experience of Imagine Van Gogh was positive. I found it incredibly informative, and I came away with a much deeper understanding of Van Gogh as an artist and as a person. I felt it was a unique experience and most importantly, I left wanting to know even more about Vincent Van Gogh and his art.
---
Official Imagine Van Gogh touring exhibition web page
---