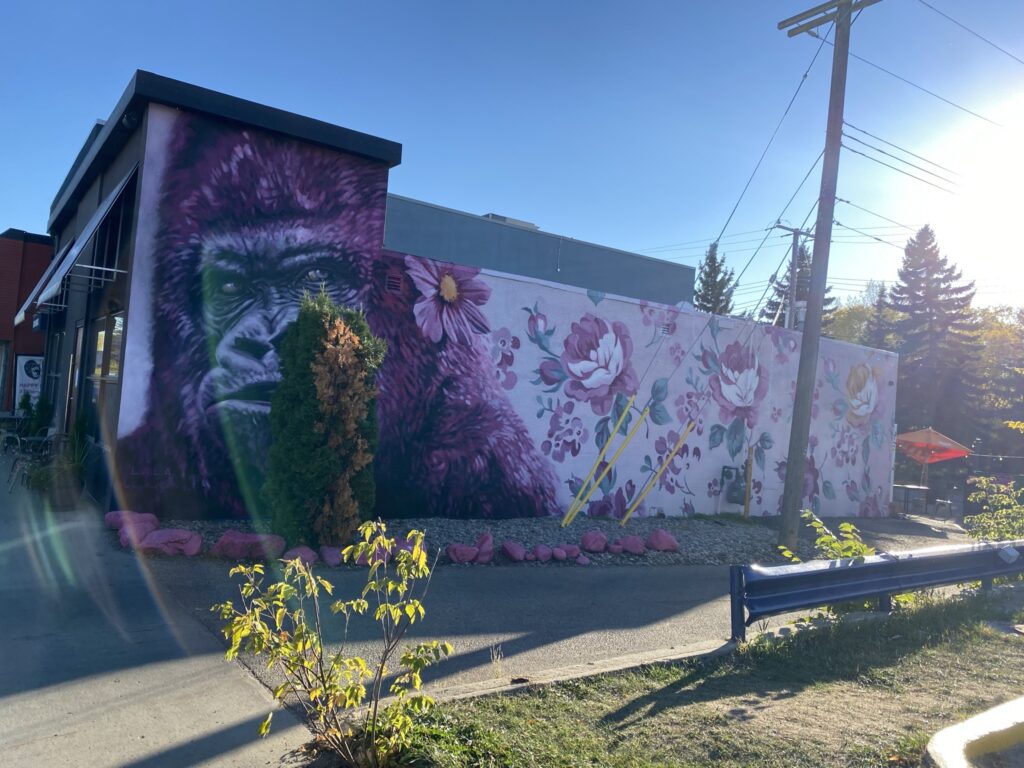 Review by Travis McNaught
---
Last Saturday, I spent my day hunting for a good hummus sale in town. This past week was spent planning my next Star Wars movie marathon during the Christmas break. At 21 years old, I just bought the new Pokémon game.
All of this serves to illustrate that I'm not that cool.
But yesterday, I finally got a taste of how the cool kids live and made up for never sitting at the popular table in high school: I enjoyed an evening meal at the Pink Gorilla Pizzeria.
Pink Gorilla Pizzeria is conveniently located about two minutes from my house, and over my three years of studying at the University of Alberta, I've always dreamt about what the purple, neon-glowing restaurant would be like if I ever made the trip. I would always talk myself out of going, thinking about what I'd heard my parents say so many times before my independence in University: "We have food at home".
Yesterday, I finally stood up for myself, realizing that the 'food' at home was ramen noodles for the fifth night in a row. I invited my roommate Eden for a well-earned study break, and we finally paid the local Pink Gorilla a visit.
The pizzeria is located between a gas station and a nail salon, but that does nothing to stop it from standing out like, well, a pink gorilla. The unassuming shop is a few minutes' drive south of the Safeway on 109 Street and Whyte Ave., and one outer wall of the small building is covered in a gorgeous, spray-painted mural of a stylized gorilla surrounded by swirling pink flowers.
The front door and windows are aglow with neon signs, all proudly projecting the name onto 109th street. The style choice continues to the inside of the restaurant, where all four walls are covered in street-tag-style spray paints and, of course, more pink gorillas.
There was table space for about 30 people, and as my roommate Eden pointed out, half of the seats were repurposed church pews. We chose our own table, and knowing the comfort level of pews isn't anything special, we picked a table near the windows with a booth and metal chairs. One surprise we encountered on our visit was how busy it was—while there was only one other table of diners in the shop, there was a steady stream of delivery drivers picking up orders every 10-20 minutes. Eden and I were a bit puzzled why a place with such a unique atmosphere was primarily getting orders for delivery.
There was a mason jar holding a lit candle between us, and the lighting was dominated by the purple neon signs hanging in the window. Eden made a comment about how romantic the evening was becoming, and I made a comment about how I hated when he always made things weird.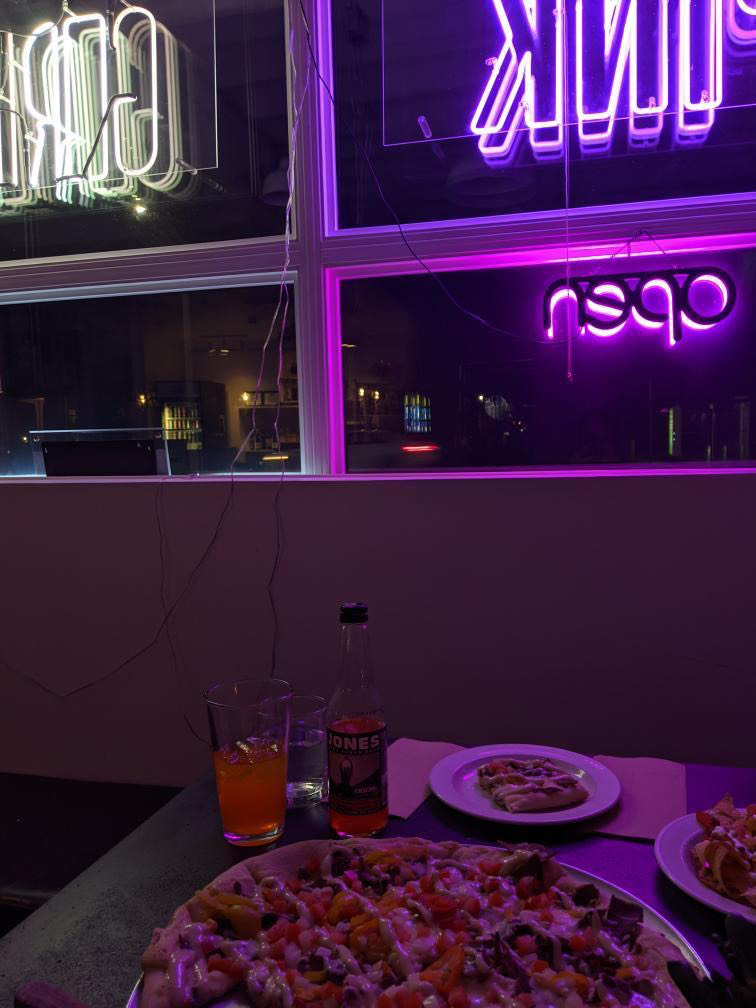 We ordered our favourite pops (despite being offered wine from the selection of bottles behind the counter), talked with our server and found that we all study at the U of A, and tried to decide on a pizza. The menu presents starters, appetizers, salads, and 18 unique pizzas. The names of the pizzas match their unique ingredient combinations: the Halifax is a donair-and-banana-pepper-covered beauty, the Molly Jones has curried chickpeas and pickled carrots, and the Vegan for Vendetta is exactly that, made with roasted artichoke and vegan mayo. Considering we were at a pizzeria and both Eden and I had been surviving off of the same reserve of rice and microwavable specialties, we decided to order two pizzas and a plate of nachos.
Our nachos arrived in about ten minutes and were swiftly destroyed. We agreed that they were a good enough appetizer, albeit a bit of a small portion size. There was an even balance between cheese, banana peppers, and sour cream, but just not enough chips underneath it all. Ten more minutes after that, though, we were greeted by the smells and sights of two holy angels, both 10" in diameter.
The Halifax pizza immediately reminded us why we loved discovering donairs while living away from home. Obviously featuring donair meat and its signature sweet and garlic sauce, the pizza was golden brown on the bottom and beautiful on top, with extra white onions and fresh Swiss cheese.
Thankfully, neither of us was worried about bad breath, but rather about the danger of forgetting to breathe during this feeding frenzy.
The second pizza was the Savona Sunset, and even writing of it now has my mouth watering, as if it had been Pavlov himself behind those kitchen doors. Roasted chicken was the choice of protein topping, paired with alfredo, mint, bruschetta and cheddar.
The Halifax was my favourite dish that night, offering a perfect mix of donair meat and sweet sauce, while still feeling like a pizza with a unique twist. Meanwhile, the Savona Sunset was an effective use of salt and pepper that kept us reaching for another savoury slice.
Eden reminded me that I would need photo evidence of our trip for my review, and I reluctantly removed the large Halifax slice from my jaws and posed with it. Looking back at the photo, I realized that the power of this potent pie even had the spray-painted gorilla behind me eyeing up the delicious target.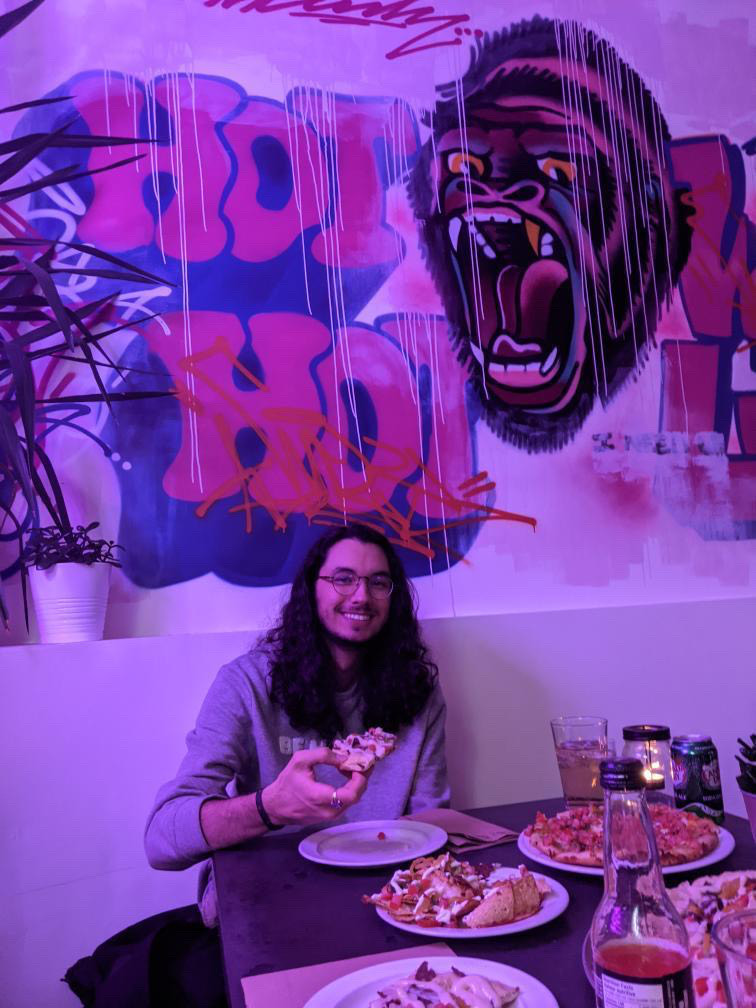 Not today, buddy. This slice (and the rest of the pizzas) would soon feel the wrath of two hungry, stressed-out students.
As we finished our meal and admired the growth of our food babies, Eden and I asked for a box for the few remaining slices. We were offered a chocolate pizza—that day's house dessert—but politely declined. We knew that the short walk home would become a long shuffle if we accepted.
The bill came and the damage had been done. We felt that the food and experience was worth the price, but we also knew that $19 pizzas and $8-13 starters would make it a celebratory event rather than a regular weekly outing. The end of final exams would now be marked by a trip to the Pink Gorilla and suppressing our food comas until we got back home.
The punk and rock music, purple neon lights, spray-paint-covered walls, and heavy iconography of the pink gorilla character made us feel as though we had entered into a very stylized movie scene. Our study break had become a step into another world, one that made us feel like a jean jacket and coloured mohawk could be tomorrow's outfit to wear to class. For one night of the week, we were no longer wearing old sweats and eating cheap noodles, but rather two rock-and-roll stars sitting in a thick, purple atmosphere and enjoying some good, unique pizzas.
I suppose this is a call to all the people who used to look at the cool kids with envy, wishing to be a part of something more. I always thought I needed cooler clothes, more followers online, or a better haircut to have popularity and fame.
As it turns out, all we need is a Pink Gorilla—simple as that.
---
Pink Gorilla Pizzeria
7018 109 St NW, Edmonton, AB
---